How to Make Resin Jewelry
Learn all of the tips and tricks you need to make DIY resin jewelry, plus 22 tutorials for resin earrings, rings, pendants, and more.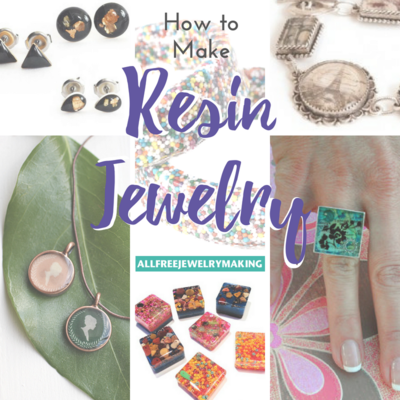 Once you've mastered the jewelry making techniques of bead weaving and wire wrapping, you might be looking for a new challenge for making jewelry. That is where our guide for How to Make Resin Jewelry comes in! You've probably seen cool resin jewelry at boutiques and in shops, and if you are a DIYer at heart, you may have wondered if there is a way it yourself at home. The good news is that it is easier than you'd think to learn how to make resin jewelry at home.

Making your own resin jewelry at home can seem like quite the challenge, and there are several steps to the process, but with a bit of effort and dedication it can definitely be done. One of our favorite aspects of making jewelry with resin is that you can fill it with a variety of fun fillers, anywhere from dried flowers or gold flake, to ticket stubs, beads, and even sprinkles! You can use resin in molds to create chic bangles or beads, or use it to seal items such as flower petals or other memorabilia in a bezel for a pendant or ring. Whether you use clear resin to showcase some fabulous fillers, or decide to add some pigment to color your resin, it is a versatile technique for making jewelry.
What Are the Different Types of Resin Used to Make Jewelry?
Before you can get started with making resin jewelry, you'll want to learn about the different types of resin that are used for jewelry making. The most common types of resin used to make jewelry are two-part epoxy, UV resin, and polyester resin. Each of these formulas has its pros and cons, so we've compiled these helpful details so you can make an informed decision on which resin to buy.
Two-Part Epoxy Resin - The primary type of resin you will encounter in jewelry making is two-part epoxy resin, which is the resin we recommend for beginners. Two-part epoxy resin is popular because it is safe, easy to work with, widely available, and can be used as an all-purpose resin. Epoxy resin comes in a kit of two parts that must be mixed in an exact 1:1 ratio. You may need to wait up to three days for epoxy resin to fully "cure" or harden.
 
UV Resin - Another common type of resin used in jewelry making is UV resin. The cure time for UV resin is much shorter than epoxy, and can usually be expected to dry in a few hours. However, UV resin must be applied in several thin layers and be exposed to either a UV lamp or bright sunshine between each layer.
 
Polyester Resin - Polyester resin, also known as Fiberglass resin, is an inexpensive, low-cost resin that can be treated to achieve a shiny finish. However, polyester resin can be very dangerous due to its noxious fumes. Therefore, polyester resin should only be used while wearing a respirator by jewelry makers who are experienced with resin and have taken proper safety precautions.
 
Epoxy Resin Clay - Unlike the previous three types of resin, epoxy resin clay is a solid. Much like two-part epoxy resin, epoxy resin clay comes with two parts that must be mixed together in equal proportions. Epoxy clay is a popular alternative to polymer clay because it is self-hardening and does not require baking.
What Do You Need to Make Resin Jewelry at Home?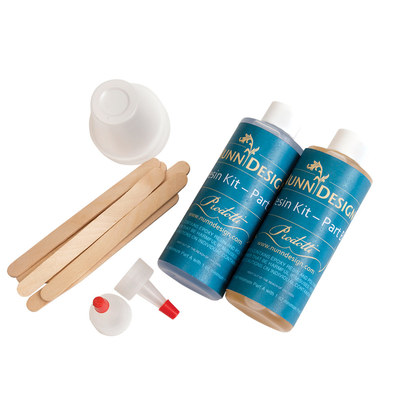 It is important to have the proper materials for making resin jewelry before you dive in! First off, you will want to determine which type of resin you would like to work with. For beginners, we recommend starting off with two-part epoxy resin.

Materials:
Two-Part Epoxy Resin, such as Nunn Design Fantastic Resin Jewelry Kit or EnviroTex Jewelry Resin
Disposable Mixing Cups, may be included in your resin kit
Wooden Craft Sticks, Popsicle Sticks, or Coffee Stirrers
Resin Jewelry Molds or Bezels
Toothpicks, to remove bubbles in the resin
Disposable Gloves
Optional Materials:
Wax Paper or Large Plastic Bag, to cover your workspace
Blow Dryer, to gently remove air bubbles
Plastic Bin or Shoe Box, to cover molds while the resin hardens
Fun Fillers for Your Resin: dried flower petals, gold flake, beads, memorabilia such as ticket stubs, photographs, pieces of letters
How to Make Resin Pendants
One of the most common ways of using resin to make jewelry is to make a DIY resin pendant. Using findings such as bezels presents a great opportunity to personalize a piece of handmade resin jewelry. Another way to make resin pendants is to use jewelry molds to create your own focal component to use as a pendant.
How to Make Resin Earrings
Try out resin jewelry making on a small scale with one of these resin earring tutorials. You can create focal beads out of resin, or use resin to fill empty bezels. Since most of these tutorials only use a little bit of resin, you'll get the chance to try out the technique without the commitment of a larger piece.
How to Make a Resin Bracelet
Even if you have worked with resin before, it is possible that you never even considered using resin to make a bracelet. Whether you prefer filling bezels with resin, or are feeling up to the challenge of making resin bangles, these resin bracelet projects are certain to satisfy your crafting itch.
Keep your hands busy while you wait for your new piece of resin jewelry to cure! These simple strung jewelry patterns are the perfect projects to keep your hands busy while giving your mind a break. 36 Simple Strung Jewelry Patterns
How to Make Resin Rings
You've probably come across resin rings in shops and wondered if they would be difficult to make yourself. The good news is that resin rings are surprisingly easy to make! Plus, resin jewelry is very durable, making resin rings a great choice for jewelry lovers who work with their hands.
BONUS! How to Make Resin Beads
Not all resin jewelry projects use beads, but if you would like to combine your love of beads with your new resin jewelry making skills, you'll love these resin beads. You can use leftover liquid resin, or epoxy resin clay, to make fun beads for even more jewelry projects.
No Bake Resin Clay Candy Swirl Beads

One of the best parts of working with epoxy resin clay is that you don't need to oven bake it! Once you finish designing your handmade beads, you can simply leave them to cure for several hours. Plus, hardened epoxy clay is very durable.

Make Your Own Metallic Clay Beads

These marvelous metallic beads look just like something you would spot in a pricey shop, but they are surprisingly inexpensive to make yourself. Any of piece of jewelry made using these sparkling beads is sure to look designer.

Cute Leftover Resin Cubes

There is no need to toss away leftover resin when you can use it to create totally unique cubes that no one else will have. Fill an ice cube tray or resin mold with a mix of leftover beads, and fill with resin. You can use them to embellish DIY projects, or drill them to make beads!
Do you prefer to use resin with bezels or with molds?
Your Recently Viewed Projects
Join our community of 5 million crafters! Right now!
Get free craft projects, exclusive partner offers, and more.
Thank You for Signing Up!
There was an issue signing you up. Please check your email address, and try again.