How to Make a Beaded Bead: 8 Easy Beaded Bead Patterns
Looking for a way to incorporate more beads into your beadwork? Learn how to make a beaded bead!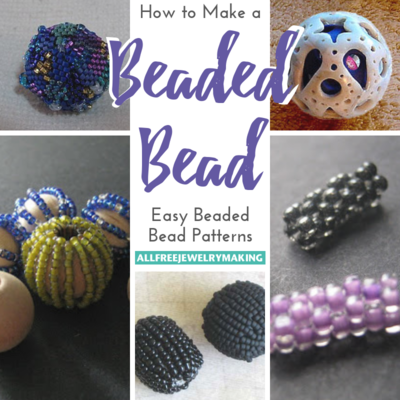 So you've mastered all the beading patterns you can get your hands on, and you're looking for a new challenge? Take your jewelry designs to the next level by learning how to make beaded beads in this collection How to Make a Beaded Bead: 8 Easy Beaded Bead Patterns! Strands of single beads will seem a snore to you once you learn how to make beaded beads like these. Incorporating beaded bead patterns into your jewelry designs adds so much extra detail and dimension for a totally dynamic effect. You can't call yourself a true bead maker until you learn how to make beaded beads!

If you're ready to take on the challenge, these beaded bead instructions are the perfect place to begin. We've collected a variety of patterns that show you different ways to try the technique and incorporate them into your beadwork. From more simple and straightforward patterns to cool and quirky designs, these free beaded bead patterns run the gamut. Once you learn how to make a beaded bead, your jewelry creations will never be the same. Bring your jewelry designs to life with these beautiful beaded beads!
Table of Contents
Basic Beaded Bead Patterns
If you've never tackled a beaded bead pattern before and you want to start off slow, these simple tutorials shouldn't be too tricky to take on. These are beaded bead patterns at their most basic. Simply use a larger bead as a base and stitch seed beads around it, and you've created a beaded bead! It's easier than you think. Check out these simple beaded bead instructions and see what we mean.
You can make your own beading components from materials like paper and clay, but why not try upgrading beads taking up space in your stash? This tutorial will show you how to cover your beads with even more beads, for a stunning detail you'll want to incorporate into all of your projects.
Seed bead barnacles may sound silly, but they are an awesome way to add some texture and visual interest to your jewelry pieces. String these beads onto wire or cord for a simple (but not boring) necklace or bracelet, or mix them with other beads for a multi-media marvel.
If you love the look of beaded beads, but aren't sure you have the time or energy to make them, this is the tutorial for you! Turn any old bead into a beautiful component with these simple beaded bead instructions.
Need beaded jewelry patterns for bracelets? Want free peyote beading patterns? Looking for a seed bead flower pattern? This awesome eBook has all of these and more! In this collection, you'll find free bead patterns for glamorous cuffs, beautiful bracelets, fabulous earrings, and one stunning necklace:"Making Beaded Jewelry: 11 Free Seed Bead Patterns and Projects" eBook
Peyote Stitch Beaded Bead Patterns
Peyote stitch is one of the most popular beadwork techniques, and with free beaded bead patterns like this, it's easy to see why. A relatively simple stitch to master, peyote is perfect for creating gorgeous beaded beads of all styles. Whether you're using another bead as a base and weaving around it or stitching a tube bead from scratch, you can create peyote beaded beads in a number of ways.
One of the simplest ways to create a beaded bead is to stitch together two ends of a piece of peyote beadwork to create a beaded tube bead! This technique might be the easiest of all ideas for beaded beads, and is a fun way to experiment with different colors and sizes of beads.
These simple two-drop peyote beads use an easy technique to make tube beads to incorporate into jewelry designs. The two-tone pattern of this beaded bead really pops! For beaders who have stitched peyote before, this tutorial couldn't be easier.
Peyote stitch is a beader favorite because it is so simple and versatile. But did you know you could use peyote stitch to create a beaded bead? Let this free beaded bead pattern add some dimension to your DIY jewelry patterns.
Are you looking for more peyote stitch patterns? Check out this collection for some of the best seed bead patterns out there for this style of stitching. Whether you're new to peyote or know it like the back of your hand, there are peyote stitch patterns in this collection to inspire you to create! 24 Free Peyote Stitch Patterns
Unique Beaded Bead Patterns
If you've already mastered the art of how to make a beaded bead and you're looking for something even more challenging, these unique beaded bead patterns are for you. The first of these tutorials is a fun and festive pumpkin bead tutorial. The second tutorial is a different take on the "beaded bead" concept. As a clay jewelry project, this tutorial shows you how to make a bead within a bead! Each of these projects is definitely a conversation piece, and everyone who sees them will be impressed with your skills.
How precious are these little beaded pumpkin beads? It will be impossible to save these cuties for autumn. If you love pumpkins, this beaded bead pattern is a fun way to be festive for fall on a small scale.
If you hate for your DIY jewelry projects to look like everyone else's, this is the idea for you! This clay beaded bead project is perfect for creative crafters to make a masterpiece.
What is your favorite way to incorporate beaded beads into your jewelry designs?
Your Recently Viewed Projects
Join our community of 5 million crafters! Right now!
Get free craft projects, exclusive partner offers, and more.
Thank You for Signing Up!
There was an issue signing you up. Please check your email address, and try again.