54 Simple Wire Jewelry Making Tutorials
Learn how to make wire jewelry with these easy tutorials! Learn simple wire wrapping techniques and more!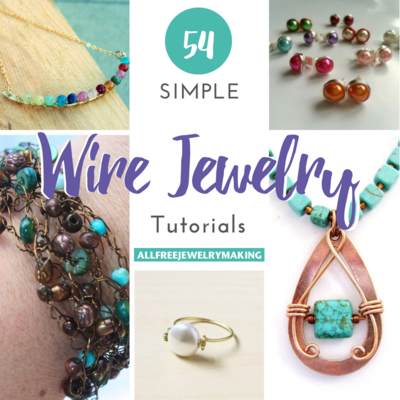 Making wire wrapped jewelry can be both fun and extremely rewarding when you can admire your finished piece. The raw simplicity of a bead wrapped in wire is what makes wire pieces so beautiful. It also allows you the freedom to get creative with twists, turns, and wraps.

Why wouldn't you want to make pieces from wire? If you're new to making wire wrapping or just want to brush up on some techniques, we have a great collection of 54 Simple Wire Jewelry Making Tutorials to choose from!

Whether you want to learn how to make pretty wire rings, how to wrap pendants, or how to make your own unique handcrafted clasps, this collection has a little bit of everything to easily get your feet wet in the world of wire jewelry making.

Get started today and learn how to make wire jewelry with these fabulous tutorials. Once you show off all of your new jewelry designs, your friends will be begging you to make them some original pieces as well.

Join our crafting community! Sign up for our free eNewsletters today!
Table of Contents
Do you prefer wire-wrapping tutorials or crochet wire jewelry patterns?
Your Recently Viewed Projects