21+ Macrame Friendship Bracelets
Learn how to make friendship bracelets, macrame bracelets, and more!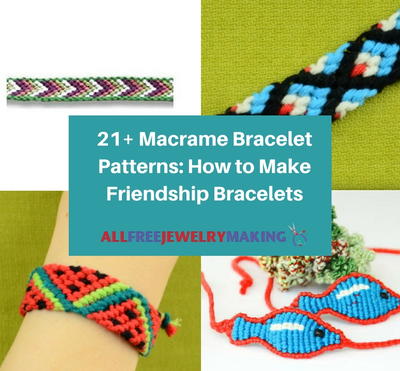 Grab some embroidery floss, your best pal, and these free macrame bracelet patterns, and get ready to create some cool bracelets for yourself and your BFF! Friendship bracelet patterns are probably how many of us first got started making our own jewelry. We all learned how to make friendship bracelets on the playground at school and had so much fun trading with our friends, right?

But macrame isn't just for kids; it is a fun technique for adults too. No matter what your age, you can always enjoy knotted bracelet designs, and these free friendship bracelet ideas are just what you need to get back into the craft. Macrame is such a versatile technique, and there are so many different designs that can be made with it! We have more basic bracelet patterns, like stripe and chevron designs, but we also have instructions for more intricate designs, like hearts and daisies.

If you're just learning how to make friendship bracelets, you may want to stick with the more basic knotted bracelet patterns to start, and then move on to the more detailed designs once you've gotten some practice. But don't worry! All of these macrame instructions are very thorough and easy to follow, so you'll have no problem creating amazing bracelet designs of your own. So grab some strings in your favorite colors, and check out all of our free patterns below!

Join our jewelry making family! Sign up for our free eNewsletters today!
Table of Contents
What is Macrame?
Macrame, translated literally from French as "knot", is the art of knotting together cords or string to create stunning patterns. You have probably been using this fun technique when you were at summer camp without even knowing what it was! Macrame is used for a variety of crafts, from summer friendship bracelets to boho chic wall art. This technique was extremely popular in the 1970s, but it's definitely making a comeback in the jewelry world. The two most well-known knots for macramé include the square knot and the half knot, but there are numerous other knots that you can use to make your projects more intricate. To learn more about macramé knots, check out our guide for beginners! 
What Do You Need to Make Macrame Bracelets? Basic Macrame Supplies
Ready to get started making macrame bracelets? Gather these supplies and you'll be ready to get started!
You need a table (or hard surface) to work on. Note: if you traveling, or outdoors, a clipboard is a fabulous idea for a surface to use!
Your cord or embroidery floss
Tape or T-Pins to secure your cords
Scissors (Optional addition: some jewelry making pliers)
Optional: Beads!
Want to learn more about
jewelry making tools
? Check out our helpful guide: 
DIY Jewelry: What Tools Do I Need to Start Making Jewelry?
Basic Macrame Bracelet Patterns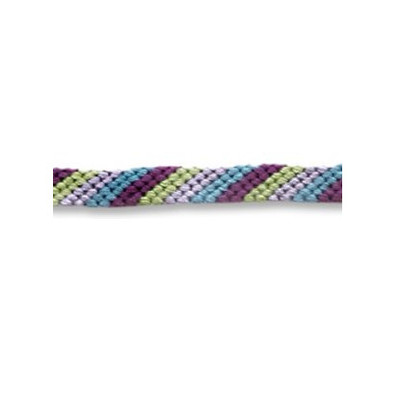 These free friendship bracelet patterns are some of the simpler, more basic knotted bracelet designs, but that doesn't mean they're any less cool! All of these macrame bracelet patterns are for straight bracelets (the zig-zag and squiggly designs will come later in the "Intricate Friendship Bracelet Patterns" section!). If you don't yet know how to make knotted bracelets and are just getting started, these basic macrame bracelet patterns are the perfect place to start. The instructions in these tutorials are very thorough and easy to follow, so you should have no problem at all creating these friendship bracelet designs! Feel free to switch up the colors or the number of strings for a different look that's all your own.
Intricate Friendship Bracelet Patterns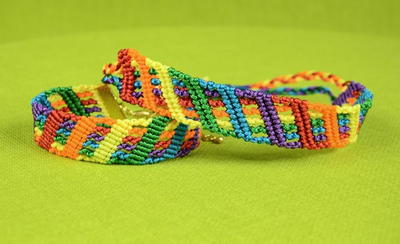 Tired of the same old straight knotted bracelet patterns and ready to step it up with some more interesting DIY jewelry designs? Then check out the free friendship bracelet patterns we've collected for you here! Learn how to make macrame bracelets that zig and zag, that swerve and squiggle, and more! These knotted bracelet patterns are a bit more intricate than the ones in the "Basic Macrame Bracelet Patterns" section, but the instructions you'll find here are just as clear and thorough as those, so you'll have no problem following along. These friendship bracelet ideas are sure to impress. Be prepared, because all your friends are going to want one!
Graphic Friendship Bracelet Patterns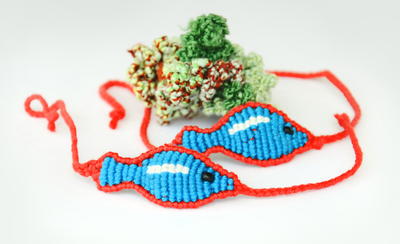 If the "Intricate Friendship Bracelet Patterns" aren't challenging enough for you, then try these amazing free friendship bracelet patterns! Each of these macrame bracelet patterns incorporates tiny shapes or images into the design for an end product that will have your BFF wondering how in the world you made it! Follow these instructions step by step to learn how to make macrame bracelets with adorable little hearts or daisies woven right into the pattern. These free friendship bracelet patterns are so cute, you'll leave them on all summer long.
Bonus! Extra Fun Friendship Patterns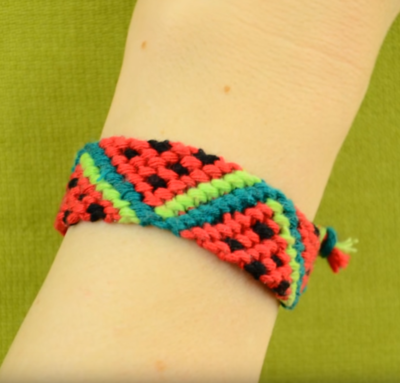 If you have just not had enough macrame projects yet and are looking for even more, check out this awesome bonus bracelet pattern section. These are some extra fun DIY bracelet patterns that we squeezed into this collection for you to enjoy and love! From colorful jewelry projects to adorable food-inspired patterns, you will find your new favorite friendship bracelet pattern from this collection. 
Which friendship bracelet is your favorite? 
Your Recently Viewed Projects
Join our community of 5 million crafters! Right now!
Get free craft projects, exclusive partner offers, and more.
Thank You for Signing Up!
There was an issue signing you up. Please check your email address, and try again.