17 Micro Macrame Patterns
Use your old knotting skills in a new way with micro macrame jewelry!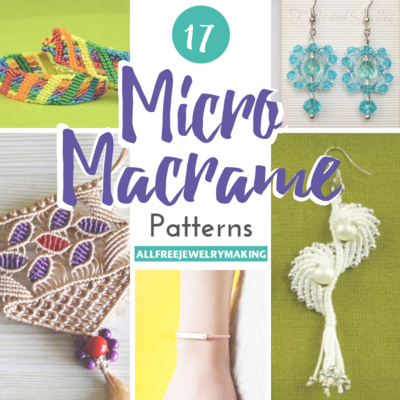 Macrame is one of the most popular techniques in the jewelry making world, and once you learn how to macrame, you'll never want to stop. Learn how to use your favorite macrame knots in new ways with this collection of 17 Micro Macrame Patterns. Once you've mastered the square knot and created every kind of macrame friendship bracelet you can imagine, you may be ready for a new way to knot beautiful DIY jewelry. Ready to challenge yourself? Put your knotting skills to the test with micro macrame jewelry patterns.

What is micro macrame?
Micro macrame is a technique that uses thin cord to create intricate and delicate macrame jewelry. While micro macrame uses thinner cord than traditional macrame, it is made using the same macrame techniques you already know and love. The only difference between traditional macrame and micro macrame patterns is the thickness of the cords, though you would never know it by how exquisite and complex the designs appear. Jewelry made using micro macrame is like the cooler older sister of traditional macrame, as it results in beautiful and totally wearable jewelry pieces that are a little more grown-up and refined than the classic friendship bracelet.

Brand new to macrame?
Don't let the word "micro" scare you away! Check out this video to learn the basic macrame technique, then try it out using thinner cords to put the micro in micro macrame.

Join our crafting community! Sign up here for our free eNewsletters!
Table of Contents
What Do You Need to Make Micro Macrame Jewelry?
Thin Cord, such as nylon, hemp, cotton, silk, or leather cord, typically between 0.5mm and 2mm thick.
Project Board, made out of foam or cork
Pins or Tape, to secure cords to your project board
Scissors
Beads (optional)
Familiarity of Basic Macrame Knots, such as the Lark's Head Knot, Half Knot, Square Knot, Half Hitch Knot, and the Double Half Hitch Knot.
Micro Macrame Bracelet Patterns
Bracelets are one of the most popular ways to create jewelry with micro macrame, which comes as no surprise. Micro macrame bracelets are less time-consuming to make than a knotted necklace, and are a cool new twist on friendship bracelets. Plus, once you master the basics of macrame, you can move on to more challenging techniques to make breathtakingly beautiful bracelets.
Hemp is just one of the many cords that can be used for micro macrame, but can also be used to make bracelets using several techniques. From beginner hemp bracelets to challenging hemp patterns, this collection has all of the patterns you need for this delightfully lightweight material.29 Easy, Breezy Hemp Bracelet Patterns
Micro Macrame Necklace Patterns
Micro macrame is best known for bracelets, but that does not mean your neck should be ignored! Beads are always a favorite to adorn your neck, but once you see these micro macrame necklace designs, you may never go back. Plus, once you are comfortable making micro macrame bracelets, necklaces are a fun challenge.
Micro Macrame Earrings Patterns
Macrame earrings are not exactly the most common use for the technique, but once you see these patterns you'll wonder why you've never made them before! Since earrings do not take as long to make as bracelets or necklaces, these patterns are perfect for busy crafters. Micro macrame earrings have big style on a smaller scale. Learn how to make earrings that will make all of your friends—and enemies!—seriously jealous.
If your love of macrame is only rivaled by your love of beads, we've got the solution for you! Dive into this fabulous collection of beaded macrame patterns for the best of both worlds.21 Beautifully Beaded Macrame Patterns
Beaded Micro Macrame Patterns
If you have made it this deep into this collection, surely you've noticed how incredibly beautiful micro macrame jewelry patterns can be. But if there is one item that could make this pieces of jewelry even more stunning, it would have to be beads! Whether you have an overflowing stash of beads flooding your craft room, or even if you've never bought a bead before, you will be entranced with these dreamy beaded micro macrame patterns.
Knot so fast! You haven't learned all of the fabulous ways to knot and tie your way to new jewelry yet. Kumihimo is a braiding technique that creates a chunky, textured weave for beautiful jewelry.25+ Kumihimo Jewelry Patterns and Tutorials
Do you prefer traditional macrame or micro macrame?
Your Recently Viewed Projects
Join our community of 5 million crafters! Right now!
Get free craft projects, exclusive partner offers, and more.
Thank You for Signing Up!
There was an issue signing you up. Please check your email address, and try again.