Bordered Chevron Friendship Bracelet Pattern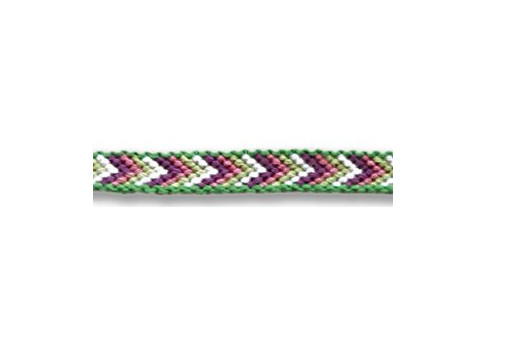 Bordered Chevron Friendship Bracelet Pattern
Learn how to make friendship bracelets with a cool chevron design by following this tutorial! The Bordered Chevron Friendship Bracelet is for those who have had a bit of practice with macrame bracelet patterns. This pattern is just like the arrow design but with an extra border of color along the edge for some added detail.
Project TypeMake a Project
Time to CompleteIn an evening
Bead Project TypeBracelet
Notes:
Before you begin making your friendship bracelet, you should know how to make a Right Hand Double Knot and Left Hand Double Knot. You can see these instructions at choosefriendship.com.
These instructions teach you how to complete the pattern using My Friendship Bracelet Maker. However, the pattern can be completed without the loom as well.
Instructions:
Pick up to four threads for this particular pattern. (The example uses blue, light purple, dark purple, and white.)

Align string, fold in half, and tie knot 1/2 inch from fold, forming a loop.

Attach your 1/2-inch loop to MYFBM under the butterfly clip.

Separate strings by placing one string per slot. Your border color (blue) will be in slots 2 and 9; the chevron or arrow colors will be in slots 3 and 8 (light purple), 4 and 7 (dark purple), and 5 and 6 (white).

Take string #2 (blue) with your right hand and string #3 (light purple) in your left and make a single right hand knot. Now switch your strings into your opposite hands and make a single left hand knot with your #2 (blue) string. This should bring string #2 (blue) back to its original position.

Now pick up string #3 (light purple) and make two right hand double knots, one each on string #4 (dark purple) and string #5 (white). String #3 (light purple) will now be in slot 5.

Move to the opposite side and take string #9 (blue) in your left hand and string #8 (light purple) in your right hand and make a single left hand knot. Switch hands and make a single right hand knot with string #9 (blue). Place string #9 (blue) back in its original position.

Now pick up string # 8 (light purple) and make three left hand double knots, one each on string #7 (dark purple), string #6 (white), and string #5 (light purple). At this point, your center strings (both light purple) should be joined in the center to form your chevron (or arrow as it is sometimes called).

Repeat steps 5-8 from above (with new colors) to keep making your bordered chevrons. Remember your border will always be blue and your chevrons (or arrows) will alternate light purple, dark purple, and white until your bracelet is large enough to fit your wrist.

When you think your bracelet is long enough to fit around your wrist, hold three strings from slots #2, #3, and #4 with your left hand and three from slots #7, #8, and #9 with your right hand. Braid the three strings from your left hand and right hand with the two strings left in slots in #5 and #6.

Take the braided strings and tie two basic knots at the end of your friendship bracelet. (Learn how to finish your friendship bracelet with knots or beads by visiting myfbm.com.)

Unclip your friendship bracelet from the butterfly clip and cut off the excess braided section. Your bracelet is ready to wear or share!

---
DID YOU KNOW?
Friendship bracelets, by definition, are a bracelet given by one person to another as a symbol of friendship. They are usually handmade with embroidery floss or thread, and are typically a type of macrame bracelet. There are various styles and patterns, such as the chevron friendship bracelet featured above, but most are based on a simple half-hitch knot. The smallest pattern friendship bracelet pattern, a double chain knot, requires two strings, while the candy stripe friendship bracelet pattern can have as 3 or more strings depending on the desired thickness; so the amount of thread needed is dependent upon the bracelet type.

Friendship bracelets are ancient, but their resurgence is modern. Although it is generally accepted that the origins of these colorful DIY bracelets are with the Indians in Central and South America, some decorative knots can be traced back to China from 481 to 221 B.C. Friendship bracelet designs first became popular in the United States in the 1970s. The purpose of friendship bracelets ranges from leisure to politics. A modern surge in popularity for friendship bracelets came during the 1980s when they were seen during protests about the disappearances of Mayan Indians and peasants in Guatemala. On the other side of the spectrum, friendship bracelets are known for being great beach jewelry and summer accessories due to the fact that their materials are not easily destroyed by water. No matter what they mean to each individual who wears them, friendship bracelet patterns are sure to endure in popularity for years to come.
---
Your Recently Viewed Projects
Join our community of 5 million crafters! Right now!
Get free craft projects, exclusive partner offers, and more.
Thank You for Signing Up!
There was an issue signing you up. Please check your email address, and try again.