34 Fabulous Macrame Bracelet Patterns
Learn how to make stunning macrame jewelry for every occasion!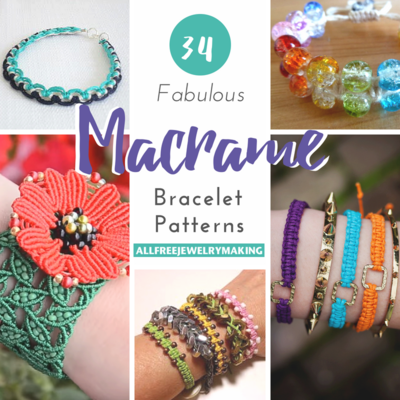 Macrame's not just for gaudy retro plant hangers anymore. It's summer's most sizzling jewelry trend! Get your hands on this effortless fashion fad with these 34 free macrame patterns we've collected. Nothing says easy breezy summer style like macrame bracelet patterns. Knotted bracelet patterns are so simple and require so few supplies, everyone can get in on the fun!

All you need is some cord, string, rope, ribbon--anything you can tie into knots to create fabulous accessories. These macrame bracelet pattern tutorials are so easy to follow, you'll be knotting up a whole armful of bracelets in no time. Make 'em and stack 'em; the more the merrier when it comes to macrame bracelets!

The best thing about these free macrame patterns is that no experience is required. You'll get the hang of the technique in no time at all, even if you've never worked with knotted jewelry patterns before. This is an activity even the kids can safely enjoy! We've got free macrame patterns for every trend and style in this collection. Start off with the knotted bracelets for beginners, then move on to the more advanced macrame jewelry projects!

If you've never done this before, don't worry! These tutorials will take care to show you how to knot your way to anything your heart desires. From free macrame bracelet patterns to barefoot beach jewelry and more, these knotted jewelry patterns are sure to introduce you to one of your new favorite hobbies. Grab your materials, pick a few tutorials, and happy knotting!

Subscribe to our newsletter for amazing jewelry patterns delivered to your inbox daily!
Table of Contents
List of Macrame Knots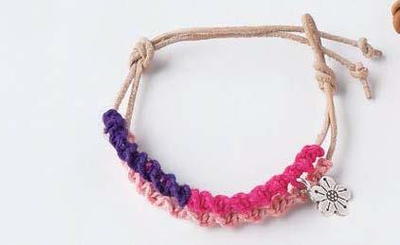 Macrame beginners, no worries. Before you jump into these macrame bracelet patterns, get some of these common knotting techniques under your belt. Anyone who loves macrame knows that mastering basic knots such as the square knot is essential to create impressive bracelets! Start off with our guide on macrame at the top of the list, then practice the knots with some of our other basic tutorials below. 
Macrame Bracelets for Beginners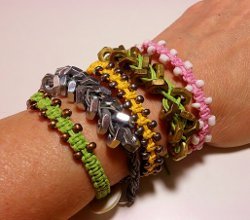 Ready to jump on the macrame bandwagon? Start out with these bracelets for beginners. With these simple projects, you can practice using the basic macrame knots. These knots may seem intimidating at first, but these tutorials will help you get used to them. These basic knotted jewelry projects look fantastic, too! Once you master these beginner jewelry projects, you can tackle the more complicated macrame bracelets that are listed below.
Bold and Bright Macrame Bracelet Patterns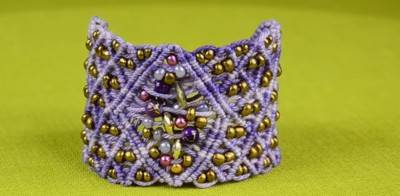 Learn how to macrame some of the most popular bracelet patterns with these techniques and instructions. For all of you just starting the art of knotted jewelry, these are some super helpful tips and techniques for you to really be able to get a grasp on the art. DIY bracelets are just a few knots away! You will learn that making macrame bracelets is just as, if not more, fun as it was when you were little.
Macrame Friendship Bracelet Patterns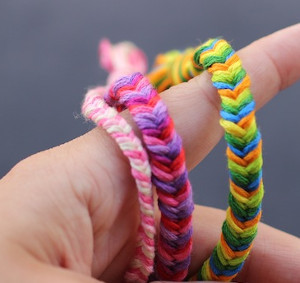 These free macrame patterns go above and beyond your usual bracelet. Learn how to make friendship bracelets that stand out on your wrist and make excellent DIY gifts! You will be surprised how diverse knotted jewelry can be. Whether you want a bold, bright pattern or a chic, unique bracelet, you will find an accessory for every occasion. Macrame bracelet patterns like these are the perfect craft to make on a relaxing day, or with a group of friends for a fun activity!
Micro Macrame Bracelet Patterns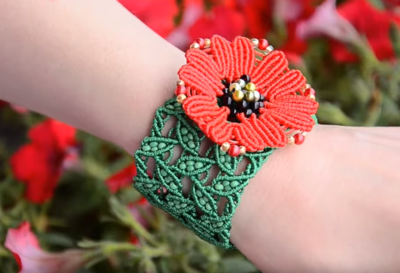 Can't get enough macrame? That's okay, we can't either! That's why we have collected this extra bunch of fun and unique macrame patterns that will keep you crafting for hours! Plus, you can really take your knotting skills and style up a notch with these intricate, micro macrame patterns! These are for those who are looking for quirky macrame bracelet patterns that will make anyone take a second look. 
What macrame bracelet is your favorite from this collection?
Your Recently Viewed Projects