How to Macrame: 7 Must-Know Knots
7 Basic Macrame Knots to Get You Started and 3 Ways to End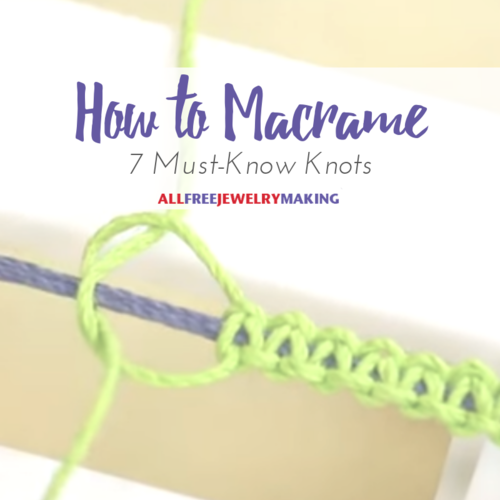 Macrame knots can be an extremely intimidating DIY jewelry technique at a first glance. If you are one of those people that have been swooning over the look of macrame patterns, but you're a little too nervous to venture into the unknown territory, then you have to check out these super simple macrame knots. This guide on How to Macrame: 7 Must-Know Knots will be your best jewelry friend. These knot patterns will take you from not knowing your knots to macrame master! Once you have the tactics for how to macrame down, you can create any macrame design you put your mind to. In order to achieve these beautiful knotted patterns though, it is essential to master the basics and the terminology.

Knotting can be tricky, especially when you're first starting to learn. However, with these steps and hidden DIY jewelry tips, you will be able to do macrame in your sleep. Whether you're hoping to create stunning macrame bracelets or attempting something a little more simple, these basic macrame knots are where you need to start.

Understanding and perfecting your macrame technique can be useful for numerous reasons. For example, you will never run out of different DIY friendship bracelet patterns, and you will become increasingly more patient with every DIY macrame project you do. Plus, we've also explained different ways to end macrame projects in this article, too. You can start your first macrame piece knowing that we've got you covered from start to finish!

Join our crafting community! Sign up for our free eNewsletters today!
Macrame beginners: what questions do you have about macrame?
Your Recently Viewed Projects