How to Make Anklets: 24 Ways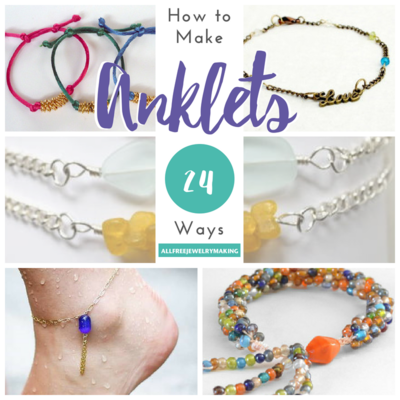 It's time to give our ankles the same love we give our wrists and deck them out. We gathered together all of our favorite anklets, and bracelet designs that look just as good on our legs, in How To Make Anklets: 24 Ways. These designs are light, summery, and sure to get you in the mood to go outside and soak up some rays. After all, these anklets are so cute, you will want to show them off. Whether beaded or braided, these cute anklets are sure to complete your outfit in a way a bracelet just can't. Rock them in the warmer months with any shoes, from flip-flops to strappy heels. Now grab your supplies and start whipping up some of these underrated beauties!

This collection has anklets to suit any occasion. For a gorgeous formal dress, there are silvery, shimmery ankle bracelets to accompany those adorable strappy shoes you have on. If you're just taking a trip to the beach, there's a funky and intricate woven fishtail anklet that's comfortable to wear and durable. For those who love versatility, there are projects that will teach you how to make easy bracelets that you wear on your wrist today and on your ankle tomorrow. We've even got a hemp anklet for you rustic, earthy types. Go crazy and make a bunch of our macrame bracelets as ankle bracelets for you and your friends. You won't learn how to make anklets in so many ways anywhere else.

Hemp is one of the best materials for creating ankle bracelets because you can just keep on knotting or braiding until it reaches the perfect length to wrap around your ankle! Check out this video to see how easy (and fast!) it can be to make your own DIY anklet.

Join our crafting community! Sign up here for our free eNewsletters!
Table of Contents
How to Size an Anklet
What is the average size of an anklet? Before making your first ankle bracelet, you'll want to determine how long your anklet should be. While the average bracelet size is 7.5 inches or about 19 cm, the average size for an anklet is 9 inches, or around 23 cm. You may need to make your anklet either shorter or longer, depending on the size of your ankle.

How to measure for an ankle bracelet: Wrap a flexible tape measure comfortably around your ankle in the area where you would like the anklet to be worn, typically above the anklebone. Try to avoid wrapping the tape too tight, or too loosely. Leaving enough space between your anklet and the tape to fit one finger is a good rule of thumb. If you do not have a flexible tape measure, you can even wrap a a piece of string or yarn around your ankle, mark the space where the string meets the other end, and measure the string against a ruler or standard tape measure.
Easy to Make Anklets
If you're not looking for anything fancy, then these are the DIY anklets you're looking for. These easy-to-make anklets will teach you how to make anklets that are not only cute and stylish, but fast and painless. An array of different media are used in this section, so choose the ones you like best, or the ones that best fit the style of your next outing. Beginner do-it-yourself-ers should also check out these projects for easy to make jewelry ideas to get their feet wet. Once you've tried out these fast crafts, you'll find yourself ready to take on bigger projects.
Beaded Anklets
If you're a serial jewelry DIYer, chances are, you're obsessed with beads. So are we. If you've got a bead fever, listed below are five different styles of anklets (and DIY bracelets you can make into anklets) centered around beads. Because beads come in so many different shapes, sizes, and materials, all of these are ridiculously customizable. While you're learning how to make anklets with beads, you can get those creative juices floating and put your own personal spin on the designs, or even make a matching necklace or pair of earrings to go along with it. Some of these anklets are great stash busting projects, too!
Woven Anklets
When there are so many ways to weave, how can you not become obsessed? After you've woven plenty of leather necklaces and macrame bracelets, all that's left to do is learn how to make anklets by way of the weave. Ankle bracelets so very often come in a braided style because it just screams summer. Whether it be crunchy and rustic hemp or vibrant and colorful loom, they pair perfectly with the beach or the deck of the pool. Since making woven anklets is so reminiscent of the friendship bracelet pattern, it's the perfect activity for you and a buddy. Chill out with your friends and teach them how to make anklets through tying and knotting, and be one of the first people you know to wear friendship anklets.
Did You Know? The History of Anklets
People from all different cultures have rocked anklets for thousands of years. The earliest recorded civilization to wear anklets were the Sumerians, more than 4000 years ago. Ancient Egyptians also wore anklets, which reflected one's social status. The wife of a wealthy man would wear a gold anklet decorated with stones, while a slave or plebian would wear charm anklets made of leather, shells, or iron. These simpler anklets were thought to have been used as amulets. Ancient Indians loved anklets, too! They indicated marital status, were used as just an accessory, and were worn when dancing. They were and still are integral to ceremonial wedding outfits for brides today. In the 1970's, anklets became popular accessories for American women. Women were seen wearing charm anklets, sometimes with their names or initials on them.  
Tips for Making Anklets
Measure twice, cut once. Whether your anklet is made out of hemp, chain, or beads strung on wire, you'll want to double-check your measurements before making the snip.
 
Choose durable materials. Ankle bracelets are a staple for summer weather, which means you'll want to wear your DIY anklet in the sun, sand, and sea. Gold-filled chain and Swarovski crystals are lovely, but might not be the best choice for an ankle bracelet you'll wear whether you're swimming, hiking, or enjoying the warm weather.
 
Most importantly, have fun!
What is your favorite jewelry to rock during the summer?
Your Recently Viewed Projects