54 DIY Cuff Bracelets
How to Make Cuff Bracelet Patterns Out of All Materials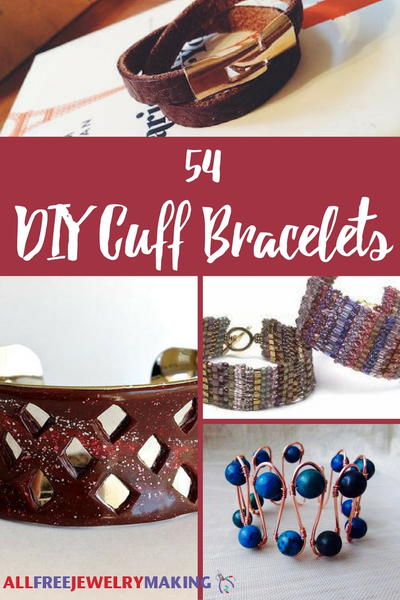 A bold, elegant cuff bracelet is always in style. Want to learn how to make your own? Lucky for you, we've put together the ultimate guide on your favorite accessory, 54 DIY Cuff Bracelets: How to Make Cuff Bracelet Patterns Out of All Materials. Whether you've been lemming for that beautiful cuff your favorite celebrity rocks or want to channel your inner Wonder Woman, you can never go wrong with a DIY cuff bracelet. After all, homemade bracelets are way cheaper than splurging at the store!

Depending on what materials you use and how you decorate it, you can make a casual cuff perfect for every day or a glamorous, sparkly DIY bracelet to pair with an evening gown. This collection even has quirky cuffs with unexpected materials for those who want a standout accessory!

You may be wondering, what are cuff bracelets, anyway? A cuff bracelet is a C-shaped bracelet that fit snugly on the wrist. Cuffs are usually open at the ends, which distinguishes it from other bracelets. A cuff bracelet is much wider or thicker than most bracelets, and sometimes it is both. They are typically made of a stiffer material, so they are only adjusted once rather than being bent every time you put one on. They can be made of a variety of materials: wire, leather, and more! We've got tutorials and tips on every cuff bracelet pattern you can imagine, and projects that range from beginner jewelry projects to advanced.
How to Measure Your Wrist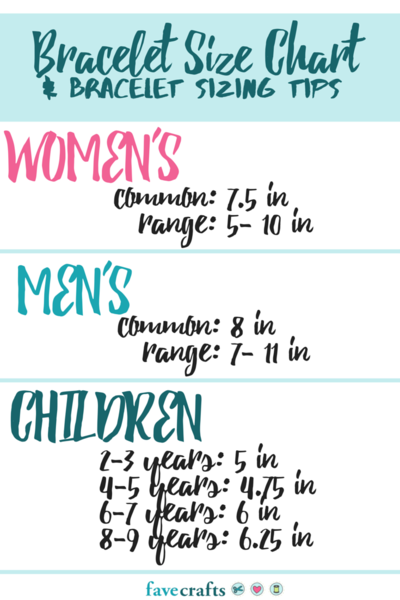 To get the best fit, make sure to measure your wrist. That way, you can customize the size of your cuff bracelet! The infographic to the left gives you some general measurements for DIY bracelets, and we've included some tips specifically for cuffs below. There are several things to consider: your wrist circumference, the gap in the cuff, and the inside circumference.

-Your wrist circumference is the length around your wrist.
-The gap in the cuff is the length between the two ends of the cuff, where there is a gap. While some cuffs actually connect with a clasp, most have this gap.
-The inside circumference of a cuff is the length of the part of the cuff that touches your wrist plus the length of the gap. This should be about a little bit bigger than your wrist circumference.

1.  First and foremost, the easiest way to find the perfect size for a cuff bracelet is to find a cuff bracelet that already fits your wrist well and to use those measurements for your DIY cuff. To do this, you would take a measuring tape or string and measure the circumference of the cuff.

2.  If you don't have a cuff to reference: take some measuring tape and wrap it around the area you would wear the cuff bracelet (typically lower, on your wrist). Make sure you can move your wrist comfortably. If you don't have a measuring tape, use some string to do this step. Line it up with a ruler to record the circumference of your wrist.

3.  Everyone has different preferences on how loose or tight they like to wear their cuffs. It is a good rule of thumb to add at least ¼ inch to your wrist circumference for a comfortable fit. For a looser fit, add about 1 inch. The size of your cuff could also depend on the width of your bracelet. If is wider, it might feel tighter, so add a bit more length. 
DIY Wire Cuff Bracelets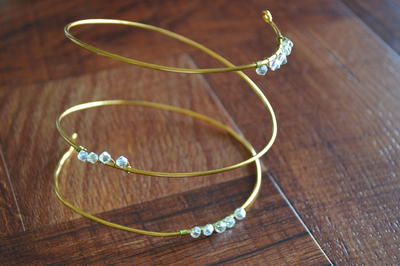 If you love the look of wire cuff bracelets, then check out this collection of beautiful bracelet ideas! Learning how to make cuff bracelets with wire might be intimidating, but with the help of these tutorials, even a novice can make a wire cuff. From simple wire cuffs that are on-trend like the Classic Crystal Arm Cuff (featured) to standout pieces like the Simple Serpent Cuff, you can find a DIY cuff bracelet for any occasion. 

PLUS: Make sure to check out an expert tip on wire cuffs below!
Pro Tip on Wire Cuffs!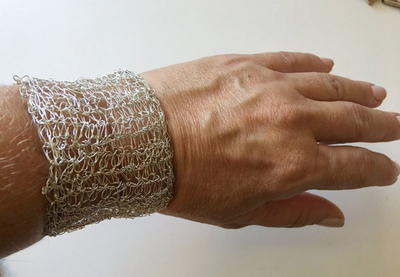 Check it out: here are some expert tips on wire cuffs to consider!

"First, I think sizing is extremely important for a cuff. You want to make sure you have room to move in a cuff bracelet - otherwise it would be very restrictive, or even painful!  

Also, work hardening metal is also very important so your wire cuff bracelet doesn't lose its shape easily and often. I like to use a rubber mallet and a soft towel. On the beaded cuff, this step is a little bit harder! Finding a smaller tool with a flat edge for pressing down on the metal between the beads is effective, though, for work hardening. 

I prefer Tunisian crochet to other techniques when making wire cuff bracelets because it is SO MUCH EASIER! If someone is new to working with wire, Tunisian keeps all your "ducks in a row" so to speak. By keeping all your stitches on the hook, it is very helpful for staying organized as a beginner. Good lighting is also important, as most likely your metal crochet hooks won't contrast well with the metal wire. 

And, don't use your expensive hooks for wire, and never use wood or bamboo as they will never be the same afterward! They will get scratched, and therefore damage and snag soft yarn if you use them for yarn after using them for wire."

- Kristin Omdahl from Kristinomdahl.com. For more fantastic jewelry tutorials, make sure to check out Kristin's Youtube channel, too! 
Making wire jewelry can be both fun and extremely rewarding when you can admire your finished piece. If you're new to making wire jewelry or just want to brush up on some techniques, you can choose from this collection of 
DIY Leather Cuff Bracelets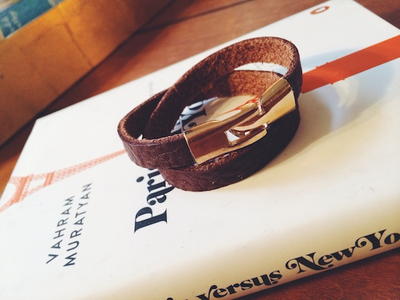 Grab your leather scraps – these DIY leather cuff bracelets are stunners! These tutorials will show you how to make cuff bracelets with leather in more ways than you've ever imagined. Even though all of these DIY cuff bracelets are made out of leather, each one looks distinctly unique. Some of them are more on the rustic, rugged side. Others are adorable and bright, a cheerful twist to typical leather jewelry. There are even very affordable ones that are made out of repurposed leather, like this Upcycled Leather Cuff. 
Pro Tip on Peyote Stitch Cuffs!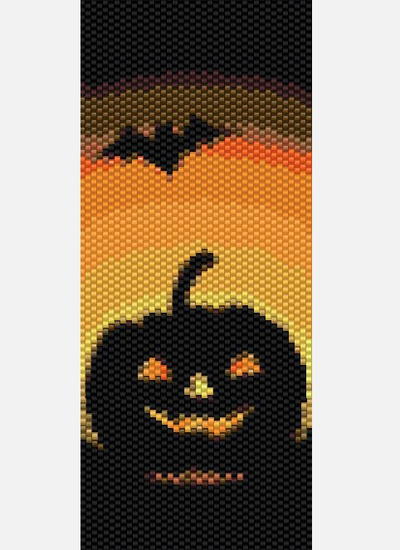 Peyote stitch cuffs can seem intimidating at first! Take this expert tip into account before you start your cuff: 

"Think about what type of clasp you'll use before you start making your peyote stitch bracelet, as this can determine the overall size (length and width). I like to use flat ribbon ends with a toggle clasp and so I'll size my bracelets to make sure the width will slot into the ribbon ends perfectly. Consider mixing up different bead finishes to create the illusion of texture within your peyote bracelet. Flat and AB finishes work really well against metallics!"

- Hayley from Craftaholique.com.
DIY Beaded Cuffs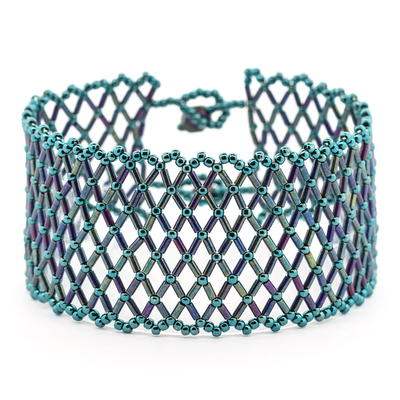 Bead lovers, whip out your collection for these DIY beaded cuffs. Learning how to make cuff bracelets with beads doesn't have to be difficult. There are beaded cuffs for every level, from novice to professionals, and in almost every color! The possibilities are endless – from stunning peyote stitch cuffs to macrame bracelets, you'll be surprised how many different beaded cuffs you can make. These beaded cuff bracelet patterns are gorgeous and fun to make. 
Pro Tip on Using a Loom for a Beaded Cuff!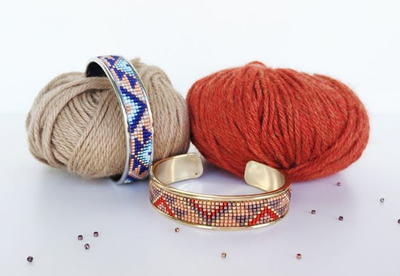 Before you whip out your loom to start weaving your next beaded cuff bracelet, check out these expert tips from Estelle!

"Two tips: 1. During the weaving, once you have placed your beads from the row in between the warp threads from below, you must go through all the beads from above the warp threads. This might be obvious but when you start you may not notice that you have passed below at some locations. Then, when you release the beadwork from the loom, it becomes more obvious and makes a little default.
2. The Miyuki beads are in glass and fragile. I recommend one to two layers of satin varnish to protect them and it also helps with some beads which can be losing their nice colours or coating over time."

-Estelle from Petitboutdechou.com.
Metal DIY Cuff Bracelets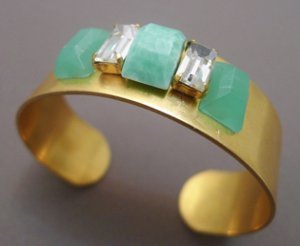 Now that you've tried some wire cuffs and beaded cuffs, now you can tackle these metal DIY cuff bracelets. Check out these helpful tutorials to learn how to make cuff bracelets with metal. This collection of DIY cuff bracelets will show you how versatile metal jewelry can be! There are even some jewelry options for animal lovers, like the Buzzworthy Bee Cuff and the Unicorn Stamped Cuff Bracelet. Beginners don't have to avoid this collection, either – a few of these cuffs will take less than 15 minutes! Thanks to these metal cuff tutorials, you don't need to splurge at the store for an expensive bracelet.
Unique DIY Cuff Bracelets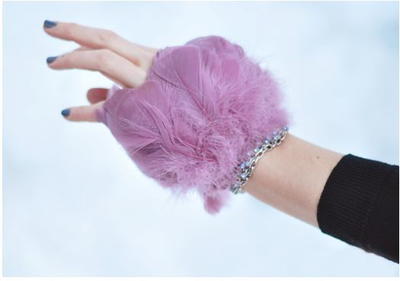 This collection is full of DIY cuffs made out of unconventional materials. They're definitely eye-catching accessories! If you love quirky jewelry, then you will love these cuff bracelet patterns. These unexpected jewelry ideas will inspire you to make cuffs out of everything from feathers to wood to safety pins. 
Your Recently Viewed Projects
Join our community of 5 million crafters! Right now!
Get free craft projects, exclusive partner offers, and more.
Thank You for Signing Up!
There was an issue signing you up. Please check your email address, and try again.