Basic Bead Guide for DIY Jewelry Beading Patterns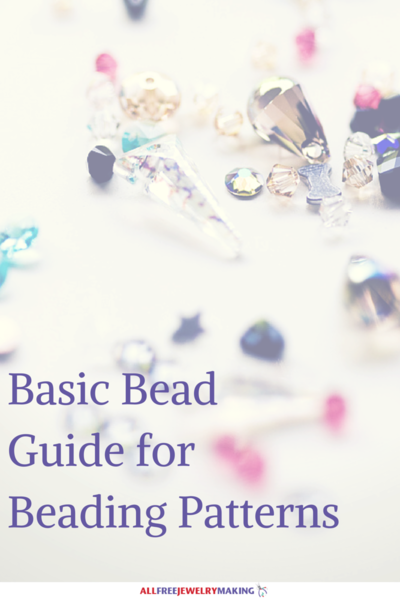 In order to really understand how to be the best DIY jewelry beader you can be, you need to start by mastering the beading basics! It is important to understand the difference between the types of beads you are going to come across in your beading pattern adventures. While it may seem like a simple task to accomplish in learning about bead types, it can become extremely tricky making sure you are using the correct beads while you are recreating your favorite beading patterns. That's why we've put together this Basic Bead Guide for DIY Jewelry Beading Patterns!

While you may have heard the term peyote stitch patterns or brick stitch patterns, you may not automatically know and understand which beads work best for those specific bead weaving tutorials. Different kinds of beads coming in different sizes can really affect the overall turn out of how your homemade jewelry project turns out.

Plus, whether you are a beginning beader or have a little more experience under your belt, it never hurts to know a little something extra about the materials you are working with! The more you know about your jewelry making supplies the better you will be able to work with them for your many different projects.
Table of Contents
Different Bead Sizes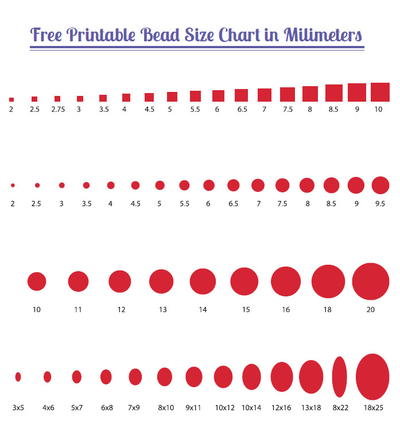 Before we dive into the different types of beads, let's go over the sizes! Each bead type comes in different sizes, and it can be confusing for a beginner to figure out which beads to buy. This chart will give you an idea of what size a 2 mm round bead would look like all the way up to an 18x25 mm bead. Before you run to the craft store, print out this handy chart and take it with you! 
Beginner Beader Tips: Types of Beads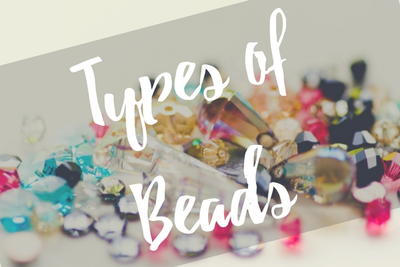 Gemstones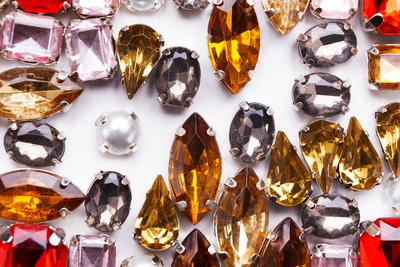 Typically gemstone jewelry stems from a type of mineral crystal that is then cut down into a specific shape and polished. Gemstones are fantastic for using in all different kinds of jewelry. Gemstones are fantastic to use in statement necklaces, being strung in bracelets, or adding some gleam to your DIY jewelry project.

Plus, this specific type of bead is really great for adding a colorful sparkle to jewelry. You can use gemstones as accents in your bohemian jewelry as well if you want a more laid-back gemstone jewelry piece. 
Crystals
Closely correlated with gemstones and rhinestones would also be crystal beaded jewelry. Crystal beads are often used in order to enhance the design of a jewelry project. This enhancement could be caused by adding a sparkle to the DIY jewelry design or tweaking a colorful pattern.

Many people also will turn to crystals when they are looking for a piece of formal jewelry to recreate. However, crystal beads are perfect for every day where as well and they add a fantastic gleam to your homemade jewelry. 
Pearls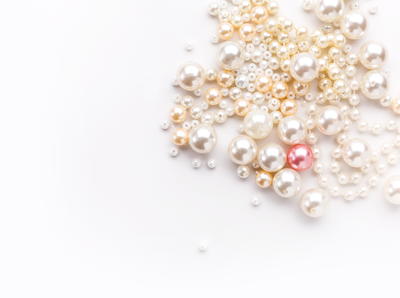 Also commonly used when creating a fancy piece of DIY jewelry would be pearl beads. Pearl beads come in three different forms. You could acquire freshwater, saltwater, or imitation glass pearl beads. Pearl jewelry is very commonly seen in the form of a strung necklace, but there are numerous pearl jewelry projects that require all different types of beading skills.

Whether you are hoping to create a lovely bracelet or a stunning necklace pearls can easily become your go-to bead. Plus, pearls are always classy and never go out of style.
Glass Beads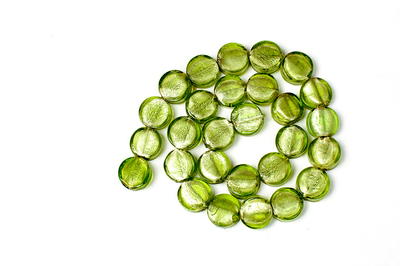 These beads are made by heating up glass and winding it around a mandrel. It is more difficult and expensive to make than other types of beads. They come in a variety of different shapes: round, teardrop, square, and more! Glass beads are often a swirl of colors because of the way the light reflects off the surface. You may think they're delicate, but they are surprisingly durable!
Metal Beads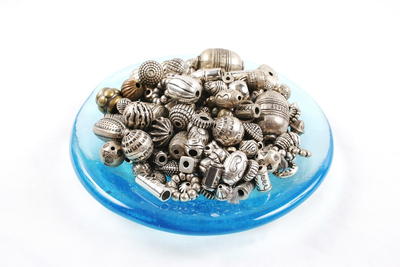 These are beads that are made out of metal and also come in a variety of shapes. Since metal is pliable, metal beads can be made into a variety of shapes and have imprints of patterns that you can't do with other types of beads.

Depending on the type of metal the bead is made from, you can get a different kind of texture and effect. The most common types are silver, gold, copper, and pewter, listed from most expensive to most affordable. Precious metal beads like silver and gold are the most expensive and highest quality. There are also non-precious metals that are more affordable, plated metals which look more expensive because they are plated with a precious metal, and mixed metals. 
Wood Beads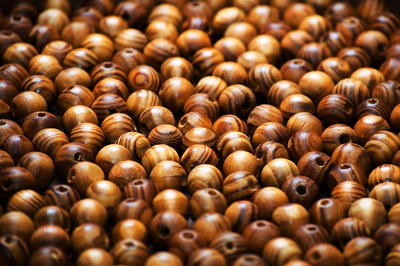 Wood beads are lightweight beads that are carved out of wood and come in a variety of shapes. There are round, square, cube, and even flat wood beads! They add an organic, rustic appeal to any project. Wood beads are typically strung on hemp or cords for jewelry projects
Paper Beads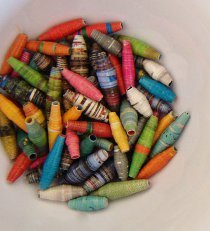 As the name suggests, these beads are made out of paper. You can use magazine pages, wrapping paper, scrap paper, or even newspaper scraps to make them. Most paper beads are made by rolling up a bit of paper on some sort of dowel, gluing it together, and applying some sort of varnish to secure. Bonus: not only are they fun to make, but they are a fantastic way to recycle paper, too!
Paper Bead Pattern Printable
Polymer Clay Beads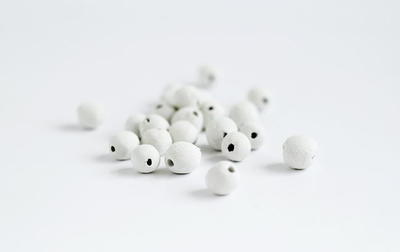 These beads are made out of polymer clay and baked. What's fun about clay beads is that you can easily make these beads multi-colored by blending the clay into designs. You can also decorate them with different paints, mica powders for some sparkle, and even small crystals. 
Shamballa Beads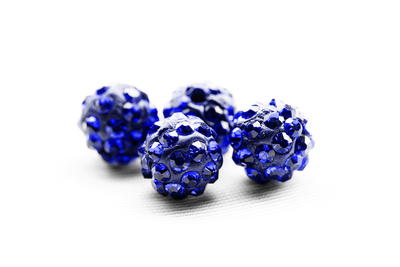 Shamballa beads are clay beads with Czech crystals attached all over the surface of the bead. These give them a sparkly effect! They are usually used specifically for Shamballa square knot bracelets. 
Seed Beads
This is a bead that you have heard at least once or twice since you have come across some beading tutorials. Seed bead jewelry patterns can vary greatly in their looks, style, and overall skill level. This would be because seed bead is a generic name for any kind of small bead.

Thus, seed bead patterns can really become transform themselves into anything an avid beader puts their mind to. Whether you are testing out a brick stitch, peyote stitch, ladder stitch, seed beads are going to be your best bet into recreating this pattern. Seed beads are also commonly used in loom weaving as well. 
Bugle Beads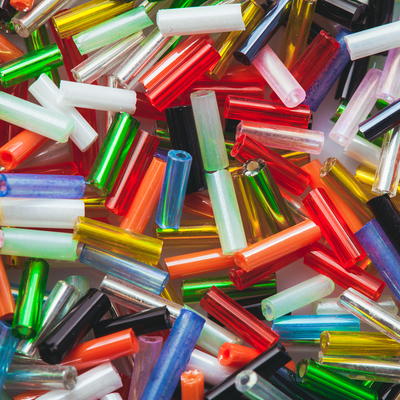 To top off this basic bead guide is the bugle bead. A bugle bead is a type of seed bead, but it is longer and narrower forming the shape similar to a tube. Bugle bead patterns will also require you to be able to do a ladder stitch or brick stitch. However, bugle beads also work fantastically in the form of creating beaded fringes on jewelry.

Similar to seed beads, bugle beads can create tons of different patterns and be used in all different jewelry forms. However, a quick caution note about bugle beads is that they have sharp edges, so it is best to bugger them with beads on the side to keep them from tearing through the thread.
What is your favorite bead to use for jewelry projects?
Your Recently Viewed Projects