Beautiful Beading Patterns: 31 DIY Jewelry Projects in Green
Whether you are in love with stitched beaded jewelry patterns, strung beaded jewelry patterns, or simply beaded jewelry in any form it comes in, this collection is exactly what you need. This collection of Beautiful beading Patterns: 31 DIY Jewelry Projects in Green has every green beaded jewelry pattern you could ever think of.
If you like bright green, deep forest green, or more of a sea foam green, this assortment of DIY jewelry projects has everything imaginable. If beaded bracelets are your thing, this collection has plenty of jewelry projects for you to check out. However, if you like DIY necklace or earrings more there are definitely some statement pieces in here.
No matter what your style is or what kind of beaded jewelry you like there is something in this collection for everyone. One thing is definitely certain, this collection of green jewelry projects will do more than satisfy you. All you need to do is start looking through it! 
Table of Contents
Gorgeous Green Beaded Bracelets
Say hello to beaded bracelets galore! These DIY bracelet patterns have tons of stitched and strung bracelets that will make your heart melt. You are definitely going to love all the different shades of green you can make a beaded bracelet while still keeping a fun and fancy feeling to them. From easy to advanced, there is everything you could ever want in this section.
Glamorous Green Beaded Necklaces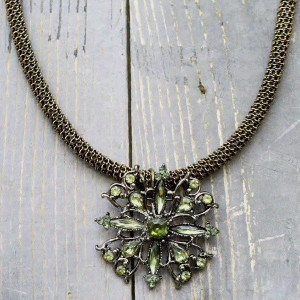 Ready for some truly glamorous beaded necklaces? This section filled with DIY necklaces is the perfect way for you to make a statement with jewelry pieces. Whether you love statement necklaces, or enjoy the delicate look of a simple strand of beads, this section has both. Browse through all of these different necklace patterns and find one that suits your fancy. It won't be hard! 
Gleaming Green Beaded Earrings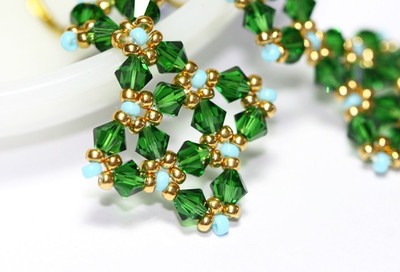 Whether you are looking for the finishing piece to match the rest of your jewelry, or you simply love to adorn your ears in stunning earring, this section is for you. These different DIY earring patterns range from bold drop earrings to wire wrapped simplistic pieces. You can definitely find a good range of unique earring patterns in this section. 
Your Recently Viewed Projects