How to Organize Beads: 35 Bead Storage Tips and Tricks
Learn how to organize your beads with this bead storage guide!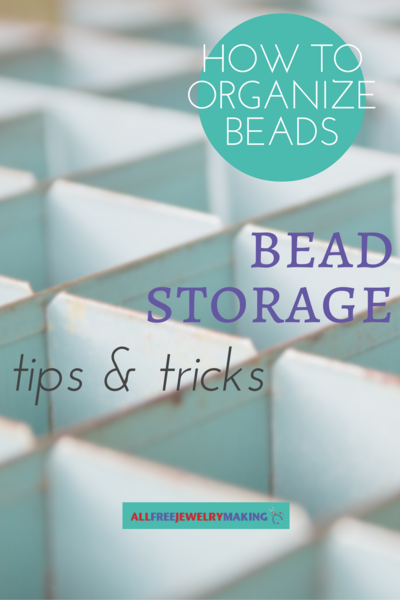 How to Organize Beads 33 Bead Storage Tips and Tricks
If you are a fan of making your own beaded jewelry, chances are you have a collection of beads stored somewhere at home that could potentially earn you the title of "bead hoarder."

Once you begin dabbling in DIY jewelry design, you inevitably start collecting beads and jewelry supplies here and there, storing them in random boxes, jars, and bags, until you've built a veritable jewelry-making mountain that could topple over at any moment into a craft avalanche!

Don't let your burgeoning bead stash get the best of you. Get organized with this handy collection of tips for storing beads!

We asked our trusty Facebook fans and Bling Buzz readers for their best tips and tricks for keeping their own bead collections in check, and they certainly delivered. Plus, even if you are organized, these tips can still help you reach your full bead organization potential!

From creative containers to use, to ideas for organizing beads by color and type, our fans had plenty of brilliant suggestions to share. Here's some awesome advice from beaders, for beaders, on keeping your beading supplies organized.

Join our jewelry making community! Sign up here for our free eNewsletters!
There's more! Solve another tiresome debacle using this jewelry making guide. Now, you don't have to worry about wasting those precious beads you put into your now tangled up DIY necklace! Check out these tips and tricks so you never have to worry about a knotted necklace again! How to Untangle a Necklace
How to Organize Beads
Bead Organization Tips and Tricks
Store beads in fishing tackle boxes. When you open them up, everything is visible.

Use stackable containers with dividers. Keep all the pearls in one, the crystals in another, the metals, etc. Check out this Bleak to Chic Jewelry Organizer to get an idea of this!

Create a two-step system: Organize first by color, then by size. This will make it easier to find what you are looking for.

Always store beads in clear containers so you can see what's inside without having to open them. No matter how well you label them, you'll forget what you put in them!

Make sure your containers have a lock of some sort to keep the box closed and prevent spills.

Make sure the dividers extend all the way to the lid of the box; otherwise beads can slide from one compartment to another if you turn the box.

Use glass test tubes and test tube holders. You can find them in thrift stores, antique shops, yard sales, etc. You can also get them free from The Freecycle Network.

Store beads in empty pill bottles.

Organize small amounts of beads in ice cube trays.

For travel, store beads in weekly or monthly pill boxes. They have locks and are great for organizing by color and type. These also work well for storing small findings (clasps, crimps, jump rings, etc.).

Store beads in glass bottles or clear salt and pepper shakers; then organize the bottles or shakers in a coffee carousel tower (like those offered by Keurig or Tassimo).

Store beads in inexpensive plastic spice jars. The shaker top releases just a few beads at a time.

For items of which you only have a few remaining, you can find tiny clear, plastic containers (1- or 2-inch size) at the dollar store. Then store the tiny plastic containers all within a large clear plastic box or container (1- to 2-foot size). Store the small containers upside-down inside the larger container.

Store containers in a plastic rolling drawer cart. Keep tools in one drawer and beads in the others. Use book ends to store jewelry project books on top.

Hang your bead containers on the wall; it might help your creativity if you can see everything! Try out this Magnetic Bead Storage Organizer to hang on your wall.

Keep a crafter's vacuum handy (in case of spills)!

Use Craftmates locking plastic containers.

Use Plano tackle boxes (half the price of buying from the craft department!) and organize beads by type, then color, then size. They are clear containers and easy to divide.

Use plastic 1.75-quart ice-cream containers. Keep one for Delicas, one for regular seed beads, etc.

Store beads in empty plastic cookie containers; keep different types and colors in separate cookie sleeves.

Buy small condiment containers, available at Walmart with 50 cents per bag. Organize beads by color, size, and shape.

Paint the sides of an old shelf with chalkboard paint. Organize your bead containers on the shelf and write on the side what is stored on each shelf. This helps keep your work table or desk from getting too cluttered.

Use a mechanic's tool chest to store beads and findings. Tape the bead information from the supplier (price, product code, etc.) to the bottom of each space; then group them in the chest by color and type (gem, crystal, glass, acrylic, etc.), labeling the color on the outside of the drawer.

Hummus containers have a wide mouth and are convenient for storing up to three different kinds of beads in the same container. They are easy to separate and have a nice lid.

Buy small salsa containers with lids. They are very cheap at Walmart; you can get 200 for less than $3.00.

Use the acrylic 1 x 2 x 1.5-inch boxes with lids from the container store. These allow you to take out just the beads you are using without the remaining beads moving into other beads' space. 

Store beads in empty Tic Tac containers.

Organize bead containers in marked shoe boxes.

Store large beads in a nuts-and-bolts box from the hardware store.

Organize beads by "holiday" or project (e.g., store orange and black beads together with Halloween/fall beads, pumpkin charms, spider pendants, etc.).

Put each strand of beads in a small Ziploc bag and label it with all of the bead information. Organize small bags in color-coded gallon Ziploc bags so you can easily see all beads of the same color when planning a project.

Store tools in a Caboodle makeup case.

Use plastic photo boxes for works in progress.

Store your beads in small lipgloss containers. Since they are clear, it is easy to see what beads are in each container.

BONUS TIP: Because pearl beads are especially delicate, you need to take extra steps to keep them in pristine condition.They have natural moisture, so they need to stay hydrated. Unlike most beads, you don't want to store pearl beads in a dry, airtight container. Keep them in a protective pouch instead! You can also keep a small cup of water close by to keep the pearls moisturized.
Want more tips and tricks? Be sure to check out our handy video tutorial to teach you all you need to know about keeping your jewelry beads from spilling over!How to Prevent Beads from Spilling
What is your favorite bead storing tip? Did yours tip make the list? 
Your Recently Viewed Projects
Join our community of 5 million crafters! Right now!
Get free craft projects, exclusive partner offers, and more.
Thank You for Signing Up!
There was an issue signing you up. Please check your email address, and try again.