What is Memory Wire?
Memory wire is a versatile material that gives the look of stacked jewelry with very little effort.
What is Memory Wire
When you are new to making jewelry, it can be quite the challenge to learn about all of the different supplies, materials, and jewelry making tools that are used. It can be particularly challenging to keep track of the different kinds of wire used for making jewelry. Beading wire is the go-to material for stringing beads for necklaces and bracelets, and artistic wire is used for wire-wrapping jewelry but what is memory wire, and how do you use it?

Memory wire is a strong wire that maintains its coiled shape, making it the perfect material for creating bangles and wrap bracelets. Most memory wire tutorials involve stringing beads on the wire for a chic stacked look. However, you can also wire-wrap or even macrame around the strong wire base.
What Kind of Memory Wire Should I Buy?
Memory wire comes in a variety of sizes, shaped for rings, bracelets, and necklaces. The most common type of memory wire is round, followed by flat memory wire, which works well for coiled bracelets. There is also steel memory wire, which has the shiny appearance of gold or silver-plated metal for a more luxurious look.
How to Work With Memory Wire
Working with memory wire can be very easy and fun once you have a little bit of experience, but keeping a few tips and tricks in mind will make the process much easier for beginners.

Check out our guide on How to Work With Memory Wire When Making DIY Jewelry for all of the details you need to know while working with this handy wire.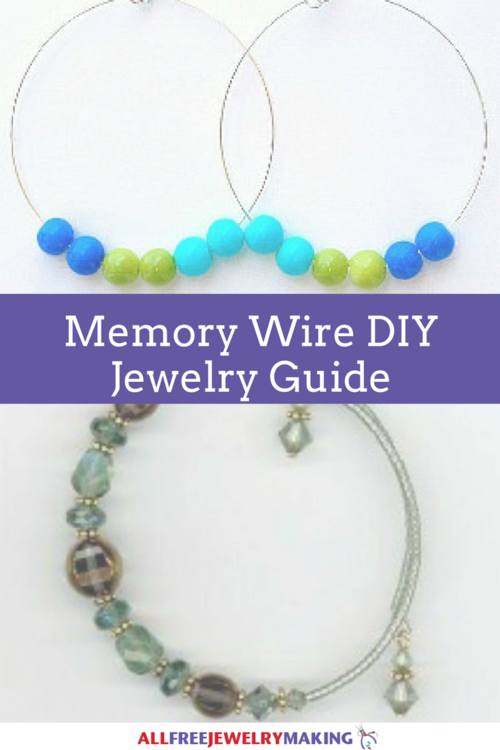 How Do I Cut Memory Wire?
You'll want to set aside your good flush cutters when working with memory wire. Since memory wire is so strong and thicker than many other bead stringing materials, it can damage flush cutters, side cutters, and small scissors that are all intended for more delicate materials, such as thin wire, or nylon thread.

Luckily, many bead shops and craft stores stock memory wire shears, which are specifically designed to cut memory wire with ease. In addition to keeping your go-to cutters in tip-top shape, memory wire shears ensure a clean cut with no sharp edges.
How Do You Finish Memory Wire Jewelry?
Many memory wire jewelry projects can be finished very simply by looping the end of the wire with a pair of round nose pliers. Cut the wire using memory wire shears approximately half an inch from the end of your last bead, and grab the end of your wire with your round nose pliers. Loop the end of the wire in toward the beads on your wire.

You can also buy tiny findings that are specifically designed to finish memory wire jewelry, but the looping technique is a great way for beginners to get started without shelling out any extra dough.
Memory Wire Bracelet Patterns
Using memory wire to make fun and fashionable jewelry is very easy once you know the basics. Simply cut the same number of coils as the number of wraps you would like your bracelet, necklace, or ring to have. Finish off one end of the memory wire with either a simple loop, or by attaching a specialized finding. String a selection of beads onto the wire. You can use any type of bead, as long as it has a hole larger than the diameter of the memory wire! You can stick with seed beads to clear out your stash, or use a variety of pretty beads for a fun jewelry piece no one else with have. Once you have filled all of the coils of your bracelet, necklace, or ring, loop or attach a finding to the other end of the wire to finish.
Your Recently Viewed Projects