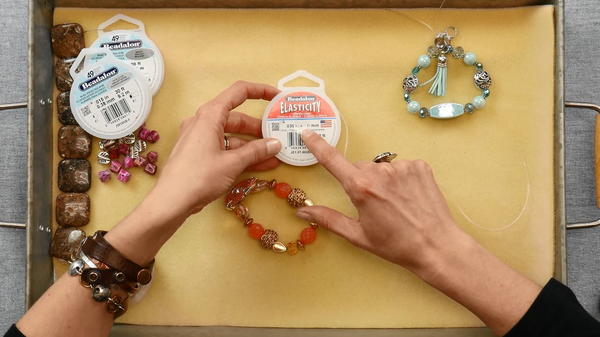 How to String Beads
Learning How to String Beads is an essential skill for any DIY jewelry maker. However, stringing beads isn't always as easy as it looks. In this tutorial, you can learn the proper techniques for stringing beads, as well as what sort of beading wire to use for your projects. This tutorial features clear instructions and easy-to-understand steps, so even beginners can follow along. The skills you learn in this tutorial can be applied to a wide majority of jewelry projects. Once you learn this technique, you'll be able to make your own jewelry successfully.
Project TypeLearn a Technique

How to String Beads
Choose your stringing material. The ideal stringing material will depend on the type of project you are making, which type of beads you plan to use, and whether you want the jewelry piece to be stretchy, flexible, or rigid.
How to String a Stretch Bracelet
If you want to make a stretch bracelet, you will first want to choose a strong elastic cord, such as Elasticity in 1mm diameter.

Pre-stretch the elastic to get rid of any "wiggle room," and to make sure your bracelet will fit just right.

String your beads according to a pattern, or in any order you choose to create your own design.

Knot the end of your stretch cord using a surgeon's knot, or a simple knot. Stretch the bracelet to make sure the knot holds.

Dab some strong glue (like E6000) or clear nail polish on your knot to seal it. Allow to dry.

Once you have allowed the knot to dry, test the knot to make sure it holds.

Snip the ends of your elastic, leaving a very short tail, so the knot does not wiggle loose. You can also tuck the tail into a nearby bead to hide it.

Your DIY stretch bracelet is ready to wear!
Tips for Stringing Beads on Beading Wire
For heavy stone beads, or beads with an abrasive opening, you will want to select a sturdy beading wire, such as a 49-strand, .024 inch diameter bead stringing wire.

If your jewelry piece is rigid, or not flexible, make sure you are not using hard wire, which is more commonly used for wire-wrapping.

If you only have a smaller diameter of bead stringing wire, like .015 inch wire, you can double-up on strands of the wire to add some strength to your project.
Your Recently Viewed Projects