How to Wear Layered Necklaces
Check out these DIY jewelry tips and tricks for how to layer your handmade necklaces!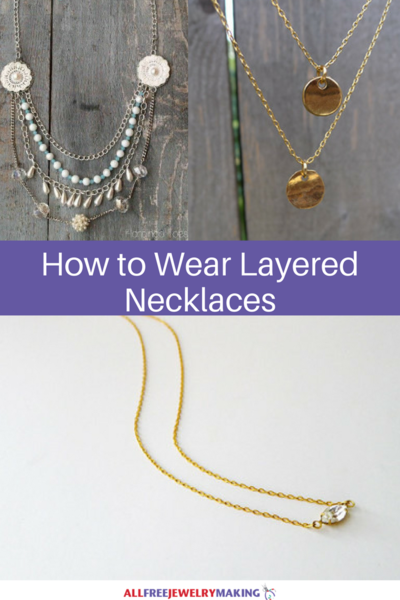 How to Wear Layered Necklaces
Now that you are amazing at jewelry making and you have tons of different DIY necklaces it can become very tricky to pick which ones to wear on which days. However, why only pick one necklace pattern to wear when you can pick a bunch?

Layered jewelry pieces are amazing because they can add so much spunk and design to a plain outfit. Plus, you get to wear a bunch of the necklaces you worked hard to make all at once. The only tricky part of it, is figuring out the best ways to layer necklaces so you can look your most chic!

This guide will help you learn everything you need to know about how to wear layered necklaces. Whether you are starting with a prelayered necklace, or simply have more handmade necklaces than you can count. Now you can weear your favorite chain necklace with your favorite DIY choker!



Layering Necklaces
How to Wear Layered Necklaces
Start from the Top: When it comes to layering your different DIY necklaces you want to make sure to start from top and work your way down. It is really important to keep your starting necklace size in mind when you are planning on the other necklaces to pair with it. 

Pay Attention to Necklace Type: It is best to use delicate jewelry pieces with either a single dainty pendant for your shorter pieces, or long thin chains for your longer pieces. It is also very popular to end in a body chain of somesort to act as your longest piece. 
Tip: Start with a choker if you want to add an extra layer of necklaces.
This black Midnight Crystal Choker is the perfect example for a handmade choker that will be easy to pair other necklaces with! These coin necklaces are another fantastic example of slightly longer starting necklaces!

Necklace Length: You will typically want to use at least three necklaces in order to create a layered affect of some sort. You can use a maximum of as many necklaces as you would like as long as it does not look cluttered.
Tip: Each necklace chosen should have at least a two-inch length difference. 
Try out this Tassel Necklace Pendant or this Triple Chevron Bead Necklace for great long pieces to use as your final necklace! 
 

Mix and Match: It can really throw in a different look if you mix and match different types of metals. For example mixing gold and silver can create a very unique layered affect. Another popular pairing would be rose gold with pearls.
It could have a very nice affect pairing this Golden Chain with a silver studded necklace and few other necklaces inbetween could create and elegant yet rocker look! 

Adjust Your Necklace size: This one may seem a bit obvious, but it can make a huge difference remembering to adjust the size of your chain necklaces. This way if you want one of the necklaces you are layering to be just a little bit longer or shorter, you can achieve that perfect look! 

Pre-Layered: When all else fails, or when you are in a rush and really don't have the time to spend on putting together different necklace layers, make a prelayered necklace.
This Chain Gang Layered Necklace is perfect for an ediger look, while this Lovely Layered Necklace gives a softer sweeter layered look! Both are exquisite to make and wear though! 
Your Recently Viewed Projects
Join our community of 5 million crafters! Right now!
Get free craft projects, exclusive partner offers, and more.
Thank You for Signing Up!
There was an issue signing you up. Please check your email address, and try again.