14 Perfect Pom-Pom Jewelry Pieces: Earrings, Necklaces, Bracelets and More
Poms-poms are the new black! Grab yourself some yarn and scissors and get to snippin'!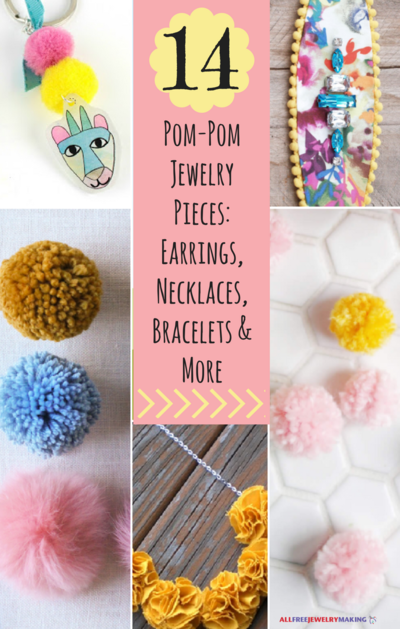 You don't need classy crystals or polished diamonds to look fabulous. These Perfect Pom-Pom Jewelry Pieces will dazzle you from head to toe. Put away the glue and store bought pom-pom balls and whip out the gold chains, clasps and yarn so you can whip up a batch of these polished puff projects!

Pom-poms have been stealing the thunder away from pearls, gems and rhinestones. It's been the latest go-to material to incorporate on necklaces, bracelets and earrings. The best part about these adorable poms is how inexpensive they are to make. You can create stunning statement necklaces, exquisite earrings or beautiful bracelets with these fabric infused charms. 

Tassels have been the latest talk on the town, but after seeing what pom-poms can do, they're giving tassels a run for their money! Whether they're small or large or bright or neutral, adding a puff ball to a naked chain is the cherry on top to any jewelry project.

Learn how to not only make your very own pom-pom pendants, but also how to make some of these trendy jewelry projects that are dripping in these cotton creations. 
Table of Contents
Pom-Pom Earrings & Other Accessories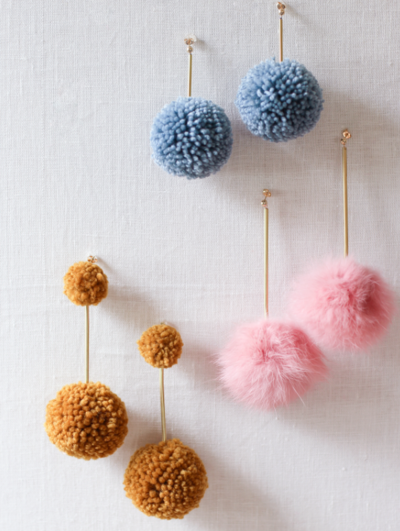 Throw a party on your ears by designing a pair of pom-pom earrings! If you're having a bad hair day, whip your hair up in a bun or ponytail and distract everyone's eyes to your ears.

A pair of colorful puffs will never do you wrong. You can dangle these bad boys off of a silver or gold chain or attach them to a stud back to make them a bit more perky. 

Large statement rings are another current trend and what better way to make a statement on your finger than with a pom-pom? Hot glue one of these suckers to a ring band and you've got yourself a furry accessory to keep your finger nice and toasty!
DIY Pom-Pom Necklace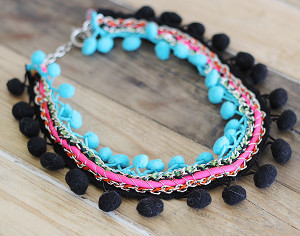 Looking for some Anthropologie inspired jewelry? All of these DIY necklaces will fool your friends into thinking you spent big bucks on the real deal, but in reality they barely cost a dime. If you have some handy scissors, a long chain and a ball of yarn then you can whip up these fun fancy necklaces.

These fluffy puff balls hanging on a chain will sure make a statement when you walk into any room. 
Pom-Pom Bracelet DIY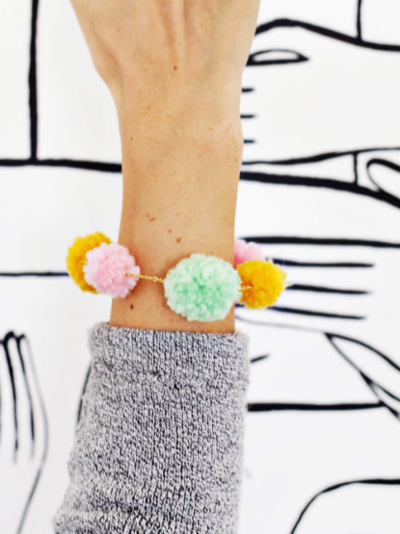 Looking for an easy breezy way to add some color to your ensemble? Throw on a bold, bright and colorful pom-pom bracelet to add a pop of pigment to your plain white tee.

You can also take a break from showing off your cute pom-poms on your wrist and turn it into an anklet! These 2-in-1 jewelry tutorials will blow your mind when you see how easy these DIY bracelets are to make.

From one pom to two poms, you'll be ready to take on the day with a little bit of fluff on your wrists.

Not exactly sure on how to make the perfect pom? Learn how to make pom-poms in bulk to create an endless amount for future projects!
What's your favorite way to accessorize pom-poms?
Your Recently Viewed Projects