"How to Wire Wrap Jewelry: 16 DIY Jewelry Wire Wrapping Tutorials" eBook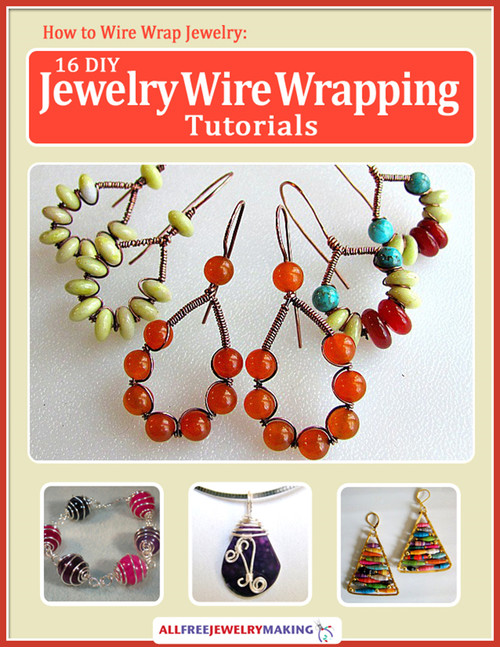 How to Wire Wrap Jewelry 16 DIY Jewelry Wire Wrapping Tutorials
This image courtesy of AllFreeJewelryMaking
Wire wrapping techniques can be used in a variety of ways to yield amazing results you probably never thought possible. Whether you're in need of a new necklace, you're pining away for a pretty pendant, or you're eager for some new earrings, you can use wire wrapping techniques to create the accessories of your DIY dreams. Among the gorgeous jewelry patterns included in How to Wire Wrap Jewelry: 16 DIY Jewelry Wire Wrapping Tutorials, you'll find tutorials for necklaces, bracelets, earrings, and pendants galore.

Learn how to wire wrap a gemstone or focal bead in a wonderful woven web of wire. Find wire wrapping techniques that allow you to feature a bevy of beads beautifully, or learn how to make wire jewelry that lets the wire shine all on its own. Explore jewelry patterns that use wire wrapping techniques to create connecting components, or that use scrolled and coiled wire to accent beads and pendants in a subtle and stunning way. When it comes to wire wrapping jewelry, the possibilities are endless. These 16 DIY jewelry tutorials will show you how to wire wrap in a variety of ways, so you can choose the techniques that suit your style best. So grab a spool of wire, and get ready to delve into these dimensional and dynamic wire wrap jewelry designs!

Be sure to sign up for our weekly newsletter, Bling Buzz, for even mroe gorgeous patterns delivered straight to your inbox! To subscribe, click here.
Plus, Don't Miss Our Other eBooks!
What's Inside this Free eBook
Wire-Wrapped Pendant Projects: Purple Passion Pendant -  Every plain chain or necklace strand needs a pretty pendant to give it some pop, and when it comes to setting that pendant, there's no better way than with beautiful wire wrapping techniques. If you have a lovely gemstone or focal bead you've been hanging onto for a while because you're not sure how to feature it, you're sure to find inspiration from the tutorials in this collection. The Purple Passion Pendant featured in this eBook, for example, uses silver wire to complement the rich royal hues of the stone for a stunning effect. Rather than just creating a basic bail and leaving it at that, this design takes it a step further, using elegantly scrolled wire wrapping components to give the pendant a bit of extra detail while also making the piece more secure. This wire wrap jewelry project proves that sometimes wire should play a starring role in your DIY jewelry designs. You'll finally know what to do with that focal piece you've been holding onto when you check out the array of marvelous wire-wrapped pendant designs in this free collection.

Wire-Wrapped Bracelet Patterns: Coiled Connections Bracelet -  Sure, you could simply string a few beads on some cord, attach some findings, and call it a day, but why play it safe when you could make a standout piece using the easiest wire wrap jewelry techniques? As the Coiled Connections Bracelet pattern in this eBook will show you, sticking to standard findings is a missed opportunity. Let every piece of your jewelry project have purpose by learning how to wire wrap curly coiled connections for your bracelet designs! Rather than lying low, these shining spirals make a statement and take this bracelet pattern from mainstream to magnificent. If you've never learned how to make wire jewelry, this is a great easy project to start with. The loops are nice and large so you can get some practice in before you try some of the more intricate wire wrap jewelry projects. Add some extra charm and hand-crafted character to your DIY jewelry creations by making your own findings using this easy wire wrap tutorial. Find this and other ways to work wire wrapping into your bracelet patterns when you check out the full collection.

Wire Wrapping Earrings: Sunshine Spiral Beaded Earrings - If you thought making wire earrings simply meant attaching beads to some ear wires, think again. Wire wrapping techniques for earrings offer a plethora of possibilities, and the collection in this eBook includes some true artisan-level wire earring designs worthy of any store window. No one will ever guess that you made these Sunshine Spiral Beaded Earrings yourself. This tutorial will show you how to wire wrap earrings that look incredibly clean and professional while still maintaining some funky style. The beautiful symmetry of these earrings is what makes them stand out, bringing at once a sense of uniformity and yet an organic quality to the design. Wire wrapping techniques that bring beads and wire together in perfect harmony are some of the most beautiful of all, and this earring project definitely lets both the beads and the wire shine. It might take a while for you to master the look of this wire wrap tutorial, but there are plenty of other earring patterns in this collection that will help you get the hang of wire wrapping techniques if you're not quite ready to tackle this project yet. Download your free copy and check them all out!

How to Wire Wrap a Ring: Spiral Wire Ring - Who says all rings need a big sparkly rock to be beautiful? If that's your current opinion, you'll think twice after you check out the Spiral Wire Ring tutorial in this eBook. This wire-wrapped ring project makes a big impact without using any beads or stones! The coiled design of this hand-crafted ring is utterly hypnotic, and once you learn how to wire wrap this piece, you'll be able to carry over these wire wrapping techniques to all kinds of DIY jewelry designs. If you want to put a ring on your partner's finger or show someone special how much they mean to you, this wire ring project makes a beautiful gift - a gift that will mean all that much more because it was handmade by you. Spirals and coils are always a popular motif in wire wrap jewelry patterns, and this ring design proves why. You'll find this and swarms of other swirl patterns when you download your copy of this DIY jewelry guide book, so you can create a whole collection of mesmerizing wire jewelry projects.
Your Recently Viewed Projects
Join our community of 5 million crafters! Right now!
Get free craft projects, exclusive partner offers, and more.
Thank You for Signing Up!
There was an issue signing you up. Please check your email address, and try again.