20 Right Angle Weave Beading Patterns
Learn how to right angle weave and discover beautiful bead weaving patterns that use the RAW technique.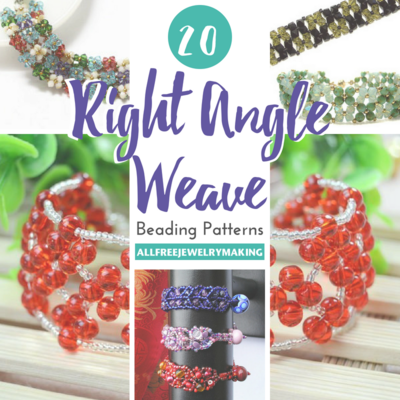 Out of all the off-loom bead weaving techniques, right angle weave is one of the most popular and most versatile. So named for the way in which the bead stitches lie in right angles to one another (clever, huh?), this type of beadwork appears as a series of small squares or diamonds. It creates a very sturdy yet flexible beaded tapestry of sorts that can be folded or stitched, almost like fabric. If you are looking for a good base for creating an embellished piece, right angle weave might very well be the way to go!

Now you can learn how to right angle weave like a pro with this collection of 20 Right Angle Weave Beading Patterns! These sensational seed beading projects will give you plenty of practice with the oh-so-useful and versatile bead stitch. With these tutorials, you'll learn techniques for off-loom weaving to make beaded bracelets, necklaces, rings, and more. You'll even find a range of bracelet patterns, from thin beaded bangles to chunky cuffs and everything in between. Make some durable and beautiful jewelry that will last you a lifetime by learning how to right angle weave!
Table of Contents
What is your favorite beadwork technique for off-loom weaving?
Your Recently Viewed Projects