20 Right Angle Weave Beading Patterns
Learn how to right angle weave and discover beautiful bead weaving patterns that use the RAW technique.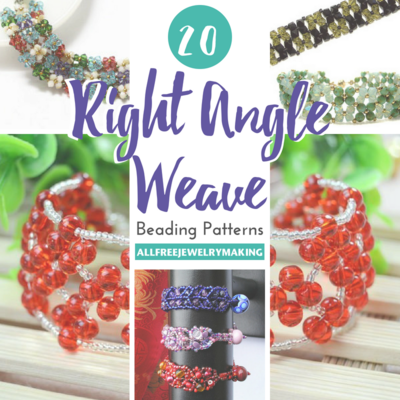 Out of all the off-loom bead weaving techniques, right angle weave is one of the most popular and most versatile. So named for the way in which the bead stitches lie in right angles to one another (clever, huh?), this type of beadwork appears as a series of small squares or diamonds. It creates a very sturdy yet flexible beaded tapestry of sorts that can be folded or stitched, almost like fabric. If you are looking for a good base for creating an embellished piece, right angle weave might very well be the way to go!

Now you can learn how to right angle weave like a pro with this collection of 20 Right Angle Weave Beading Patterns! These sensational seed beading projects will give you plenty of practice with the oh-so-useful and versatile bead stitch. With these tutorials, you'll learn techniques for off-loom weaving to make beaded bracelets, necklaces, rings, and more. You'll even find a range of bracelet patterns, from thin beaded bangles to chunky cuffs and everything in between. Make some durable and beautiful jewelry that will last you a lifetime by learning how to right angle weave!
Table of Contents
How to Right Angle Weave
If you're not yet ready to jump in the deep end, get your feet wet first with this beginner right angle weave tutorial. These step-by-step instructions will walk you through how to right angle weave so that you can master the basic technique. Once you've familiarized yourself with the basics of the stitch, you'll be ready to try your hand at incorporating right angle weave into actual jewelry projects.
Right angle weave is a simple bead weaving technique which is used as the base of many off-loom bead weaving patterns. Learn how to do the basic right angle weave stitch with this easy, step-by-step tutorial.
Elemental Right Angle Weave Patterns
These beading tutorials are not complete jewelry projects in and of themselves, but they can be incorporated into your jewelry designs to create beautiful and intricate bracelets, necklaces, and other accessories. See how you can work these right angle weave patterns and motifs into your own creations!
Square Openwork Right Angle Weave
This tutorial will show you how to use right angle weave to create an open, geometric checkerboard design. This stitch technique looks great as it is, or embellished with other beads as accents.
Tila Bead Openwork Right Angle Weave
Looking for a way to put your Tila beads to good use? This tutorial is an airy, open weave that has a beautiful contrast between the Tila beads and small seed beads.
Basic Right Angle Weave Patterns for Beginners
You do not need to be experienced in the art of bead weaving to have a blast stitching the right angle weave! This easy beading technique is a simple way to get started with bead weaving. Once you try the basic right angle weave with uniform seed beads, you can use a mix of different bead shapes and sizes to make a visually appealing piece of jewelry. You'd never guess these bead weaving patterns are so simple!
Right Angle Weave Bracelet Patterns
Now that you've got the right angle weave technique down, try using it in to make stunning handmade jewelry with these beautiful beaded bracelet patterns! Whether you're looking for sleek and slender bracelets or bold, statement-making cuffs, this list of right angle weave patterns should have you covered.
Right Angle Weave Necklace Patterns
Rock some right angle weave around your neck with these RAW necklace patterns. One of the best things about right angle weave is that it works with a variety of bead types, so by changing up the beads, you can get completely different looks using the same basic weave. These two right angle weave necklace patterns look nothing alike, but they are both definitely show-stopping pieces!
Channel the fiery orange and red tones of beautiful Tiger Lily blossoms with this necklace pattern. This pattern might be tricky for beginning beaders, but experienced beaders will love the challenge!
Peach Freshwater Pearl Necklace
Add a finishing touch to any outfit from movie night to date night to a very special occasion with this stylish necklace. The freshwater pearls are classic, without being boring.
Right Angle Weave Ring Patterns
Not all rings need a big rock to make a statement. These right angle weave ring patterns are cocktail-party-ready all on their own. Learn how to right angle weave some fabulous finger bling with these beaded ring projects.
Cute and Flirty Right Angle Weave Rings
Practice right angle weave on a smaller scale with these cute and flirty stitched rings. You can use whichever colors and beads you like to make these little rings as fun and flirty as possible.
Right Angle Weave Cocktail Ring
Diamonds and precious jewels aren't the only way to rock a statement ring! This glamorous cocktail ring is made using sparkling crystals for a big style statement, without the big expense of jewels.
What is your favorite beadwork technique for off-loom weaving?
Your Recently Viewed Projects
Join our community of 5 million crafters! Right now!
Get free craft projects, exclusive partner offers, and more.
Thank You for Signing Up!
There was an issue signing you up. Please check your email address, and try again.