Jewelry for Kids: 37 Jewelry Making Ideas for Summer Break
These kids jewelry projects will make this summer the best ever!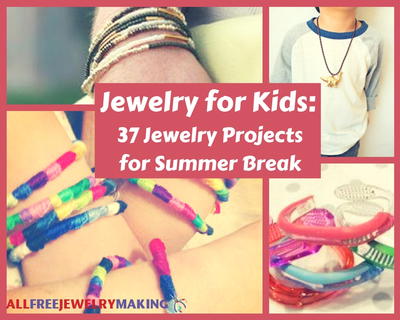 School's out! What better time is there for your kids to try some fun jewelry projects than the summer? Encourage your kids' creativity with this collection of Jewelry for Kids: 37 Jewelry Making Ideas for Summer Break. Whether you are an art instructor looking for camp crafts, teacher gathering lesson ideas, or a parent searching for fun projects to do with the kids, you will definitely be impressed by these fantastic kids jewelry ideas.
 
Never made DIY jewelry with your kids before? No problem! Not only are these jewelry projects simple enough for any beginner jewelry maker to follow, but they are also inexpensive, too. Having a summer party? Your kids' friends will love the free friendship bracelet patterns in this collection. Do your kids love quirky, funny projects? Check out the unique jewelry section! There are even recycled jewelry projects that you can use to teach your kids about reusing materials.
 
Plus, we even have a fun bracelet video for you and the kids to follow along with while you make the craft! Check it out below: 
Table of Contents
DIY Friendship Bracelets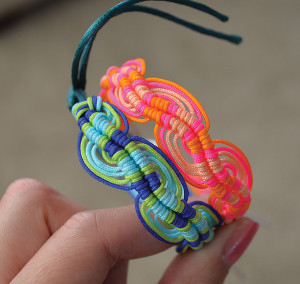 Some things are just meant to go together. Case in point: summer and friendship bracelets! If you've grown up making macramé bracelets with friends, then these jewelry making ideas will help you to continue the tradition with your kids. There are so many different ways to make them, and this collection of free friendship bracelets will give your kids of plenty of inspiration to explore! 
Unique DIY Jewelry for Kids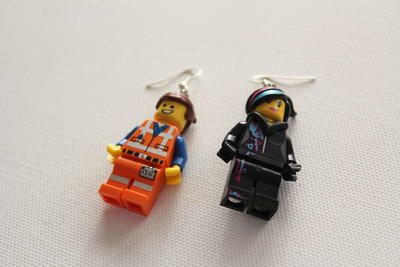 Why make boring projects when you can think outside of the box with these unexpected jewelry projects? The DIY kids jewelry in this section is made with materials that you would never have thought of using, like upcycled old toys, toothbrushes, and even colored pencils! These jewelry ideas are sure to make your kids laugh and have fun this summer. This collection will show them that anything goes when it comes to fun crafts! 
Meaghan's Favorite Jewelry Project for Kids!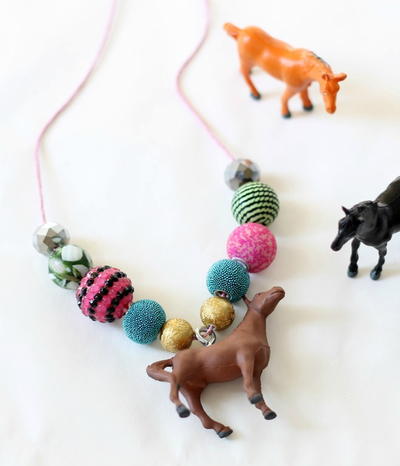 Meaghan from The Decorated Cookie creates fantastic jewelry projects for kids! She dishes out on her favorite:

"My favorite jewelry project for kids is creating beaded necklaces. It's great for all ages, helps with their fine motor skills, and they can personalize their jewelry to their own passions. For my little equestrian, for example, I drilled eye hooks into assorted plastic horse toys and the kids at her birthday party were able to make their own beaded horse necklaces. You can use any animal or any toys your kid loves to make these." 

Click here for Meaghan's full tutorial on this sweet pony necklace! 
DIY Necklaces for Kids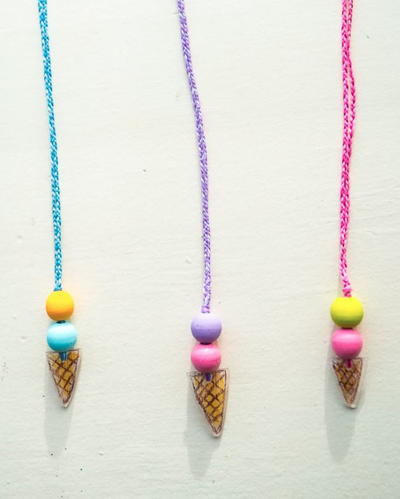 There's more to making DIY necklaces than just stringing on a handful of beads and calling it a day. Try some of these necklace projects with your kids and teach them the endless possibilities of homemade necklaces! From finger knitting to bottle cap necklaces, this collection has it all. You and your kids will be impressed with how awesome their necklace projects turn out. They'll have new accessories to rock all summer long! 
Cute Kids Pendant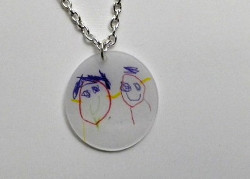 The inspiration for this kids jewelry project:

"I love kid drawings, and I wanted a way to showcase my child's drawings in a lasting way. This pendant was the perfect idea: a kid drawing that I can actually wear! This idea is a great gift for moms, grandmas, and even beloved preschool teachers."

- Heather from Dollar Store Crafts. For even more affordable jewelry ideas, make sure to check out Dollarstorecrafts.com!
Looking for even more jewelry projects for kids? Make sure to check out this collection of free 
Animal Jewelry for Kids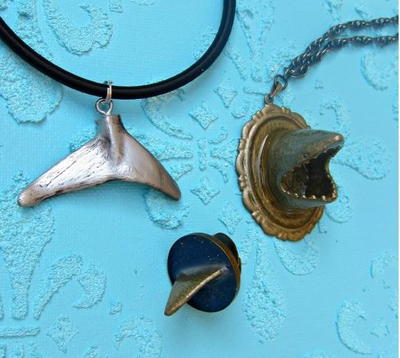 Who doesn't love some quirky animal jewelry ideas? Whether your kid can't get enough of dinosaurs, puppies, or horses, you'll find plenty of DIY jewelry inspiration for your animal-lovers.  Not only do these animal crafts look impressive, but they're loads of fun to make, too. There's even an adorable felt pin project inspired by My Neighbor Totoro!
Benefits of Jewelry for Kids: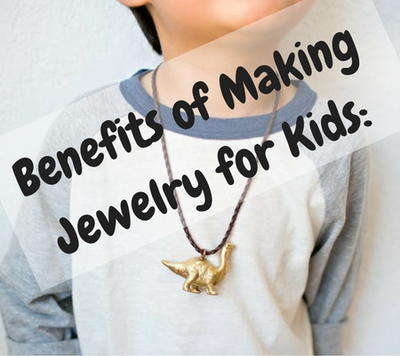 1.  Crafting can help kids develop bilateral coordination. This means that since these jewelry crafts involve using both hands together, your kids are practicing necessary skills that will help them with other future activities like tying their shoelaces!

2.  As Meaghan mentioned above, making jewelry can help kids develop their fine motor skills, too. This is the ability to make small movements with your hands. What better way to practice these skills than making a cool, fun accessory?

3.  It's a great bonding activity for you and your kids, and for your kids and their friends! You can start making jewelry projects a weekly family tradition to spend time with your kids. Got a birthday coming up? Pick a few ideas from this collection to throw a jewelry party that your kids and their friends won't forget. 

4.  Finishing a jewelry project creates a sense of accomplishment. Ever made a fun jewelry project and felt that rush of satisfaction when you finished? Imagine how fantastic your child will feel after he or she finishes their first DIY jewelry piece! Jewelry projects can help boost your child's self-esteem. 

5.  Last but certainly not least, kids jewelry projects are fantastic for encouraging creativity! So many of these projects, like the Dinosaur Necklace and Fun Horse Shrink Plastic Necklace, give kids the space to be creative and learn to think outside of the box. 
What was your favorite jewelry to make as a kid?
Your Recently Viewed Projects
Join our community of 5 million crafters! Right now!
Get free craft projects, exclusive partner offers, and more.
Thank You for Signing Up!
There was an issue signing you up. Please check your email address, and try again.