25+ Jewelry Crafts for Kids to Make and Wear
Bright and colorful as can be, these creative jewelry crafts for kids are too good to miss!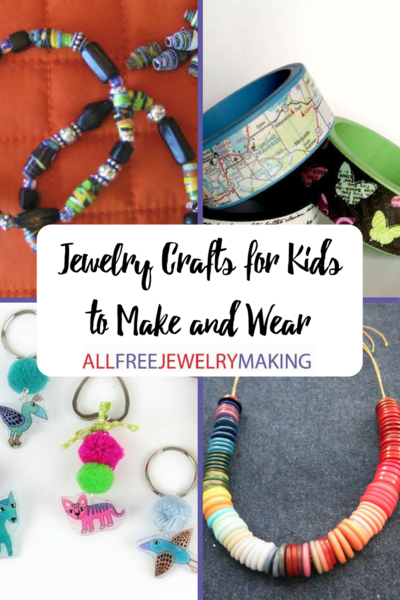 Pass on your passion for jewelry making to the next generation by teaching your kids how to make jewelry! Fun kids craft activities like making jewelry are the perfect way to stimulate little minds and encourage imaginations to soar. We've gathered up some awesome free kids craft ideas so you can help give the little ones in your life that creative outlet they so need. With this collection of 25+ Jewelry Crafts for Kids to Make and Wear, you'll find an abundance of kids craft activities you and your children can enjoy together.

Whether you're a parent looking for an afterschool craft idea, a grandparent looking for a way to entertain grandkids on a weekend visit, a baby-sitter in need of organized activities to keep kids under control, or a teacher looking for arts and crafts lessons, this collection of kids jewelry crafts will have something to suit your needs. In this roundup of jewelry projects, you'll find a mix of recycled crafts, button crafts, homemade jewelry gifts, and so much more. Just make sure you don't let the kids have all the fun; these jewelry projects can be enjoyed by adults, too!
Table of Contents
Recycled Jewelry Crafts
While you're introducing your child to the art of jewelry making, you might as well teach them about the value of recycling, too! Show kids that not all jewelry has to come from the store with these earth-friendly kids craft ideas. Whether they turn trash into treasure or repurpose old playthings into something wearable, these fun jewelry projects will teach kids how to be resourceful and environmentally responsible. Many of these recycled jewelry crafts use materials that can be found at home, making them easy on the budget. You and your child will be inspired to transform small toys, colored pencils, and even magazines into new and beautiful jewelry!
Jewelry with Buttons
For little fingers that are not yet deft enough to deal with beads, these button crafts make a great alternative to smaller beads. Working with and sorting buttons is also a great way for little minds to learn about organizing and categorizing, so these jewelry projects are an all-around win. Your little tikes will have a blast sorting through your old button collection and picking out their favorites to make these awesome jewelry projects. From gorgeous necklaces to a Christmas-themed brooch, these jewelry projects are a fun way for children of all ages to get creative. When it comes to jewelry crafts for kids, you can't go wrong with these button projects!
Jewelry Crafts Kids Can Make as Gifts
Whether it's Mother's Day or Christmas, kids are always in need of simple crafts they can make as gifts for mom, grandma, a teacher, or other family members and friends. These jewelry projects are all cute homemade gift ideas that kids can help to create. They'll feel so proud giving their handcrafted present to a loved one and being able to say that they made it themselves (even if an adult has to help). Teach children the joy of giving with these kids craft ideas for homemade jewelry gifts. These keepsake-worthy jewelry projects will be treasured for years to come.
Which jewelry craft with you make with your child?
Let us know in the comments!
Your Recently Viewed Projects