EnviroTex Lite Pour-On High Gloss Finish Review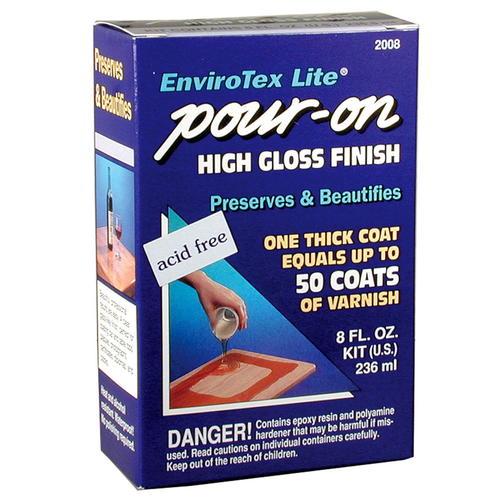 EnviroTex Lite Pour-On High Gloss Finish Review
www.eti-usa.com
Reviewed by , Editor, AllFreeJewelryMaking.com

For jewelry projects and more, Envirotex Lite Pour-On High Gloss Finish preserves and beautifies so that your handiwork stays protected.

A high gloss finish gives your project a professional, polished look while protecting your work from wear and tear. Heat- and alcohol-resistant, this epoxy coating can be used on wood, fabric, decals, bisque, photos, paper, metal, models, painted surfaces, dried flowers, plaster, rocks, seashells, bread dough, Styrofoam™ and more.

It's pretty easy to use this finish. All you need to do is pour it over your project on a horizontal surface. Then, it will cure and be ready for everyday use in eight hours. Essentially, you can cure it overnight!

This finish is best used indoors to prevent discoloration from the sun, so make sure to protect all clothing, floors and surfaces before use. Also, take care to prevent air bubbles by working quickly and using a hair dryer if needed.

This high gloss finish is waterproof, protecting the surface of your project from water damage. This is ideal in jewelry, which can be exposed to water when worn. Your DIY rings, necklaces and earrings will be waterproof after you use this finish.

This is also great if you're using a resin. For example, if you attached a stone to a pendant using a resin, you may want to use a waterproof gloss as a final seal, depending on the look of your project.

This high gloss gives your medium a shiny, eye-catching finish. It's especially beautiful on wood, rocks, shells, and metals. For jewelry makers, this finish is useful in its versatility. You can use it no matter the medium of your handmade jewelry.
Your Recently Viewed Projects