Swarovski Crystals 2018 Spring Collection Review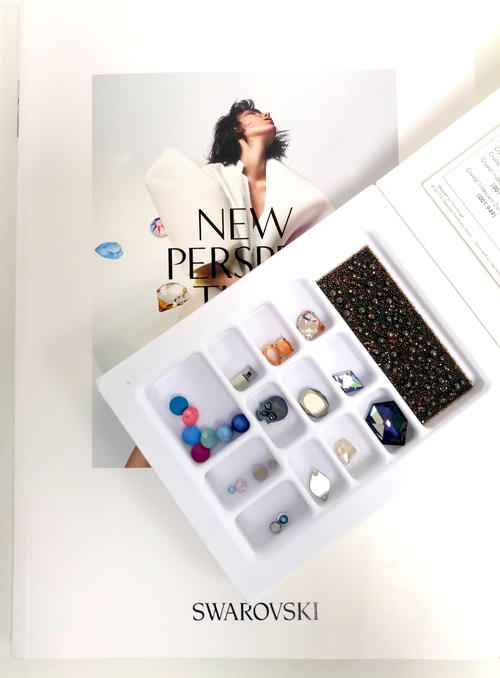 Swarovski Crystals 2018 Spring Collection Review
www.create-your-style.com
Reviewed by , Editor, AllFreeJewelryMaking.com

Jewelry makers are always looking for a new perspective, so Swarovski's Innovations and Inspirations Spring/Summer 2018 collection is aptly named. Like the prism of a jewel, creativity works best when you see it shine from many different angles. Swarovski said this collection is inspired by disruption, and turning cultural norms and tradition on its head. That manifests itself in their beads and crystals of this collection, which are bold, funky, and powerful.

Jewelry makers can make a statement with these pieces which are certainly diverse. The samples range from Crystal Shiny Lacquer Effects in bright colors like Azure Blue and Peony Pink, to a Skull Flat Back that isn't messing around. These crystals and stones have one thing in common, which is they all shimmer and shine in their own way. There are a couple retro elements to the collection, including a Baroque Mirror Fancy Stone that would look amazing in a steampunk piece.

The accompanying book offers lots of creative ideas for this collection. Make 'Spellbound' inspired pieces reminiscent of Southern Gothic. 'Hacked Nature' is a twist on the natural themes we've seen of late, giving bright hues to familiar shapes. 'No Normal' gives you permission to mix and match different jewelry themes with no fear.

This jewelry collection is forward-thinking and looking to inspire you to change your ideas about jewelry. For jewelry makers, it can encourage you to try new things instead of sticking with what you'd usually make. Try working with a new medium and have fun with a fresh perspective.
Your Recently Viewed Projects