How to Square Stitch: DIY Square Stitch Patterns
If you're a stitching beginner, you'll love learning how to make these square stitching projects!
From brick to peyote, the stitching techniques are endless. But, one that seems to be shadowed is the stunning square stitch. While many other techniques use a loom to create patterns, this one is done all by you.

Square stitch patterns can be made into necklaces, bracelets, earrings and even rings. Just like any other type of stitch, this type takes practice and patience to master. But, once you see the beautiful creations and jewelry pieces you can design with a square stitch, you'll want to get the whole 101 about this technique. 

Some suspect that all stitching is the same, but boy once you take a look at these lovely DIY square stitch designs, you'll notice how intricate the details and patchwork is. This type of stitching is definitely unique and the jewelry project outcomes can definitely speak for themselves.

You're going to want to put down your loom for these weaving patterns and pick up some thread and beads to get started. Grab a cup of Joe and sprinkle a little but of patience into and get ready to learn the art of square stitching. 
How to Square Stitch Like a Pro
So how do you square stitch you may ask? Check out this easy step-by-step tutorial to if you want to learn!

1. Attach a stop bead to a comfortable length of beading thread. If you're working with beads larger than 11/o, it's a good idea to leave an extra long tail, so you can add more reinforcements to the beadwork later.
2. Pick up any number of seed beads, odd or even. These will make up the base column. If you're making a rectangular piece, like a bracelet, this will be the short side.
3. Turn the stop-bead away from you, and hold the new beads against it with your free hand. Pick up one bead, and stitch down into the last bead from the first column. Pull tight so that the new bead rests side-by-side with the other.
4. Stitch up into the new bead and pull the thread snug. Pick up a new bead, and stitch down into the next bead of the first column. Pull snug, and stitch up into the new bead.
5. Repeat this process up the column, and stitch up into the last bead added to exit from the edge of the beadwork. Flip the panel over and start again from the bottom, adding one new bead to each one from the last column.
6. If you're working with a large quantity of beads in each row or column, you will want to reinforce each column before adding a new one. To do this, stitch down through the previous column, then up through the one just added before you resume stitching.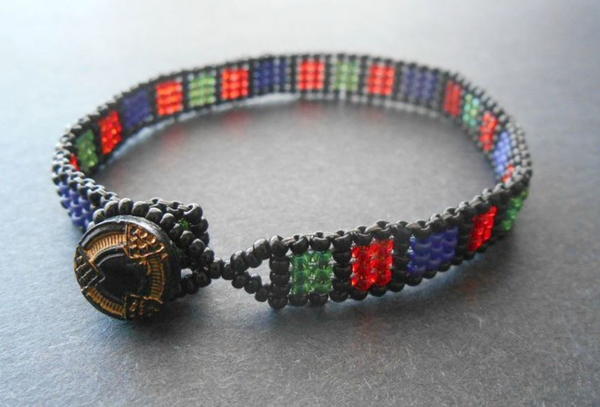 Interested in other beading techniques and patterns? Check out this collection to learn all about the various types of stitching!
Difference Between Peyote, Brick and Square Stitch
If you've heard of square stitching, then I'm sure you've heard of the many other stitching forms as well: peyote, brick, right angle and more. It can sometimes be confusing to keep them all in check and seperate from one another, but once you see a finished product of each stitch, each has their own unique look and structure. I promise you, peyote stitching is not the same as square stitching!

While there are some similarities between each stitching pattern, the differences stand out more. Any brick stitch project is a great beadwork project for beginners. In brick stitch, each row of beads is offset one half bead from the bead on the previous row. The pattern resembles the way bricks are stacked to make a wall, hence the name. Moving on to the peyote stitch, this type of stitching has different types within it: flat even count and flat odd count. Once you're finished, your jewelry project will have a strip of beadwork that's flexible yet sturdy. It's perfect to make for projects like rings, bracelets and purse straps. Last but certainly not the least is the square stitch. Square stitching resembles loom beadwork and is extremely durable. Seed beads are an ideal bead to use when square sttiching. Although it takes longer to create compared to other types of stitching, you can create some beautiful pieces of jewelry using this technique, such as bracelets, pendants and necklaces.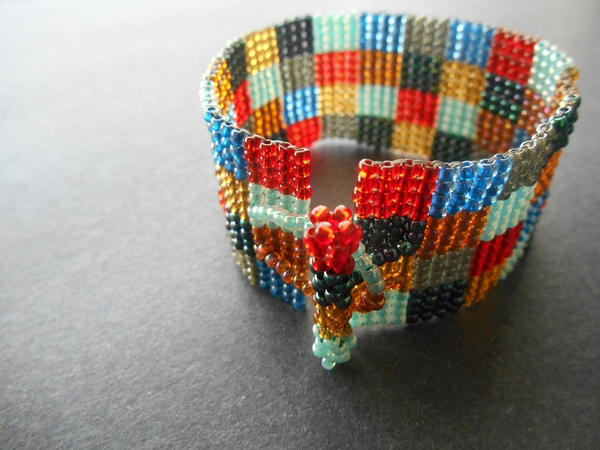 What to Square Stitch: Patterns for Square Stitching
From elegant earrings to cute cuffs, your square stitching beadwork willl look exquisite no matter the project. There are many jewelry and fashion pieces you can put your square stitching skills towards. You can design beautiful jewelry pieces for youself or even give them as gifts to your jewelry lovin' girls! Here are some fun projects that will give you inspiration and practice when it comes to square stitching:
What square stitching projects are you going to tackle first?
Your Recently Viewed Projects
Join our community of 5 million crafters! Right now!
Get free craft projects, exclusive partner offers, and more.
Thank You for Signing Up!
There was an issue signing you up. Please check your email address, and try again.