The Ultimate Collection of DIY Earrings: 184 Earring Patterns for Every Occasion
DIY Earring Patterns for Every Occasion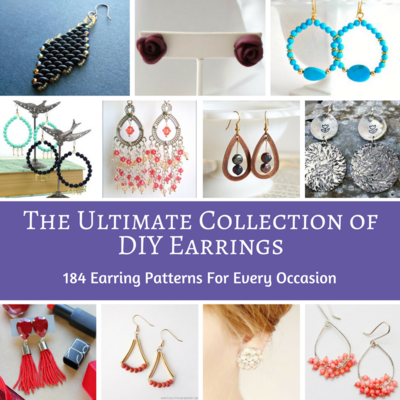 Finding different earrings patterns can be an endless search with nothing being exactly the way you want it to looks. Well, instead of searching for hours and having to settle for something that is close enough, why not learn how to make your own DIY earring patterns that can always be exactly what you want. The Ultimate Collection of DIY Earrings: 184 Earring Patterns for Every Occasion, is the perfect assortment of different handmade earring patterns for you. 
Whether you are in love with finding cute stud earrings or you are a sucker for glamorous drop earrings, this ultimate collection will have anything you could be hoping for. Even if you want to throw back to an old friend and make some really modern hoop earrings, you will find everything you need in this collection. 
From new and modern jewelry patterns, to classic designs, or even glamorous Hollywood jewelry styles, your ears will be prepared for every occasion. Now, with this collection, you can always look your best no matter what your plans for the night are! 
Your Recently Viewed Projects