DIY Beach Jewelry: 19 Patterns for Mermaids
An assortment of DIY jewelry projects inspired by mythical sea creatures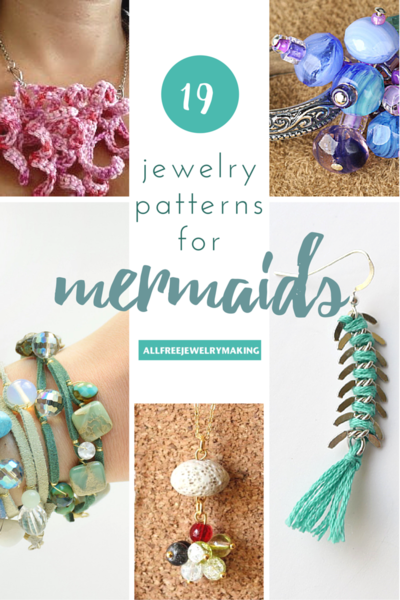 DIY Beach Jewelry Patterns for Mermaids
This collection of DIY Beach Jewelry: 19 Patterns for Mermaids is your guide to DIY jewelry that whisks you away to a magical realm. From Magical Jewelry Projects like Iridescent Mermaid Scale Earrings to low-key shell jewelry like Beach Goddess Seashell Clips, these jewelry making ideas will make you feel like a water princess.

Whether you're looking for a statement necklace to wear on the beach or a casual accessory for the boardwalk, these seaside patterns are truly mesmerizing. After all, who doesn't want to dress up like a beautiful, mythical creature? These DIY earrings, necklaces, and bracelets will give you that ocean-inspired look you've been craving all summer.

This collection is put together especially for mermaids that love playing with knick-knacks like beads, baubles, and shells. You'll fall in love with these DIY beach jewelry ideas before you can say "under the sea!"


 
Magical Jewelry Projects
There's no telling the number of spells you could cast with these gorgeous, magical DIY jewelry projects. From enchanted pearl earrings to lovely sea opal wrap bracelets, these jewelry making ideas will make you feel all bubbly inside!
Shell Jewelry
Whether you want to immortalize a beach vacation or just love the beachy look of jewelry made from shells, these DIY bracelets, hair combs, earrings, and more are sure to please. From natural vibes to metallic touches, these projects are the pinnacle of DIY beach jewelry ideas!
Jewelry Inspired by Creatures of the Sea
A mermaid would get nowhere without the help of her friends! From fishbone-style macrame bracelets to sea-anemone crochet patterns, there's a unique and pretty project to appease any sea-loving jewelry maker.
Your Recently Viewed Projects