38 Designer DIY Jewelry Patterns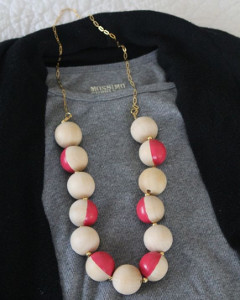 Do you find yourself lusting after designer jewelry that you know you can't afford? We've all been there before, and that's why we have a collection of DIY jewelry patterns straight from the runway and red carpet. Pick a jewelry tutorial and find out how to make a necklace that's fresh off the designer desk, or how to make a bracelet with stylish glamor that retains unique qualities.
Whether you favor statement necklaces or minimalist earrings, there's sure to be something for everyone's inner fashionista in this DIY jewelry collection. If you need a pair of DIY earrings for a formal evening, or if you badly want a designer piece without paying the big bucks, you'll relish every one of these DIY jewelry ideas. Once you've made a few of these pieces, you may find yourself inspired to take designer jewelry you love and transform it into DIY necklaces, DIY bracelets, even whole DIY jewelry sets. Either way, you'll never have to pay a steep price for high-fashion style. Just gather your jewelry supplies and get ready for some DIY magic!
---


If you look fashionable jewelry, but want to avoid high fashion prices, be sure to check out our collection of upcycled jewelry designs. In our free eBook, Upcycled Jewelry: 14 DIY Projects from Recycled Materials
you'll learn how to take scraps, bits and pieces, and random findings and turn them into something fresh and new.


---


38 Designer DIY Jewelry Patterns
Table of Contents
Designer necklaces can be some of the most captivating pieces imaginable. But with a jewelry tutorial from this collection, you can make some stunning DIY necklaces for a fraction of the cost that such pieces usually incur. You'll learn how to make a necklace with materials ranging from old fabrics to tassels to clay. Whether you want to make a chain necklace or upcycle old handkerchiefs for fabric jewelry, you'll find something to love here.
---

If you love the designer-inspired necklaces in this collection, then you will adore the pretty necklaces ideas found in our collection of statement necklaces,
How to Make Necklaces with Big Impact: 29 DIY Statement Necklaces
.
---
Learning how to make a bracelet opens a door into all sorts of new fashion possibilities, and with these knockoff DIY bracelets, you'll have all the fashion possibilities you could want. These bracelet patterns imitate high fashion from Chan Luu to Pandora, and everything in between encompasses a range of DIY bracelet materials and making. Fans of friendship bracelet patterns and fans of elaborate beading will all find something to make that suits their personal style.

DIY earrings can be the perfect finishing touch to an outfit, or they can make a statement of their own. Whatever style you prefer, these DIY jewelry ideas for ear adornment are sure to inspire and delight you. Taken from the minds of designers and presented for DIY crafting, any jewelry tutorial here is a guaranteed knockout for your wardrobe. The hardest part about making these DIY earrings will be deciding which one you should make first.

---


With all these fabulous knockoff pieces, you'll be able to shine like a star! Still looking for a little more sparkle in your life? Check out our free eBook, DIY Jewelry that Sparkles: 10 Crystal Jewelry Patterns!

---
Your Recently Viewed Projects