How to Make Cluster Bead Earrings: 20 Ways
Learn a variety of ways to make cluster earrings + check out a basic cluster earrings tutorial!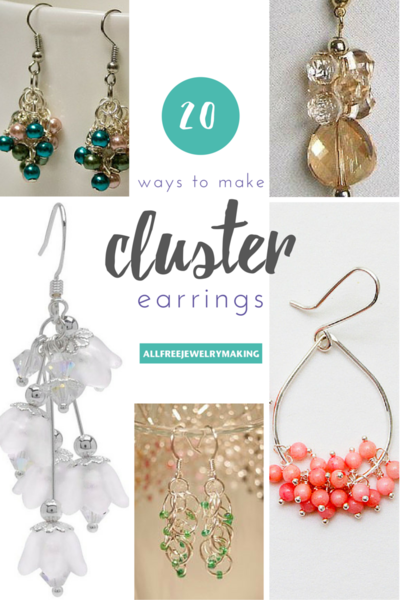 If you love making beaded earrings and are looking for some fresh new patterns and ideas, then try out the cluster earring craze! Learn how to make DIY earrings with charms, beads, or jump rings in little bunches (or "clusters") for a fun variation on the typical dangle earring design. We've gathered 20 earring patterns so you can learn how to make cluster earrings of all kinds! From chainmaille to wirework, from safety pins to paint chips, these earring patterns cover quite the range of techniques and materials, so there is definitely a design to suit every style.

Learn how to make cluster earrings using crystals, seed beads, pom poms, chip beads--pretty much any beads or charms you want! Cluster earrings are so versatile and can be made in so many ways; the possibilities are endless. We've made different sections in this collection so that you can build your cluster earring making skills. Start with our beginner tutorials, then, once you feel more confident, move on to the easy ones. After you master those, tackle the intermediate projects. We've also gathered some of our most unique earrings for you to try if you love quirky accessories! Learn how to make earrings with beads in every color, material, and style.

Are you a visual learner? Then learn how to make cluster earrings by following along with this easy video tutorial! This free jewelry making video will show you the basic technique behind making beaded earrings with a classic cluster design.
Table of Contents
How to Make Cluster Bead Earrings: Basic Cluster Earrings Tutorial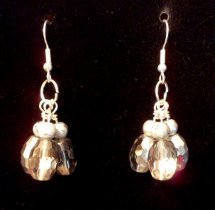 You will fall in love with cluster earrings when you check out this collection. This collection of handmade earrings will show you how there are so many different kinds of cluster earrings out there that you could make. This type of earring pattern truly makes a statement and is unbelievably easy to make. You won't regret checking out all of these different patterns and finding your favorite way to make your very own earrings! Whip out those beads and learn about all the possibilities of how to make earrings with beads. 

How to Make Bead Cluster Earrings

Materials:
Wire cutters
Round nose pliers
Flat nose pliers
Ear wires
2 jump rings
6 eye pins
12 beads
Instructions:
Taking a eye pin, thread 2 beads onto it.
Grasping the round nose pliers, hold them close to the end of the bead.
Push the end of the eye pin down to create a 90 degree angle.
Move the pliers to the upper portion and push the pin over and around the nose of the pliers to create a loop.
Move the pliers to inside the loop and wrap the wire around to attach. Using the wire cutters, cut any excess and use the flat nose pliers to flatten any wire poking out.
Repeat for all beads.
Open the jump ring, attach 3 beads and the ear wire. Close the jump ring.
Repeat to the other earring/beads.
How to Make Cluster Bead Earrings for Beginners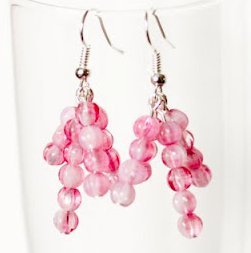 So, you're new to making DIY cluster earrings? These simple but sweet earring patterns will show you that learning how to make beaded earrings is a breeze -- and a lot of fun, too! 
Pearl Ball Bridal EarringsThese Pearl Ball Bridal Earrings will turn heads whether you are the bride or not. These cluster earrings are perfect for any occasion and really put a twist on your typical DIY earring pattern. 
5-Minute Cluster EarringsLooking for a lightning fast jewelry project to put the finishing touch on your outfit? These 5-Minute Cluster Earrings can be completed before your spouse has time to check their hair and put on their shoes! Make this cool cluster design today.
Teardrop Cluster EarringsThese earrings are an edgy and chic twist on the basic cluster drop design. With these instructions for how to make cluster bead earrings, you'll be sure to love the stylish and stunning result.
Dress up your cluster earring pattern by adding these stunning pearls. These deep colored pearls add a really classy touch to your style. Plus, if you love hoop earrings then you are going to double love that these cluster earrings are hoop earrings! 
DIY Grapevine Cluster EarringsThese glamorous DIY earrings are simply stunning, and they can be made in under twenty minutes! This is the great beginner project, particularly if you want to practice your wire-wrapping skills.
Easy Cluster Bead Earrings
Bead and Chain Dangle EarringsThis tutorial demonstrates an interesting technique for how to make earrings by creating a beaded chain loop! When the loop is attached to an earwire, it hangs in a graceful and effortless cluster.
Grapevine Cluster EarringsWith this tutorial you'll learn how to make earrings with a little chain, some headpins, and some beautiful white and blue beads. Though the layers of beads might look intricate, this DIY jewelry project can be completed in less than an hour.
Simple Cluster EarringsThese classic clusters are simple yet elegant. Follow these instructions to learn how to make cluster earrings that can easily go from day to night. Use beads of one shade for a more elegant look, or mix up the colors for a fun and flirty effect!
Gem Cluster EarringsThese beautiful rhinestone earrings are super simple to make, but look stunning. With easy-to-follow instructions and inexpensive materials, these earrings are the perfect DIY jewelry project.
Southwest Spirit Turquoise EarringsIf you love the southwestern style of jewelry, with its rich turquoise and browns, then these DIY earrings are just for you. With this free tutorial, you can learn how to make bead cluster earrings that will add some fabulous funkiness to the classic cluster earring pattern.
This project uses large jump rings and seed beads for a totally different take on the cluster look. From farther away, these earrings look incredibly intricate and complicated, but when you take a closer look, you see that they're made using very basic skills!
Intermediate Cluster Bead Earrings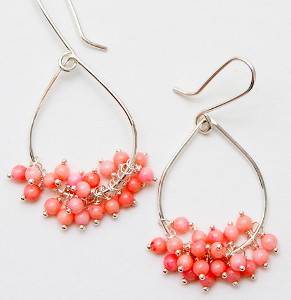 Advance your skills! Learn how to make beaded earrings that will have everyone amazed that you made them yourself. After mastering some of the beginner and easy DIY earring patterns, upgrade to these intermediate cluster bead earrings!
Cascading Crystal Earrings TutorialIf you're looking for cute free bead earring patterns, check out this Cascading Crystal Earrings Tutorial. It'll show you how to make fun dangle earrings and add to your patterns for making wire jewelry.
Knitted Wire Dangle Earrings 3 WaysThis tutorial is three earring patterns in one. Follow the instructions to learn how to make earrings by actually knitting wire! You may need some knitting experience to attempt these earring patterns.
These beautiful DIY earrings are the perfect way to "wake up" your outfit and add a little fun to your appearance. Easy and quick to make, these earrings are what every outfit needs.
Unique Cluster Bead Earrings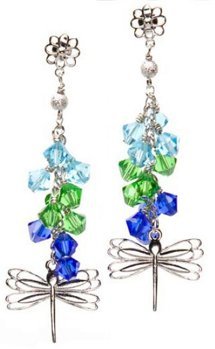 Ready to learn how to make beaded earrings that will stand out? This collection of unique cluster earrings isn't like any boring pair of earrings you can grab at the store. If you are going to learn how to make your own earrings, you might as well make them one-of-a-kind!
Dangling Dragonfly EarringsOne of the best parts of making beaded earrings is creating a pair for every season and occasion, and these sprightly earrings just scream spring! This tutorial demonstrates how to make earrings with charms for a lovely little addition to the cluster. Adapt this design for any season or holiday by switching out the charm and color scheme.
Wedding Bell EarringsIf you're looking for DIY bridal jewelry, this is the tutorial for you. Learn how to make cluster earrings for your big day with these easy instructions. When clustered together, these pretty Lily of the Valley beads create the look of little wedding bells.
Jayde Crystal EarringsIf you are looking for an elegant earring pattern, then this DIY earring pattern is just for you. It is a great DIY jewelry project for beginning jewelry makers and will give your appearance a dazzling look.
Safety Pin Dangle EarringsThese plush little pom pom earrings are a lot of fun! If you're looking for earring patterns that are a little more eccentric in style, try this tutorial. It'll show you how to make earrings using safety pins to create a chandelier effect.
This project will show you how to make earrings that resemble chainmaille for a gorgeous variation on the more basic beaded cluster design. Use flat chip beads in a variety of rich jewel tones to get the peacock-inspired color palette you see here.
Check out all of our favorite pairs of earrings with this amazing collection. Everything from hoops, to studs, to drop earrings and even more! 
Your Recently Viewed Projects
Join our community of 5 million crafters! Right now!
Get free craft projects, exclusive partner offers, and more.
Thank You for Signing Up!
There was an issue signing you up. Please check your email address, and try again.