How to Make Chokers: Leather Chokers, Beaded Chokers and More
Who knew that such a tiny necklace could sell for such big bucks? The 90s look is back and everyone wants a choker to rock. What's a 90s inspired look without the signature choker necklace? If you're on a budget but still want to look like a killer queen, then these DIY choker necklaces will satisfy your needs.

There are multiple ways to create and design a choker. These types of necklaces are among the simplest to make because they don't need a lot of material. Whether you're using leather or stacking a wire up with beads, your homemade necklaces are going to cost you significantly less than if you were to go out and buy one made.

The choker trend trickled down from well known celebrities and models rocking them with their street style looks. The always fashionable Kardashian clan is constantly seen spicing up their outfits with a simple or bedazzled choker. Rihanna can be seen adding a little bit of punk and spunk with a black leather or charmed choker to contribute to her edgy look. To say the least, society's fashionistas are die hard choker fans.

Rather than going out and buying multiple chokers for jumbo dollars, kick back in a comfy chair and make your own. There are several different ways to create your very own stylish choker pattern using different materials and techniques.

When you're finished learning How to Make Different Chokers, you'll be able to open your own choker line!
Luxurious Leather Chokers
When looking at a price tag of any leather jewelry piece, your eyebrows are going to definitely raise. Leather is known as a luxurious material and can add so much texture to an outfit. Using faux leather or leather-like material, you can create your own high end looking choker necklace. Many chokers made out of leather are a simple strip with a clasp. This Leather Choker Necklace is great for beginners who enjoy a simple strand on their neck. If you're looking for more detail, creating a choker like necklace with cords dangling down the side will look super unique and add some Bohemian vibes to your outfit. For inspo, take a look at this stunning DIY Cord Choker Necklace. Others are made with very intricate designs, such as this Lovely Leather Jewelry Bow Collar. Who would've guessed that someone actually handmade these leather masterpieces?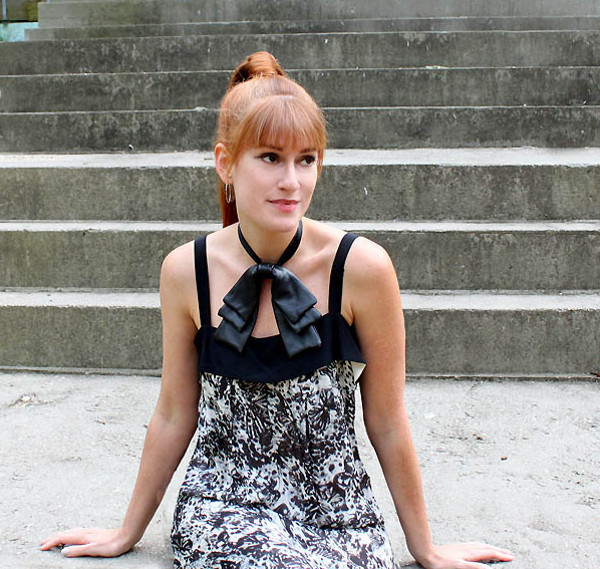 Once you've mastered the art of making a choker, learn how to rock one! From what outfits to wear to what ocassion, you'll have a choker for every day of the week. How to Rock a Choker
Elegant Lace Chokers
If you want to dress up your outfit, strive for a lace or crochet choker. These elegant lace jewelry patterns can be worn to a wedding, banquet or to have tea with the queen. If you don't have lace lying around your home, snag a cheap sample piece from a craft store. After cutting your desired size, add ribbon crimp ends on both sides with a clasp and you're done! If you're going to be wearing a lace choker, stay away from busy patterned shirts. You don't want to take away the attention from your DIY choker. If you're pairing a top with this Crochet Flower Choker, go for a plain colored top. Lace chokers are great to wear when you want to layer other necklace pieces on top. This Vintage Lacy Black DIY Choker can be layered with multiple silver or gold necklaces. These decorative chokers are a perfect wedding day accessory!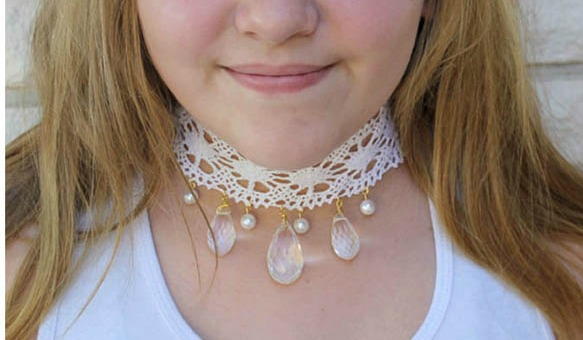 Beautiful Beaded Chokers
The options are endless when it comes to the details you want to add to your DIY choker necklace- gemstones, birthstones, jewels, stones, pendants, beads and more. Think of your choker as the scoop of ice cream and your beads as the toppings; you don't want to add too much, but you still want to pack it on! Same goes for piling beads on your choker. Without going overboard, dress up a simple wire or chain choker with multiple types of beads. From different colors to sizes, make yours one of a kind. Beads are a great way to add some texture to your outfit. If you have a necklace with all sorts of beads, keep the shirt to a minimal. Go big or go home with this colorful Mermaid Crystal Choker or with this Dramatic Beaded Chain Dangle Choker. 
Tip: If you're using multiple different colored or textured beads, make sure they compliment and flow with each other.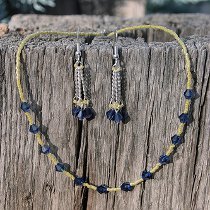 How to Make a Choker Step by Step
1. Supplies
The following supplies are needed for a beaded string choker.
-Plastic string
-Clasps
-Beads
-Scissors

2. Measure the string
Cut the amount of string that fits comfortably around your neck. Make sure it's not too tight. As you add the beads, it will feel tighter.

3. Connect clasp
Tie on a clasp at one end of the string and make sure to tie it tightly. Double or triple knot to ensure it's secure.

4. String on beads
Choose the desired beads and carefully string them on. Make sure to leave enough room on the end to attach the other clasp.

5. Connect other clasp
Tie on the clasp tightly and enjoy your new choker necklace.
 
What is your favorite type of choker?
Your Recently Viewed Projects
Join our community

of 5 million crafters!
Get free craft projects,
exclusive partner offers,
and more.
Thank You for Signing Up!
There was an issue signing you up. Please check your email address, and try again.