Handmade Lampwork Glass European Beads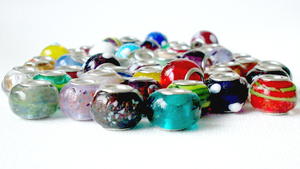 Handmade Lampwork Glass European Beads
Gifted by: PandaHall
www.pandahall.com
Reviewed by: Dana Byerwalter, Editor, AllFreeJewleryMaking.com

If you've ever worked with lampwork beads before, you know that the effect of this unique creating process is an enchanting one. This assortment of Handmade Lampwork Glass European Beads from PandaHall contains a stunning assortment of lampwork beads to be used for your next DIY jewelry project.

Lampworking is an incredible process. This technique involves melting down colorful glass in a special torch, then winding the glass around a steel rod to form the bead. This technique lends itself to a larger hole in the center, making it the perfect European style bead.

Lampworking also allows makers to create stunning textures and designs in each glass bead, and no two beads are exactly alike. In fact, in this 100-count assortment from PandaHall, you will find a fun and eclectic mixture of lampwork beads in so many colors and textures!

My personal favorites among the assortment are the beads with a metallic sheen worked into the glass. The effect is incredible. These beads look like gold and silver have been melted down and suspended in rivers through the translucent glass.

There are so many designs for these lampwork beads. Some of the beads have polka dots worked into the glass, and other have polka dots that are raised in texture. Many of the beads have colors streaked through in a sort of imperfect stripe. Some of them have a textured, almost rocky finish that isn't quite smooth to the touch and adds so much interest to the bead. Think of sediment as you move through layers of rock in the earth's crust, and you'll have a good image of what these beads look like---only more colorful!

Because of the large-hole composition, these European-style beads are easy to use for stringing and can be mixed and matched easily for any project. They work particularly well for making bracelets and strung necklaces.

Add a new collection of beautiful lampwork beads to your stash at home. These beads come in handy for all sorts of projects, and no two beads are exactly alike!
Your Recently Viewed Projects