DIY Jewelry Making Guide: Top Five Jewelry Clasps
You have to check out these jewelry clasps that you need for your DIY jewelry projects!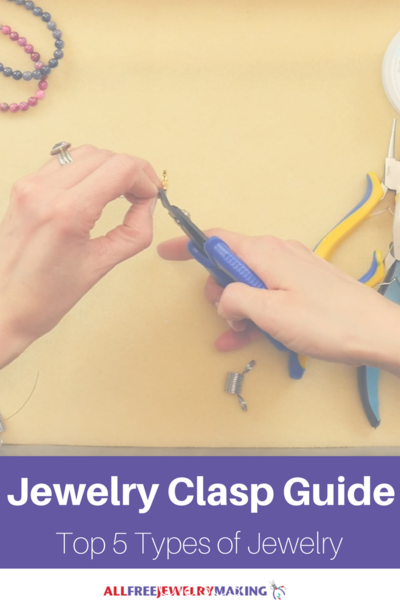 Jewelry Clasp Guide
Understanding DIY jewelry clasps can definitely be a tricky part of jewelry making. There are tons of different clasps that a homemade jewelry maker could use, but different projects require different clasps, and similarly different clasps are best for different projects. See where the confusion can come in?

Keeping everything straight when you are starting on beginner jewelry tutorials, can get confusing and tricky even if you are not a beginner, and especially if the whole concept on what clasp to use is overlooked in the project. Plus, sometimes the default DIY jewelry clasp you use is not necessarily the one that is best or most aesthetically pleasing for you project. 

That is why we have created this extremely helpful guide for you to understand some jewelry basics, so that you can know the top five jewelry making clasps that are important and most frequently used when crafting jewelry. This guide is extremely helpful for knowing the clasps as well as knowing what kind of projects they work well with, so be prepared to learn a lot about jewelry clasps! 
Now that you know all about jewelry clasps why not take that extra step and learn all about the different types of beads there are as well! Check out this guide and collection of different beads and beading projects!
All About Jewelry Clasps for the avid DIY Jewelry Maker
Jewelry Clasp Guide
Lobster Clasp: This is the most common and well known jewelry clasp. Not only is this clasp often used for storebought jewelry pieces, but it is also great for numerous DIY jewelry projects. 

This specific clasp is really easy to clasp since it does most of the work for you. It is often seen with necklaces, and it is really great for being able to adjust the size of your necklace!

Check out this super helpful video on how to add a clasp to your handmade jewelry projects!

Barrel Clasp: This specific clasp is designed with two metal pieces at either end of your DIY jewelry piece. You will then screw these metal pieces together and when you do this they form in the shape of one long barrel, hence the name.

This jewelry piece is fantastic because it is very versatile. However, you can run into problems with screwing it on by yourself, especially if you made a DIY bracelet, and will typically need help to fasten this kind of clasp.

Toggle Clasp: This clasp has two different shaped pieces that go together. For one end you will have a long bar, and the other end will be a circle. The bar then slips through the circle and clasps on to it. 

For an example of this check out this super awesome Floral Toggle Clasp Chain Necklace. You can see how size and shape of the toggle clasp is extremely important so that the bar does not slip through the circle.

Other important tips to keep in mind is that the heavier the jewelry piece the better to keep that tension on the toggle locked in place, this is super easy to clasp, and it can be used to add a really pretty aesthetic to your homemade jewelry pieces. Check out this Beaded Toggle Clasp Jewelry Tutorial to see how to make one!

Magnetic Clasp: Speaking of easy-to-close clasps, the magnetic clasp is definitely the easiest. Much like it's name, this clasp requires two magnets that clasp together and lock in place. 

This type of clasp comes in tons of different shapes and sizes for all different kinds of DIY jewelry pieces, and as I said before is by far the easiest jewelry to clasp.

However, be careful on how heavy your jewelry piece is vs. how strong your magnet is, so that your jewelry does not constantly become unclasped because it is too heavy. Check out this Sparkling Leather Cuff Bracelet for an excellent example of when you can use a magnetic clasp! 

S Clasp: Finally you have the S Clasp. This clasp is specifically one of the most popular clasps that revloves around DIY jewelry projects. This clasp is in an S-shape and it will be connected to one end and then you slide it through the other. 

This is one of the oldest types of clasps, and it is the easiest to make yourself instead of going out and buying a clasp to add to your jewelry. However, you do need to be careful with making sure the clasp is tight enough so that your jewelry piece is not coming undone, and this clasp can snag on clothes more easily as well.

To learn how to make this very easy clasp check out this Easy Wire S Clasp tutorial. Or if you are a more visual person take a peek at htis DIY Jewelry Clasp Video! Either way you can see just how easily you can start making your own clasps!
Now that you have tons of jewelry pieces, it can be tricky to figure out which ones to wear. Check out this guide to eliminate that problem by learning how to layer all the different necklaces you have together so that they look good, you look good, and you don't have to pick between your favorite DIY jewelry pieces!How to Wear Layered Necklaces
Your Recently Viewed Projects
Join our community of 5 million crafters! Right now!
Get free craft projects, exclusive partner offers, and more.
Thank You for Signing Up!
There was an issue signing you up. Please check your email address, and try again.