The Christmas Quiz: Which Christmas Jewelry Motif Are You?
The Christmas Quiz
Take our simple quiz to find out which Christmas motif jewelry project you should make!
Pick an answer and tally up your points. When you're done, scroll down to find out the results.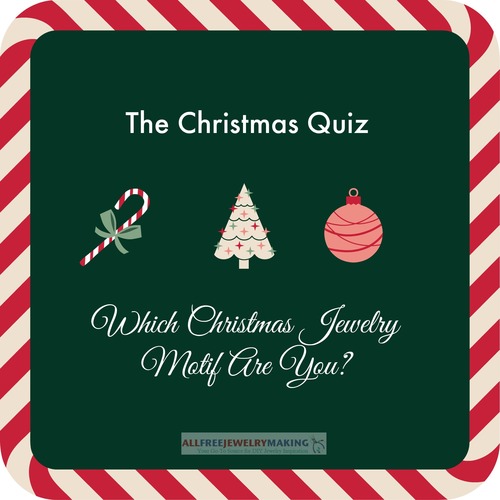 1. How do you relax during the holiday season?
- Reading a book by the fire (1)
- Singing Christmas Songs (2)
- Making stocking stuffer gifts (3)
- Cooking Christmas cookies (4)
- Decorating the tree (5)
2. What's your favorite Christmas cookie?
- Chocolate-chip (1)
- Shortbread (2)
- Peppermint/Mint (3)
- Sugar (4)
- Gingerbread (5)
3. What's your favorite Christmas song?
- "Winter Wonderland" (1)
- "All I Want for Christmas Is You" (2)
- "Jingle Bell Rock" (3)
- "Deck the Halls" (4)
- "White Christmas" (5)
4. What is Your Favorite Christmas Movie?
- Frosty the Snowman (1)
- The Bells of St. Mary's (2)
- How the Grinch Stole Christmas (3)
- Elf (4)
- It's A Wonderful Life (5)
5. On Christmas Day, you are most excited to:
- Lounge on the couch (1)
- Give presents to your family (2)
- Watch a Christmas movie (3)
- Eat Christmas dinner (4)
- Sit by the decorate Christmas tree (5)
ANSWERS:
5-9 points: Shimmery Christmas Snowflakes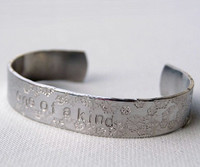 You are fabulous fan of the winter season. You adore lounging around indoors because it doesn't matter if the weather outside is frightful, the holiday season is delightful! Christmas specific motifs are lovely, but not as fitting as wonderful winter wonderland projects featuring snow and ice.

10-13 points: Beautiful Christmas Angels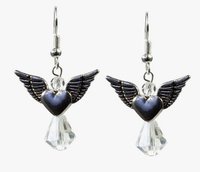 You feel the Christmas season is about giving. You are great at making and giving personalized gifts. While other Christmas motifs will do, it is angelic crafts that best suit you.
14-16 points: Festive Christmas Jingle Bells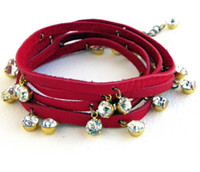 Christmas decorating is your specialty. You are a big fan of the festiveness of the holiday season. You love Christmas movies, songs, themed-foods...basically everything you can think of to associate with Christmas. To you the Christmas season is a BIG event, which is why festive and rockin' jingle bell and blingy ornament motifs suit your Christmas style.

17-20 points: Sweet Christmas Candy Canes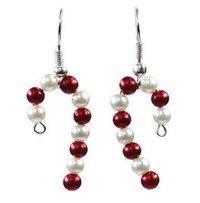 To you the season is about all the sweet treats. Food and family are what this season is all about. So whether you are baking Christmas cookies, creating delicious sweet holiday gifts, or feasting on Christmas dinner, the right accessories for you are candy cane and other Christmas treat motifs.
21-25 points: Classic Christmas Trees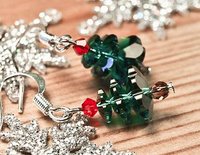 You are fan of a classic Christmas. Chestnuts roasting on a open fire, Jack Frost nipping at your nose, yuletide carols being sung by a choir...the whole traditional Christmas scene. You love classic Christmas movies, gingerbread treats, and decorating the Christmas tree. Crazy cute Christmas trees are the motif for you this Christmas season.

Leave a comment and share your results below!
Your Recently Viewed Projects
Join our community of 5 million crafters! Right now!
Get free craft projects, exclusive partner offers, and more.
Thank You for Signing Up!
There was an issue signing you up. Please check your email address, and try again.