How to Clean Your Engagement Ring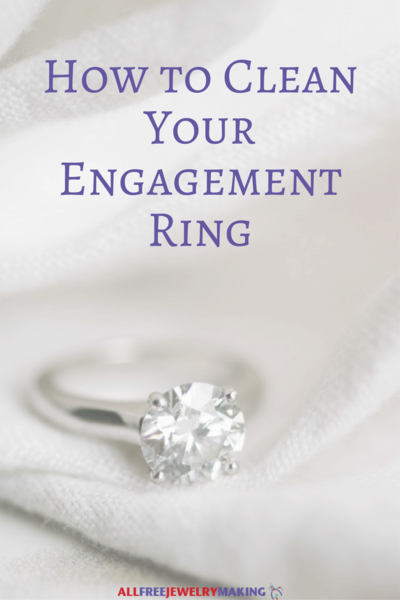 How to Clean Your Engagement Ring
Your engagement ring will by far be one of the most important and meaningful pieces of jewelry you will ever own in your life. This is one of the most romantic jewelry pieces you will ever own, so why would you ever want to muck up that memory by not cleaning your engagement ring? Whether this is a DIY jewelry piece or store bought, it will need to be cleaned all the same. Anyway, who doesn't like to sparkle right?

While you can take your ring to get professionally cleaned, that can become extremely expensive and if you rely on it, you may not be cleaning your ring as often as you should. Plus, cleaning your engagement ring will require a different process than cleaning a different DIY ring. 

This guide will help show you exactly the steps you need to take in order to get your ring sparkling like the diamond it is! That way you can make sure your engagement ring shines just as bright as the rest of your wedding jewelry on your big day. Plus, when you check out this guide on how to clean your engagement ring, you will learn some excellent tips and tricks to keep you from damaging that very precious ring you own!
Learn how to clean your other DIY jewelry pieces with this super helpful guide. It is slightly less high maintenance than cleaning your engagement ring! 
Materials List
Dish soap
Warm water
Tooth brush
How to Clean Your Engagement Ring
Instructions for Cleaning Your Engagement Ring
Determine the Dirt: This is the most crucial part of the cleaning process because it takes place before any cleaning happens. Be sure to examine what kind of dirt and gunk you are getting on your ring.
If you are constantly in the garden and the dirt, or digging your hands into a lot of different foods while you cook, you will most likely want to take your ring to a professional to get it really cleaned. 
However, any kind of cosmetic or everyday kind of dirt that could get on your ring (i.e. lotion, hairspray, etc.) you can clean off of your ring at home.

Be sure to also check out this project about how you can make your own engagement ring! Talk about a money saver!

Gather Your Supplies: Okay this one may seem obvious because the materials you need are listed above. However, this section is more going to tell you everything you SHOULD NOT use when it comes to cleaning your engagement ring. 
You will want to use a soft toothbrush when it comes to cleaning your engagement ring, so do not use a new toothbrush or one with really tough bristles. Also, you want to use just regular gentle dish soap. Avoid harsh chemicals like bleach and chlorine; and, you want to avoid powdered cleaners like baking soda as well. Stick to your warm water and soap.
Also, sometimes the cleaning machines can be too harsh on your rings as well and can actually knock the diamond out of place on them, so be very careful if you choose to use those as well.

You will fall in love with these different bridal jewelry patterns for picking out jewelry on your big day! Be sure to look through this collection and determine what will go best with your engagement ring! 

Make It Shine: Okay so this is actually the easiest part of the entire tutorial. You are going to want to fill a small bowl with warm water. You don't want this water to be piping hot, but you do want it to be right on the verge between warm and hot. 
Add a drop of dish soap into your water and let your ring soak in there for 20-40 minutes depending on how dirty your ring is. Once your ring is done soaking you are going to want to GENTLY brush it with your soft tooth brush and voila, you will sparkle again!
You will not want to go start cleaning your engagement ring every day. You should only clean it every 2-10 weeks depending on the amount of dirt you come into contact with.

If you are looking to drop some hints to your future fiance and just dreaming about the ring he is going to give you, or looking for an upgrade on an older one, look at these different engagement ring trends for you to keep in mind when you're searching! 
The last thing you want to happen once you finally get your hands on your engagement ring is for it to not fit! Don't worry too much about it, because this guide will show you how to resize your ring so you don't have to be without it!Ring Resizing Guide: How to Adjust Your Ring Size
Your Recently Viewed Projects
Join our community of 5 million crafters! Right now!
Get free craft projects, exclusive partner offers, and more.
Thank You for Signing Up!
There was an issue signing you up. Please check your email address, and try again.