How to Make Bracelets: 10 Chain Maille Patterns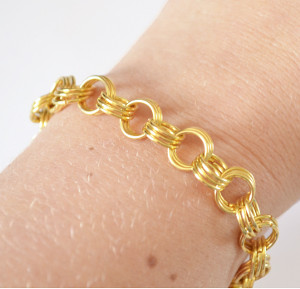 Look no further for fun and easy DIY bracelet projects. With these 10 chain maille patterns, you will be making beautiful bracelets that are not only fun and effortless to make, but also stylish and chic to wear. Do not let the idea of working with chainmaille scare you; all of these 10 patterns have easy-to-follow instructions, so even if you are a beginning chainmaille crafter, you will have no trouble making these adorable and charming chain bracelets.
Sometimes, wirework jewelry and knotted jewelry can get tiresome; when that happens, do not just stop DIY jewelry crafting. Instead, try some of these DIY bracelet patterns. These 10 bracelet patterns will introduce you to some of the many unique and creative designs that you can create with chainmaille. So, try something new and make these easy, yet elegant, chain maille patterns. With these fabulous chainmaille patterns, your wrists will never have looked so fashionable.
---



Love to make easy bracelets like these? Then download our free eBook,
Easy DIY Bracelet Designs: 14 Ways to Make Bracelets!
With this eBook, bracelet making has never been easier!
---


How to Make Bracelets: 10 Chain Maille Patterns
Table of Contents
Still not sold on chainmaille jewelry? Well, after you try any of these easy and lovely bracelets, you will never want to stop crafting with chainmaille. Just because it is simple to make, does not mean that it is just simply a bracelet; in fact, these chainmaille bracelets are simply stunning pieces.
Once you are have mastered basic bracelet chainmaille patterns, you are ready to add a little more glamour to them. Do this by adding elegant pearls attached to your bracelet's chains or in-between your chains. Either way, beautiful white pearls will add a classic and sophisticated look to your pieces.
---




Do you like these chain maille bracelet patterns? If so, then check out more chain maille projects in this collection, 34 Free Chain Maille Jewelry Patterns. Not only will you be able to craft more chain maille bracelets, but also necklaces, earrings, and more!
---

These chainmaille bracelets are not just silver or gold chains. Instead, they "pop" with colors. Make and wear any one of these beautiful bracelets and you will feel instantly brighter
---
---
Your Recently Viewed Projects