Monthly Printable Birthstone Chart
Use this handy birthstones by month chart as a reference for birthstone crystal and gemstones!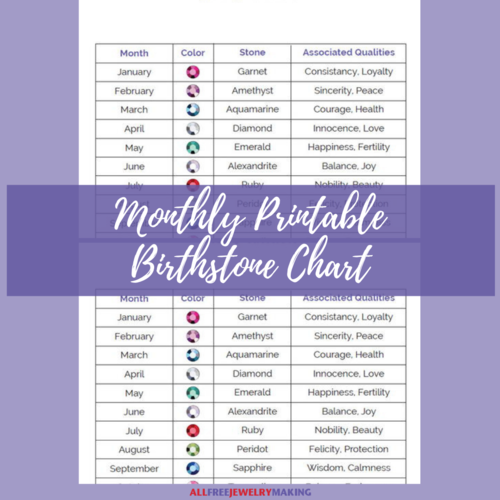 Birthstones are gems that accompany each month of the year with their own unique meaning and significance. This Monthly Printable Birthstone Chart allows you to reference birthstone crystal and gemstones and their meanings in a free printable.

This monthly birthstone printable guide is incredibly helpful if you are looking to create a piece of birthstone jewelry as a birthday present, holiday present, or graduation gift. The popularity of birthstones dates back to ancient times when civilizations believed gemstones had specific powers such as health, luck, and prosperity.

Learn all about each month's birthstone and their meanings with this free birthstones by month chart. Soon you'll be an expert when it comes to the meaning associated with these special gems and you'll be able to create beautiful pieces of handmade gemstone jewelry to honor and celebrate all the loved ones in your life.

Love this content? Join our jewelry making community and subscribe to our free eNewsletters today!
Birthstones by Month Chart
The birthstones by month chart you see below is a great resource when you want to quickly reference the stone associated with a certain month. In addition to each month's stone, you will see the associated qualities of the stone. For example, July's birthstone is ruby which represents nobility and beauty. What qualities are associated with your birthstone? Take a look at this handy printable birthstone chart to find out!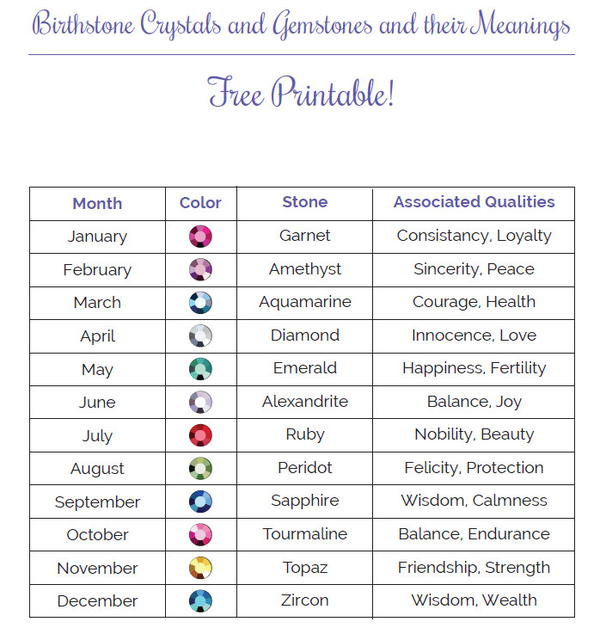 Download the printable birthstone chart

Click the button to download your own printable birthstone chart. Keep this close on your computer or print it out as you start making birthstone jewelry because it will be a handy birthstone chart PDF.
History of Birthstones
Birthstones are gemstones assigned to each month of the year. The origin of birthstones is believed to date back to the breastplate of Aaron which contained twelve gemstones representing the twelve tribes of Israel. The Breastplate is described in the book of Exodus in the Bible.

Next, the writings of Flavius Josephus from the 1st century AD and St. Jerome from 5th century AD made the connection between the twelve stones in the Breastplate and the twelve signs of the zodiac.

Modern birthstones by month charts do not exactly align with these original lists, but it is interesting to learn the historical beginnings of birthstone charts.

What we currently think of as "birthstones" (the idea of wearing a gemstone as jewelry that corresponds to your birth month) can be traced to 18th century Poland, with the arrival of Jewish gem traders to the region.

However, the current birthstone gem list dates back to 1912 with only one addition since then (the tanzanite was added to December in 2002 by the American Gem Trade Association). This 1912 list was made in an effort to standardize birthstones by the (American) National Association of Jewelers.

There are many legends and myths about birthstone healing powers and their therapeutic influence; but it's safe to say the cultural and historic connections to birthstones and their meanings stretch all around the world.
Your Recently Viewed Projects