Exotic Faux Bloodstone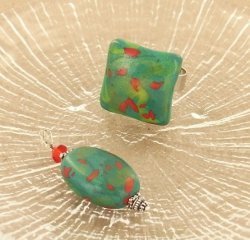 Exotic Faux Bloodstone
This polymer clay tutorial shows you a cool technique for creating the look of bloodstone with Sculpey clay. Make your own Exotic Faux Bloodstone beads, cabochons, and pendants following these few simple steps. The flecks of red really pop against the swirling yellow and green for a stunning effect. No need to wait millions of years for precious gemstones to form; create them yourself in the matter of an evening using polymer clay!
Project TypeLearn a Technique
Time to CompleteIn an evening
Difficulty LevelIntermediate
Getting Started:

Do not use unbaked clay on unprotected furniture or finished surfaces.  Start with clean hands and work surface area. Good work surfaces include wax paper, metal baking sheet, or disposable foil. Knead clay until soft and smooth. For best results, clean your hands in between colors. Shape clay, pressing pieces together firmly.  Bake on oven-proof glass or metal surface at 275 °F (130 °C) for 15 minutes per 1/4" (6 mm) thickness.  For best baking results, use an oven thermometer. DO NOT USE MICROWAVE OVEN. DO NOT EXCEED THE ABOVE TEMPERATURE OR RECOMMENDED BAKING TIME. Wash hands after use.  Baking should be completed by an adult.

Begin by preheating oven to 275 °F (130 °C). Test temperature with oven thermometer for perfectly cured clay. For best results, condition all clay before using it.
 
Materials:
Clays:
Premo! Sculpey®: Green - 2 oz (1 block)
Premo! Sculpey®: Ultramarine Blue Hue - 2 oz (1 block)
Premo! Sculpey®: Pomegranate - 2 oz (1 block)
Premo! Accents: Peacock Pearl - 2 oz (1 block)
Premo! Accents: Blue Glitter - 2 oz (1 block)
Premo! Accents: Bright Green Pearl - 2 oz (1 block)
Tools:
Accessories:
Sculpey® Glossy Glaze 1 oz
Additional Supplies:
Clear Fast Dry Glue
Gold Mica Powder
 
Instructions:
Create the custom sea green base colors by combining 1/4 bar of Green with 1/8 bar of Ultramarine Blue; mix thoroughly and set aside. Combine 1/8 bar of Peacock Pearl with a sliver of Blue Glitter and mix thoroughly. Roll each of the new colors into two separate ropes and twist together a few times to marble. Do not mix the colors completely together.

 
Create a very small rope of Bright Green Pearl and add to the sea green rope. Twist together.

 
Marble the clay with your hands until you like the blended colors. Make sure you don't mix them completely together as you want all the colors to show. Roll the marbled clay up into a ball.

 
Take a small shaving of Pomegranate and slice it up with your Super Slicer until it's in tiny bits. Spread the bits across your work surface.

 
Roll the sea green ball into the Pomegranate bits to create a random spray of color. Make sure to secure the red bits onto the green ball by pressing them in with your fingers. Once you are satisfied, roll the ball to smooth.

 
Shape the clay into your desired jewelry piece. You can make a pendant, a bead, or fill a jewelry blank. Once you are satisfied with your final piece, add a thin and random spread of gold Mica powder to the top. Buff the clay with your finger to make sure the Mica stays on and makes the finish more natural. Bake the clay as directed above. After cooling, if you've used a finding, it may be necessary to pop the clay out of the finding and glue it permanently with clear fast drying glue. If you like, you can add a layer of Sculpey® Gloss Glaze.
Your Recently Viewed Projects
Join our community of 5 million crafters! Right now!
Get free craft projects, exclusive partner offers, and more.
Thank You for Signing Up!
There was an issue signing you up. Please check your email address, and try again.