When it comes to making jewelry, there are probably as many techniques and styles out there as there are accessories in your jewelry box. There are so many different ways to go about creating beautiful handmade jewelry that there's sure to be a medium to suit every individual crafter. Jewelry making techniques span the spectrum from wirework to weaving, from stitching to stringing, from maille to metalwork. If you're new to making jewelry and looking to try out some different techniques to see what suits you best, then you're in luck. This collection includes 3 Ways to Make Bracelets that are each different and unique, so you can try out three different jewelry making genres to see what fits your crafting style. Plus, these are all quick, easy bracelet patterns that you can make in an evening, so you can have three new beaded bracelet designs by tonight!

Learn how to make bracelets of three completely different styles with this one simple collection. The bead bracelet patterns included in this roundup cover three different jewelry making techniques: simple weaving, basic wirework, and easy metalwork. Follow along with these easy bracelet patterns and before you know it, you'll have learned three different ways to make bracelets that are all equally interesting but totally unique. Once you've mastered these bead bracelet designs, you'll have developed a solid foundation of jewelry making skills that will provide the basis for so many future creations!

3 Ways to Make Bracelets:
If you've never tried weaving or stitching before, the Golden Bugle Bead Bracelet is a great pattern to start with. It requires almost no prior experience with woven bead bracelet patterns and will help you familiarize yourself with the basic skills. Limber up your fingers to basic bead weaving techniques with these simple beaded bracelet instructions! Once you've mastered this pattern, you'll know one of the most essential ways to make bracelets and you'll be primed for taking on more challenging patterns as you get more comfortable. Many of the best beaded bracelet designs use these basic techniques, so this is a great jumping off point. This pattern even uses some simple stringing techniques as well, so you've got two techniques covered in one simple tutorial!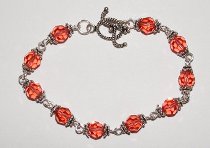 This Pretty Salmon Bracelet project is perfect for learning some of the most fundamental jewelry making techniques of all. The basic skills you'll learn by following these beaded bracelet instructions are skills you can carry over into all other kinds of jewelry projects, from necklaces to earrings. You'll learn how to create and connect basic beading components to form beautiful beaded bracelet designs, and you'll get plenty of practice with using common jewelry making tools as well. Chain nose pliers, round nose pliers, and wire cutters will all be familiar friends to you by the time you're done with these beaded bracelet instructions. Once you've tried out this tutorial, you'll not only know one of the other fundamental ways to make bracelets, but all kinds of other jewelry as well!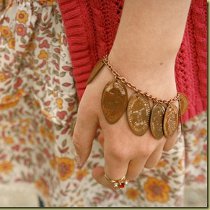 Making metal jewelry can seem a bit intimidating at first, but this Pressed Pennies Bracelet is a great way to ease into the technique. The metal stamping itself should already be done for you, so all that's left for you to do is punch the holes to attach the pennies to the bracelet. Once you're comfortable using a hammer and awl, you'll be ready to try more intricate metal bead bracelet designs. If you're feeling creative, go ahead and switch out the pennies with your own original metal stamped charms! You'll be a metalwork master once you follow these beaded bracelet instructions.
If you loved these beaded bracelet designs, be sure to check out our 12 Free Jewelry Projects to Make This Evening eBook. Find the full tutorials for the projects you see above with complete, step-by-step instructions; plus, find eight more free jewelry patterns that can be made in an evening. Beginners and veterans alike will find something to enjoy in this collection of fabulous free jewelry patterns!
Your Recently Viewed Projects