Basic Tools for Making Metal Jewelry
What Are the Basic Tools for Making Metal Jewelry? Find out with this informative article on metal jewelry making tools!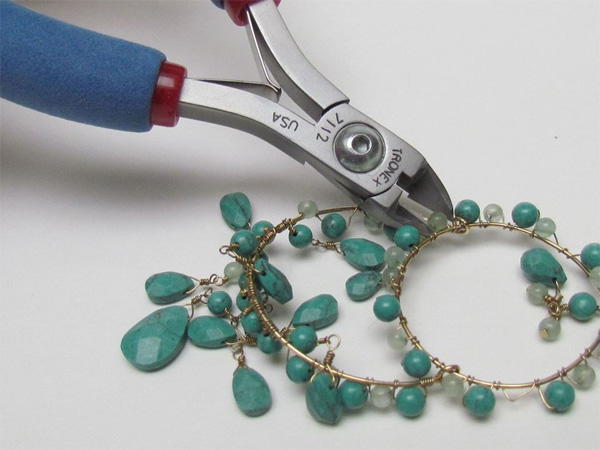 Basic Tools for Making Metal Jewelry
Making metal jewelry is a great hobby. You can enjoy a creative outlet that allows you to express yourself, and you can create beautiful pieces for yourself and your loved ones. If you are so inclined, you can even make extra money by selling your creations on Etsy or at local craft fairs. If you are thinking into getting into jewelry making, you will just need to pick up a few supplies. Here are some of the basic tools for making jewelry that you'll need.


What Are the Basic Tools for Making Metal Jewelry?
Metal Cutters
You'll need a variety of cutting tools to work with metal. Sometimes you'll be working with metal sheets, and sometimes you'll be working with wires of different thicknesses. You will need the right tools to cut them all.
A good pair of metal shears should be able to cut through the thin sheets of metal that you will use in your jewelry making. You'll just need to keep these sharp to make sure they keep performing year after year.
You'll also need several good pairs of metal cutters. You'll need cutters that have different head types and cutting edges. For example, you'll need a pair of cutters with a razor flush edge to eliminate any pinching on the wire, ensuring that you can make a strong connection if you are soldering or joining in another way.
Oval and taper head jewelry cutters are the most popular types of cutters, but you can also use standoff and angulated cutters to get into smaller spaces, such as to clip wires that are pulled through a tight section of beads. Cutters can also be purchased in a variety of sizes so that you are always able to get into the space, no matter the size of the bead or wire you are using.
Bench Shear
Also known as a guillotine shear, a bench shear makes precise cuts on long sheets of metal. Think of it like a paper cutter but for metal.
A bench shear is one of the more expensive tools for jewelry making, but it can perform the work quickly and precisely, helping you save time and get better results. If you are a more advanced crafter or are considering selling your jewelry, the investment in a bench shear may be well worth it.
Jeweler's Saw
A jeweler's saw does the same work as a bench shear but not as quickly. The jeweler's saw is a good option if you can afford the bench shear, but know that you'll take longer to perform the same work. You'll also have to follow up your cuts by sanding the edges. Just like any other hand saw, a jeweler's saw produces some uneven edges.
The benefit of a jeweler's saw is that it allows you to do much more detail work than a bench shear. You can use it to make tiny little cuts that add detail to your work. You can buy different sized blades to meet your needs.
Disk Punch
A lot of metal jewelry features shapes like circles and hearts, but cutting these by hand can be quite challenging. A disk punch can help you make these shapes easily.
Just put a sheet of metal into the punch and use a peg and hammer to cut the shapes. You'll get precise and beautiful cuts.
In addition to your disk punch, you might also consider getting a set of stamps. You can use the stamp and a hammer to "print" your shapes with words. This is a popular method for producing keepsake pendants and name plates, which sell quite well in online forums and at craft fairs.
Additional Tips
Get ready to start making your own metal jewelry!
Invest in higher-end tools: Starting your new jewelry making hobby doesn't require a huge budget, but you do need the right tools. You can get started with nothing more than a few cutters, some wire and some beads, but if you want to really explore the full possibilities, you might consider investing in some of the higher-end tools.

Make jewelry for yourself, your friends, and to sell: The good thing about these tools is that they last for years and years, so you will only need to buy them once to make hundreds of beautiful jewelry pieces. If you are selling your jewelry, you'll enjoy a significant return on your investment.
Your Recently Viewed Projects
Join our community of 5 million crafters! Right now!
Get free craft projects, exclusive partner offers, and more.
Thank You for Signing Up!
There was an issue signing you up. Please check your email address, and try again.