Sandits Extra Fine Grit Sanding Sticks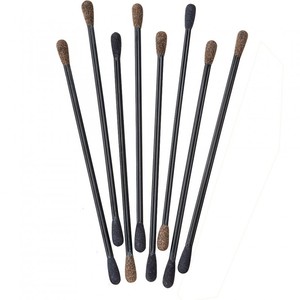 Sandits Extra Fine Grit Sanding Sticks
Gifted by Sandits
www.sandits.com
Reviewed by Molly Fletcher, Editor, AllFreeJewelryMaking.com
Put the shine back in your handmade jewelry pieces with Sandits. These Extra Fine Grit Sanding Sticks are small enough to polish your metal jewelry to a mirror finish. They also works well on plastic and wood. Non-conductive and waterproof, Sandits Sanding Sticks are safe to use on jewelry that has lost its luster from rust, scratches, and other signs of wear.
Sandits Sanding Sticks make it easy to clean those small, hard-to-reach spots. The inventor was inspired to develop this tool when he had to clean up corroded battery connections in a radio. To make tight spaces more manageable, Sandits mirror cotton swabs in design and function. These flexible, double-ended sticks have two different grits, 400 (black) and 800 (gray). Sandits has also developed wedge shaped sanding sticks in 120/180 grit.
A step above traditional sandpaper in terms of innovation, Sandits can navigate corners and grooves with ease. Marine-grade epoxy ensures that the grit will stay affixed to the sanding stick, no matter what the task. Sandits work well on fiberglass, teak, and chrome, wood, plastics, and metals. In addition to jewelry making and polishing, you can put these sticks to work on almost any surface, from cars to your own finger and toe nails–no joke!
If you've been looking for a way to polish your jewelry so that it shines like new, give Sandits Extra Fine Grit Sandit Sticks a try. You'll appreciate their portability, affordability, and the fact that they can be rinsed and reused over and over. Put the convenience back in sanding, polishing, and smoothing with Sandits Sanding Sticks.
Your Recently Viewed Projects