Black and Beige Cuff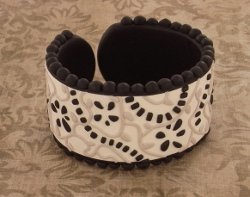 Black and Beige Cuff
If you're looking for polymer clay jewelry designs that are equal parts sophisticated and fun, look no further than the Black and Beige Cuff. With a bold yet basic color scheme and subtle feminine details, this clay cuff bracelet is sure to get you noticed. The curving clay embellishments give this design a cool texture and three-dimensional aspect. There's nothing boring about this polymer project! The perfect mix of beige and black, this multiple color DIY bracelet can match with almost any ensemble.
Project TypeMake a Project
Time to CompleteIn an evening
Bead Project TypeBracelet
Difficulty LevelIntermediate
Getting Started:

Do not use unbaked clay on unprotected furniture or finished surfaces. Start with clean hands and work surface area. Good work surfaces include wax paper, metal baking sheet, or disposable foil. Knead clay until soft and smooth. For best results, clean your hands in between colors. Shape clay, pressing pieces together firmly. Bake on oven-proof glass or metal surface at 275 °F (130 °C) for 30 minutes per 1/4" (6 mm) thickness. For best baking results, use an oven thermometer. DO NOT USE MICROWAVE OVEN. DO NOT EXCEED THE ABOVE TEMPERATURE OR RECOMMENDED BAKING TIME. Wash hands after use. Baking should be completed by an adult.

Begin by preheating oven to 275 °F (130 °C). Test temperature with oven thermometer for perfectly cured clay. For best results, condition all clay by running it through the clay dedicated pasta machine several passes on the widest setting. Fold the clay in half after each pass and insert the fold side into the rollers first.
Materials:
Clays:
Premo! Sculpey®: Black - 2 oz (1 block)
Premo! Sculpey®: White - 2 oz (1 block)
Premo! Sculpey®: Burnt Umber - 2 oz (1 block)
Premo! Sculpey®: Ecru - 2 oz (1 block)
Premo! Sculpey®: Rhino Gray - 2 oz (1 block)
Clay Sets:
Translucent Liquid Sculpey, 2 oz
Tools:
Clay Conditioning Machine
Clay Extruder
Sculpey® Super Slicer

Additional Supplies:
Craft knife
Empty soda can
Instructions:
Condition the scrap clay (about 2 ounces) and roll it through the Clay Conditioning Machine on the #1 setting, creating a strip about 2 inches wide. Put aside. Roll the White out on the #5 setting, creating another strip, also about 2 inches wide. Stack the scrap clay strip and the white strip together, being careful not to trap air between the strips. Trim the stacked strips to about 1 3/8 inches high and long enough to go around the soda can.


Wrap the trimmed strip around the soda can, making sure it is straight. Using the flexible blade of the Super Slicer, trim the ends so they are rounded.


Bake as directed above for five minutes, standing up in the oven. Remove from oven and allow to cool completely. Bake again for 20 minutes; this process minimizes air bubbles.

Condition the Black and run it through the Clay Conditioning Machine on the #5 setting creating a strip. Add this Black strip to the inside of the bracelet, starting from the middle and brushing with your fingers to make it stick and remove air. It is a bit tricky, but it helps too if the black clay is just somewhat bigger than the bracelet. After that, with your fingers, gently fold the black around the edges and trim it with a not-so-sharp knife. Bake it again in the same manner, first five minutes, then 20 minutes. Allow to cool completely.


Sand the bracelet with the two grits of sandpaper; buff on your jeans.

Condtion the rest of the Black and run through the Clay Conditioning Machine on the #5 setting. Using your craft knife, swiftly make teardrop-shaped petals; they are supposed to be all different and not perfect. Also make small square shapes that are all different.


Use the Black shapes to decorate the bracelet. Make about eight flowers with the petals and use the squares to decorate between them, but leave some space. Push firmly to make them stick to the baked surface.


Mix 11 parts White, 1 part Burnt Umber, 1 part Rhino Grey, and 1 part Ecru to make a slightly off-white, beige color. You need only a cherry-sized piece of this color. Push it through the extruder with the smallest hole disc and make "spaghetti." Decorate the bracelet with the spaghetti, making vines and small leaves, pushing them firmly as you go.

Create Black balls the same diameter (thickness) of the bracelet; cut them in half. Coat one edge of the bracelet with Liqiud Sculpey and place the halves on the edge all the way. Position them to make sure they are aligned and bake the bracelet for 10 minutes. When it is cool, turn it over and repeat.

Your Recently Viewed Projects
Join our community of 5 million crafters! Right now!
Get free craft projects, exclusive partner offers, and more.
Thank You for Signing Up!
There was an issue signing you up. Please check your email address, and try again.