How to Make Necklaces: 170+ DIY Necklaces
Making necklaces at home is easy with these free patterns! Learn how to make a simple beaded necklace, or try your hand at a bold statement necklace.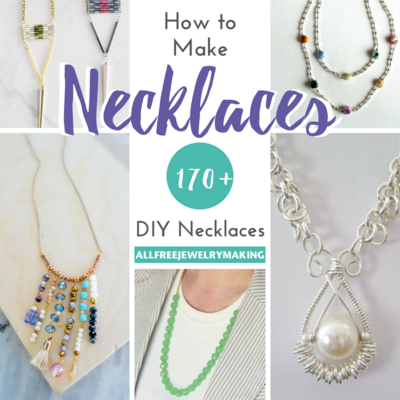 Have you always wanted to learn how to make a necklace? Discover all of the most popular techniques and styles in this collection of How to Make Necklaces: 170+ DIY Necklaces. A great necklace can transform your look, and you absolutely must have a few handmade beauties in your jewelry wardrobe. There are so many ways of making necklaces that it can be difficult to choose a place to start. Don't let all of the techniques used in jewelry making overwhelm you! Think of all of the wonderful necklace making possibilities that lie ahead: stringing, stitching, chokers, pendants, and more.

If you cannot decide where to start, take a look at our collection of strung necklaces for easy beaded necklace patterns that anyone can make. Pendants are another great option for beginners, as they range from extra easy to challenging patterns. If you are a confident person who wants all eyes on you, try making a daring statement necklace that will capture everyone's attention. The popularity of choker necklaces has come and gone over the years, but the trend has come back in full force within the past couple of years. Plus, don't miss our selection of timeless pearl necklaces and the cutest crochet necklaces!

BONUS: Check out this video of How to String Beads to learn what goes into choosing the right wire, string, or thread for your DIY necklace.

Join our crafting community! Sign up here for free eNewsletters!
How to Make a Necklace: The Basics
Choose your stringing material or chain. If you are stringing beads, there is a huge selection of cords, string, or beading wire to choose from. Consider the weight of your beads: beading thread works well for seed beads and other lightweight materials, whereas a sturdy beading wire would be a better choice for heavy stone beads. If you plan to make a chain necklace, this step could be as simple as cutting the right length of chain.
 
Select your beads or components. If you are following a specific pattern, consult the materials list. If you would rather stretch your designing muscles, you can pick your own color palette and beads to use in your design.
 
Add a clasp or knot to one end of your stringing material. For most necklace patterns, you will secure the end of your necklace with a crimp tube and add a clasp. Learn how to add a clasp to finish off a DIY jewelry pattern from jewelry designer Candie Cooper.
 
String your beads, or add your components.
 
Finish the other end of your necklace. Repeat the process you used for step 3 on the other end of the necklace by adding a crimp tube, the other half of the clasp, or whichever finishing technique you choose.
 
Enjoy your handmade masterpiece!
How to Make a Necklace: Easy Necklaces for Beginners
Are you ready to make your own DIY necklace? Learning how to make a necklace at home is easier than you might think. If you have never made a necklace (or any jewelry!) before, we recommend starting with a simple stringing pattern. A strung necklace can be as easy as cutting thread or wire, stringing on the beads, and adding a clasp. Just because a DIY necklace pattern is easy does not mean it has to be boring, either! You will be pleasantly surprised by the both the simplicity and beauty of these beginner-friendly necklace patterns. See a few of our favorite extra-easy necklace patterns below:
It's difficult to start making a necklace if you don't know how long it should be! This free printable chart is a helpful guide to different necklace lengths.Necklace Length Chart Printable
How to String a Necklace: 26 DIY Strung Necklaces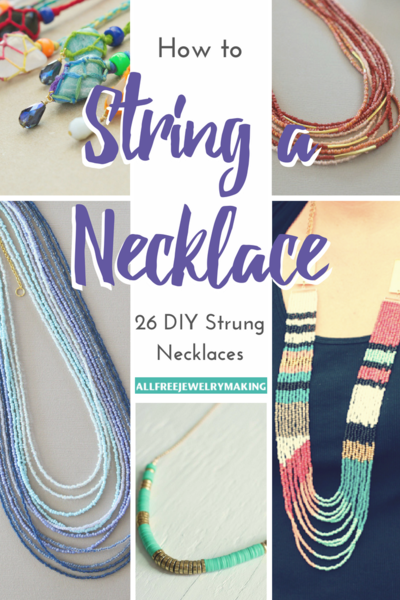 Learning how to string a necklace is the perfect way for a beginner to get started with making necklaces. This collection How to String a Necklace: 26 DIY Strung Necklaces is essential for any beginner who would like to make their own necklace.

Stringing beads is an easy, mindless task that does not take a lot of experience. If you use large enough beads, you can even create a necklace in just a few minutes.

Strung necklaces are also a great craft to try with kids, as you do not need to use sharp beading needles or pointy pliers to create them. You can select your beads with a particular color scheme in mind, or go crazy with the bead soup in your stash and make a whimsical necklace that will catch everyone's eye.
How to Make a Pendant: 45 DIY Pendant Projects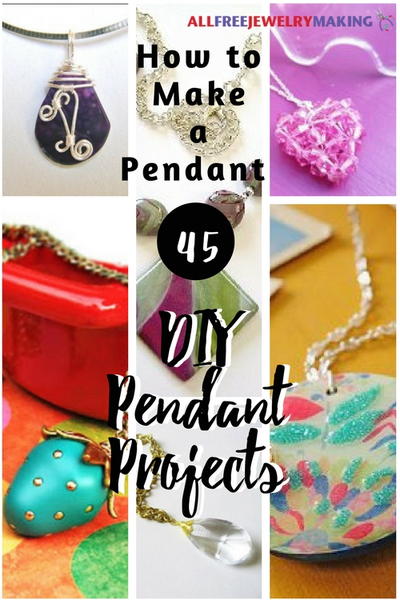 Pendants are one of the easiest ways to make a necklace, especially if you are new to jewelry making. Learn how to dress up a plain chain or simple piece of cord or string with the tutorials in How to Make a Pendant: 45 DIY Pendant Projects.

A pretty pendant can transform a basic chain or cord into a piece of jewelry you'll never want to take off. Pendants can be as easy as stringing a pre-made component onto a cord or wire, or as intricate as a challenging bead weaving pattern.
Save yourself both time and money when you learn how to make your own necklace cord. Skip buying premade cords at the craft store, and save that money to buy more beads!How to Make a Necklace Cord
How to Make Necklaces with Big Impact: 36 DIY Statement Necklaces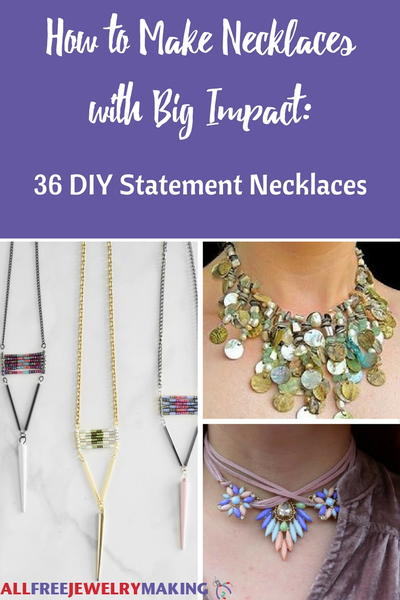 Simple can be beautiful, but basic necklaces are not for everyone. If you are a confident person, or love to use jewelry to express your creativity, you will love this collection of How to Make Necklaces with Big Impact: 36 DIY Statement Necklaces.

Whether you use captivating colors, eye-catching beads, or have a "more is more" attitude toward glitz and glam, you'll find a necklace that makes a big impact. Shopping for jewelry can be fun, but making your own show-stopping design is way more satisfying.
28+ DIY Choker Necklaces to Make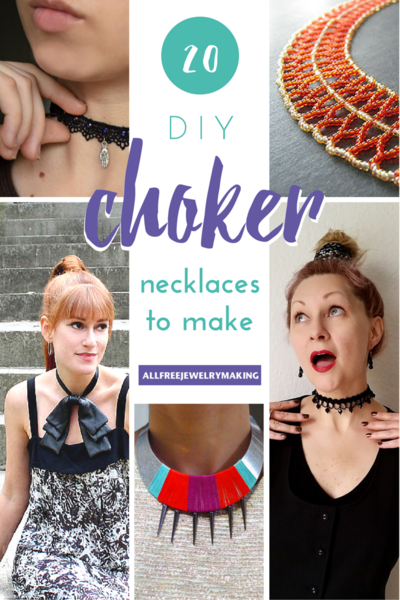 Everyone has their own idea of what makes a perfect choker necklace. Do you imagine a glamorous Victorian-style choker necklace? Or do you prefer the groovy, bohemian styles of the 1970s, or rad, trendy chokers that were popular in the 1990s? If your dream choker necklace is an elegant, vintage-inspired piece, you'll love the timeless style of a black lace choker. A beaded choker pattern is the perfect choice for the true beading addict, and trendsetters will appreciate the fashion-forward choker necklaces in this collection of 28+ DIY Choker Necklaces to Make.
If you love making pendant necklaces, chances are you've come across a tutorial that uses bails to attach the pendant to the chain or cord. By watching this informative video, you'll learn the skill you need to turn anything into a pendant.How to Use Bails
17 DIY Pearl Necklace Patterns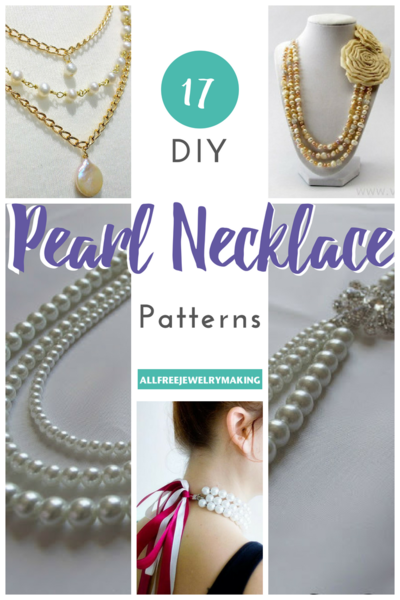 Pearls are a timeless symbol of elegance, and this collection of 17 DIY Pearl Necklace Patterns is full of necklace patterns that will never go out of style. Pearl necklaces radiate class and glamour in a way that simply cannot be compared by other styles of jewelry.

In the words of the adored fashion designer Coco Chanel, "Diamonds may be a girl's best friend, but pearls will make you glow like moonlight." Some of the most stylish women in history, such as Jackie Kennedy, Audrey Hepburn, and—of course—Coco Chanel, were known for their love of pearls both in their lifetimes and beyond.

Emulate these everlasting style icons with a DIY pearl necklace that rivals couture.
18 Cutest Crochet Necklace Patterns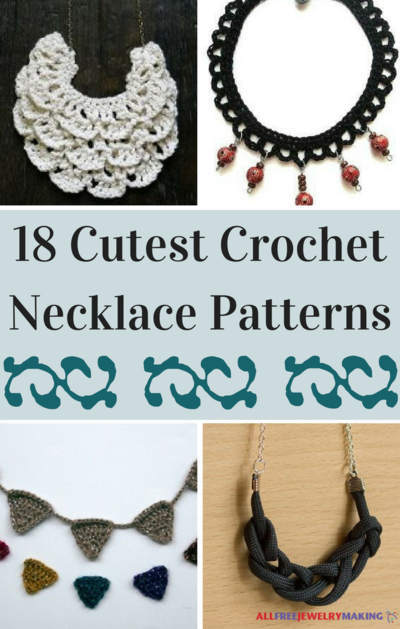 Get your hooks in order, crochet isn't just for scarves and afghans anymore! This collection of 18 Cutest Crochet Necklace Patterns is full of patterns so cute you will not be able to resist making (at least!) one of them.

Whether you are an experienced crocheter or a stranger to stitching, these extra adorable crochet patterns will inspire you to work up some jewelry.

Yarn is not the only option for DIY crochet necklaces, either! Crocheting with wire is a cool technique that creates an intoxicatingly intricate piece of jewelry. You'll be proud to say you made any of these cute crochet necklaces yourself.
What is your favorite type of necklace to make and wear?
Your Recently Viewed Projects
Join our community of 5 million crafters! Right now!
Get free craft projects, exclusive partner offers, and more.
Thank You for Signing Up!
There was an issue signing you up. Please check your email address, and try again.