17 DIY Pearl Necklace Patterns
Making pearl necklace patterns is about to become your new favorite activity! From pearl stringing to wire and chain necklaces, this collection has it all.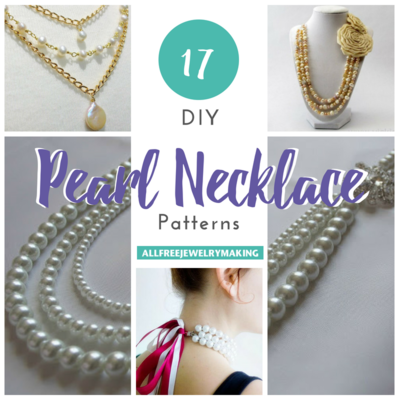 Every girl needs at least one pearl necklace, and why settle for just one of these beauties? If you have ever thought about making a pearl necklace, this collection of DIY Pearl Necklace Patterns is certain to have a necklace pattern you'll adore. Pearls have been sought for thousands of years as a symbol of wealth, to adorn clothing, and create stunning jewelry. Pearl necklaces are an effortless way to show off your elegant sense of style.

Pearl necklaces, while undeniably gorgeous, can be very expensive. Natural pearls are a rare, soft gemstone produced by oysters and other mollusks in nature. Fortunately for budget-conscious pearl lovers, the gorgeous iridescent look of natural pearls can also be found in cultured, freshwater, or imitation pearls. All of these alternatives to natural pearls can be used for making pearl necklace patterns, or other types of DIY pearl jewelry.

A lovely DIY pearl necklace can make any outfit appear more classy and sophisticated. This timeless piece of jewelry is a staple in any woman's wardrobe. Luckily, you do not need to spend thousands of dollars to get this iconic look when you make your own DIY pearl necklace.

Looking for a more unique alternative to the classic pearl necklace? Learn how to make a Custom Color Pearl Necklace in this video tutorial!
Table of Contents
Pearl Stringing Necklace Patterns
Wire and Chain DIY Pearl Necklaces
DIY Pearl Choker Necklaces
What is your favorite technique for making DIY pearl necklaces?
Your Recently Viewed Projects