17 Micro Macrame Patterns
Use your old knotting skills in a new way with micro macrame jewelry!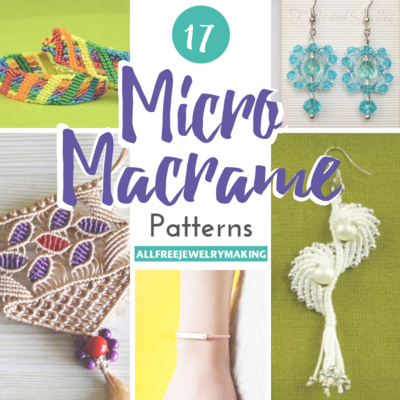 Macrame is one of the most popular techniques in the jewelry making world, and once you learn how to macrame, you'll never want to stop. Learn how to use your favorite macrame knots in new ways with this collection of 17 Micro Macrame Patterns. Once you've mastered the square knot and created every kind of macrame friendship bracelet you can imagine, you may be ready for a new way to knot beautiful DIY jewelry. Ready to challenge yourself? Put your knotting skills to the test with micro macrame jewelry patterns.

What is micro macrame?
Micro macrame is a technique that uses thin cord to create intricate and delicate macrame jewelry. While micro macrame uses thinner cord than traditional macrame, it is made using the same macrame techniques you already know and love. The only difference between traditional macrame and micro macrame patterns is the thickness of the cords, though you would never know it by how exquisite and complex the designs appear. Jewelry made using micro macrame is like the cooler older sister of traditional macrame, as it results in beautiful and totally wearable jewelry pieces that are a little more grown-up and refined than the classic friendship bracelet.

Brand new to macrame?
Don't let the word "micro" scare you away! Check out this video to learn the basic macrame technique, then try it out using thinner cords to put the micro in micro macrame.

Join our crafting community! Sign up here for our free eNewsletters!
Table of Contents
Do you prefer traditional macrame or micro macrame?
Your Recently Viewed Projects