29 Easy, Breezy Hemp Bracelet Patterns
Check out these hemp jewelry tutorials for everybody, from beginner hemp bracelets to advanced hemp patterns!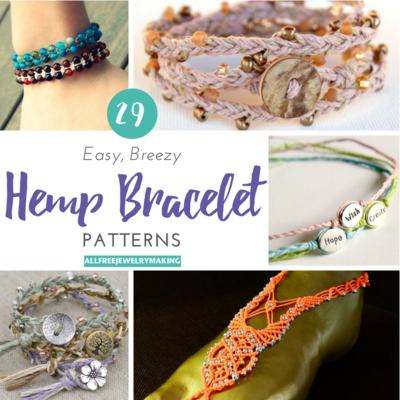 When hot weather hits, the last thing you want to wear is heavy chains, wire, and beads that stick to your skin and weigh you down. That's why the summer season is all about knotted and braided bracelet patterns! Keep it light and airy all summer long with these 29 Easy, Breezy Hemp Bracelet Patterns. Save the wirework for winter; these hemp cord bracelet patterns will have you feeling fresh, fabulous, and light as a feather all season.

From braiding to knotted jewelry to weaving, these hemp bracelet designs encompass a variety of super simple techniques and take few-to-no tools to complete, which makes them perfect for poolside crafting. If you're looking for easy summer crafts to keep your kids (or yourself) busy on a summer road trip or flight, these ultra-portable patterns will make perfect travel projects. They also double as friendship bracelet patterns, so make a bunch with your BFFs and share the hemp love. Just grab some cord and beads and start knotting! These hemp bracelet designs are so effortless, you can cover them all before summer vacation ends.

The wait is over! Today is the day you learn how to make hemp bracelets, and you'll be glad you did. There are hemp patterns for any style listed below, so get started! From classic square knot bracelets to advanced hemp patterns, you're set.

Join our crafting community! Sign up for our free eNewsletters today!
Table of Contents
Braided Hemp Bracelet Patterns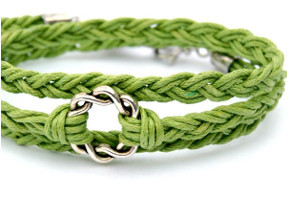 If you're not sure how to make a hemp bracelet and want to start off simple, these braided hemp bracelet designs will be the perfect jumping off point. DIY jewelry projects don't get any easier than these braided jewelry patterns. They will show you how to make a bracelet in a few hours, tops! For a more embellished effect, weave some beads into your braid or add a fancy clasp. No tools are needed; just weave your way to some sweet new summer accessories.
Macrame Hemp Bracelet Patterns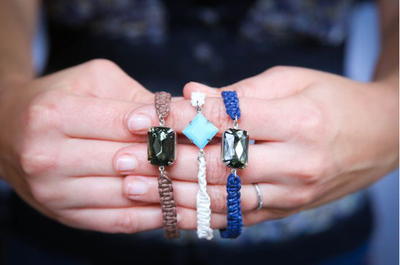 If you're looking for classic hemp bracelet patterns, then macrame jewelry is the way to go. Learn how to macrame bracelets with these easy knotting tutorials. These macrame hemp bracelet patterns include square knots and half knots, beads and crystals, bright colors and natural colors, so there should be something to suit every style. Not sure where to start? Go with some basic square knot hemp bracelets to warm up your hemp jewelry skills!
Hemp Anklet Patterns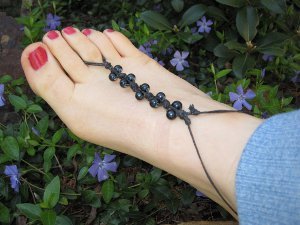 Since you'll be sporting shorts and sun dresses all summer long, you might as well make some hemp bracelets for those bare ankles as well! These ankle bracelet patterns are basically just longer versions of hemp bracelets, so they're just as easy to make. Learn how to make bracelets that will make your ankles look as stylish as your wrists! Dress up your anklet with a pretty cabochon focal piece, or go more low-key with a seed bead pattern. Either way, it'll make the perfect accent to your summer sandals and give you complete head-to-toe style
How to Make a Hemp Bracelet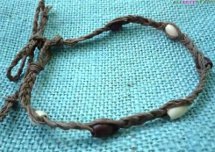 Can't wait to start making your first hemp project? Below is a basic tutorial on how to make a bracelet that could double as an anklet! 
Here's what you need to get started!

Materials:
1mm hemp cording
Six beads of your choice (to stick with the earthy or boho style hemp is known for, I chose wooden beads)
A clipboard
A ruler
A pair of scissors
Basic Hemp Bracelet Instructions
Instructions:
1. Measure and cut three 42" strands of hemp. Tip: It's easier to measure one strand using a ruler and use that strand as a guide to measure the rest of the strands.
 
2. Bring the three strands of hemp together and fold them in half. You now have six strands. Secure one half of your six strands with the clipboard, about 1" away from the fold. Braid about 2". Now make your fold again by folding the braid in half. Make an overhand knot just below the braided loop.
 
3. Separate the strands so you have three groups with two strands in each group. Make a 3/4" braid. Tip: If you want a tighter and even braid, keep the two side groups perpendicular to the center group, forming almost like a "T" shape. For a looser braid, keep the two side groups almost parallel to the middle group, forming a "Y" shape.
 
4. String a bead on your left group. Make a 3/4" braid. String a bead on your right group. Make a 3/4" braid.
 
5. Repeat the last step until you have reached about 9-10". Make an overhand knot to secure your work. Separate the six strands into two groups with three strands in each group. With each group, make a 6" braid and secure the ends with an overhand knot. Trim any excess.
 
6. To tie off your anklet, first wrap it around your anklet. Next, thread one of the braids through the loop. Make a knot and/or a bow using both braids.

More of a visual learner? Click here to see the video and follow along.
BONUS: Hemp Necklace Pattern Instructions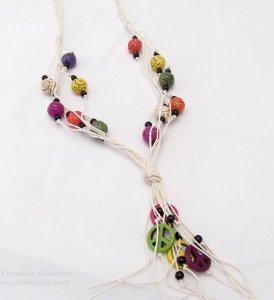 We couldn't help adding some hemp necklaces that would pair perfectly with these amazing bracelet patterns! Now that you've learned how to make a hemp bracelet, use your leftover materials to make these DIY necklaces. Hemp necklace patterns are quick, easy, and match your new bracelet! 
What is hemp jewelry, anyway?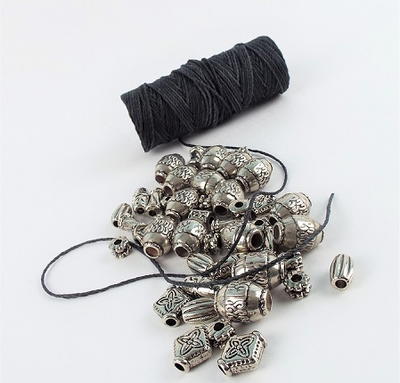 Hemp jewelry is, like the name suggests, jewelry made out of a durable material called hemp. Hemp derives from a common plant, Cannabis sativa, and is used to make clothes, textiles, materials, and of course, jewelry! Since it's so affordable, it's a popular material to use for jewelry. Most likely you've already seen it used in macrame bracelets. For your DIY jewelry projects, you can use either hemp cord, which is smoother, or hemp twine, which is a bit rougher. 
What is a Lark's Head Knot?
You may run into the term "Lark's head knot" a lot when you start making hemp bracelet patterns. A Lark's head knot is one of the most basic knots used in macrame jewelry. This knot is usually used to start a project, since it's used to connect your cord (in this case, hemp cord), to your dowel. A dowel could be a chopstick, a knitting needle, or anything similar in shape. This knot is very secure, so you won't need to worry about it moving around as you add more knots. 

To learn more about common macrame knots and how to make them, check out our guide on macrame knots!
What is your favorite hemp bracelet from this collection?
Your Recently Viewed Projects