Beginner Beading Tutorials: How to Peyote Stitch, Brick Stitch, Square Stitch and More
These beading patterns for beginners are a great way to start stitching!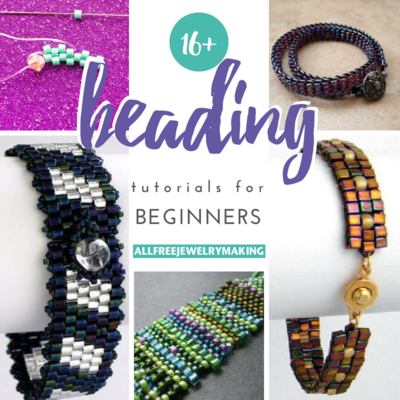 So you want to be a beader, but you're not sure where to begin? Well, you've come to the right place. This collection of beading patterns for beginners includes all of the most important and fundamental weaving techniques in the art of beadwork, so it's the perfect entry point to begin your beading journey.

There is a variety of ways to stitch or weave beads, and here we've rounded up beginner tutorials on some of the essential techniques that you will want to learn if you are truly interested in learning how to bead DIY jewelry pieces. In this collection, you'll find tutorials for how to peyote stitch, how to brick stitch, how to square stitch, how to right angle weave, how to ladder stitch, and more.

Once you've mastered these basic beading fundamentals, you'll be ready to tackle different beading designs and patterns of all kinds. That's why we've also included some super simple beginner beading projects so that once you're feeling comfortable, you can put your skills to the test with some actual beaded jewelry patterns. Learn the stitches and then put them to use with this comprehensive collection of beading tutorials!

Join our jewelry community! Sign up here for our free eNewsletters!
Table of Contents
How to Ladder Stitch
Fall in love with ladder stitch! Beginner beading can be intimidating. We recommend beginning with the ladder stitch. Check out the video above to learn how to do this handy technique! It might not be one of the more prevalent bead stitches on its own, but it does provide the base for other stitches such as brick and herringbone, so it's an important one to have in your repertoire. These beading patterns for beginners will help you practices stitching without feeling overwhelmed. If you prefer written instructions, you might prefer to learn how to ladder stitch with the second tutorial provided. Then try incorporating your newfound skills into an actual jewelry project by trying the bracelet pattern provided.
How to Brick Stitch
Now for basic brick stitch! Next up is brick stitch, another very common and fundamental beadwork technique. You'll see this weave come up a lot as you begin to browse beaded jewelry patterns, so you'll definitely want to add this stitch to your skill set. This beginner beading tutorial is accompanied by a helpful video component, so learning how to brick stitch should be a breeze. Get the basic stitch down first; then once you're comfortable, let loose a little by trying freeform brick stitch, and finish off by making a full brick stitch bracelet!
Loving these pretty peyote stitch patterns? Then you will adore our collection that is filleld with different peyote stitch designs. Whether you're new to peyote or know it like the back of your hand, there are peyote stitch patterns in this collection to inspire you to create.24 Free Peyote Stitch Patterns
How to Peyote Stitch
Popular Peyote Stitch! Peyote stitch is one of the most popular beading techniques. Learn how to peyote stitch with this easy-to-follow, step-by-step tutorial, and you'll have the hang of it in no time. Once you've the technique and tension down, try tackling one of the easy peyote stitch bracelet patterns we've included below.
How to Square Stitch
Stunning Square Stitch! At this point, you might be wondering why you need to learn so many different flat bead weaving techniques, but they do each serve a separate purpose and function in beaded jewelry patterns! You'll want to learn how to square stitch for when you're creating a piece that needs a more grid-like structure, as the first beginner tutorial explains. Square stitch is also a more accessible alternative to loom weaving, as it has the same look but does not require the expensive equipment. Learn the fundamentals with either the first or second tutorial; then put them to practice with the square stitch bracelet pattern provided.
How to Right Angle Weave
Ravishing Right Angle Weave! If you like beadwork that looks a bit more open and airy, you'll want to learn how to right angle weave. This beading technique creates a grid of squares with space between the beads for a more "light and lacy" look. Right angle weave can be a bit more difficult to get the hang of, so follow along with the step-by-step photos provided in the first tutorial to understand the technique. Then try one of the beginner bracelet patterns incorporating right angle weave below after you've got it down.
BONUS! Herringbone Bead Stitch Patterns
Hot Herringbone Bead Stitch Patterns! Have you ever tried learning how to do herringbone stitch beading? If you have already learned how to ladder stitch, it will be a breeze! The first row of flat herringbone stitch frequently begins with a row of ladder stitch, then adds additional rows with two beads at a time to create the famous herringbone stitch texture. More interested in the tubular herringbone stitch? We have a pattern for that, too!
Romantic Herringbone Stitch DIY Earrings
If falling in love with a pair of earrings is wrong, I don't want to be right! These dreamy, pastel earrings combine dainty seed beads with shimmering metallic accents to create an envy-inducing pair of earrings.
Twisted Tubular Herringbone Tutorial
Everyone loves a spiral, and tubular herringbone stitch is a great way to bead with this alluring shape. It takes a few rows to get the hang of this technique, but once you pass the first few rows, you'll be unstoppable.
Bead your way to some ho-ho-holiday spirit!. This classic red and white herringbone stitch bangle is perfect for the holiday season, but subtle enough to wear all year long.
Bead lovers beware: You're about to get lost in a mesmerizing collection of some of the best bead weaving patterns on the Web! Once you've tried all the beading patterns in this roundup, not only will you have an impressive jewelry collection, but you can definitely consider yourself a beading pro.75+ Best Free Bead Weaving Patterns
What is your favorite stitching pattern?
Your Recently Viewed Projects
Join our community of 5 million crafters! Right now!
Get free craft projects, exclusive partner offers, and more.
Thank You for Signing Up!
There was an issue signing you up. Please check your email address, and try again.