Fast Peyote Stitch Jewelry Review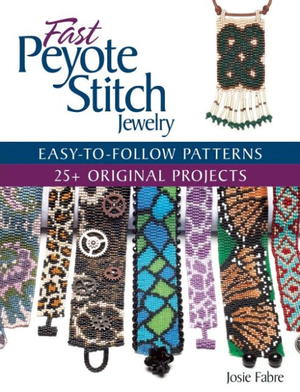 Fast Peyote Stitch Jewelry Review
By: Josie Fabre
Gifted by: Kalmbach Publishing
www.kalmbach.com
Reviewed by: Dana Byerwalter, Editor, AllFreeJewelryMaking.com

Stitched jewelry pieces are so beautiful, but they can take what feels like an eternity to make. Bypass that frustration and learn the art of the fast peyote stitch. Fast Peyote Stitch Jewelry is a pattern collection featuring 25+ original projects. Author Josie Fabre's easy-to-follow patterns make peyote stitch jewelry approachable and fun. Create gorgeous projects in no time as you become familiar with the techniques outlined in this book from Kalmbach Publishing.

Peyote stitch jewelry is a work of art. Taking an image of a bird, flower, butterfly, etc, you can draw up a chart and convert that image into a beaded piece. Examples like the New York Skyline (p. 84) and Oscar the Egret (p. 28) showcase this art beautifully. As you become familiar with the techniques outlined in Fast Peyote Stitch Jewelry, you too will be able to create these miniature canvases to wear as works of art.

In order to get started, Fabre includes both a Basics: Materials and Tools section as well as a detailed section on Techniques. The variety of seed beads is truly incredible, and reading up about them ahead of time is helpful for achieving the best peyote projects. For example, rounder seed beads can be more inconsistent in size than a regular cylinder bead. Beads also come in an incredible number of finishes, so explore these options when planning your peyote projects. In terms of the actual technique, several diagrams show the step-by-step instructions for getting started with fast peyote.

My favorite projects tend to be those that imitate nature. The Monarch Butterflies project (shown on p. 30 and also on the cover) includes just beautiful detail. Roses (p. 12) makes use of a pale pink and silver color scheme that looks as delicate as the flowers themselves. In addition to projects with a nature theme, you'll find projects with geometric patterns and, my personal favorite, a steampunk bracelet. Geared Up (p. 77) even includes gear embellishments!

Try a classic stitch by a faster method. The projects in Fast Peyote Stitch Jewelry are too pretty to pass up!

What is your favorite jewelry stitch?
Your Recently Viewed Projects