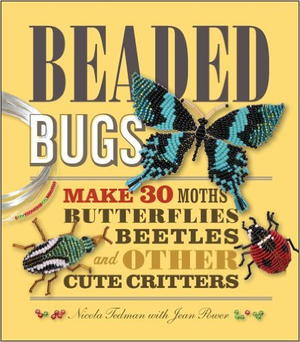 Beaded Bugs
Gifted by: Andrews McMeel Publishing
www.andrewsmcmeel.com
Review by Mortira Natasha vanPelt for AllFreeJewelryMaking.com
What better way could there be to recreate tiny creatures than with tiny seed beads? In Beaded Bugs, professional modeler Nicola Tedman teams up with bead artist Jean Power to transform simple seed bead wirework into a gorgeous collection of critters.
After a brief introduction to the materials, techniques, and charts, readers can dive into 30 patterns of exciting designs for butterflies, moths, caterpillars, dragonflies, and beetles. Some of the world's most beautiful insects are featured – from classic ladybugs and swallowtails to the exotic striped love beetle and death's-head hawkmoth. The projects progress gradually in difficulty, allowing even beginner beaders to master the techniques needed to make the more elaborate creatures. The first butterfly patterns use a simple wirework crossweave technique, which then morphs into 3-D patterns that transform beads into realistic-looking bugs.
Each section begins with a full-step-by step project including diagrams for the weave and construction of the beaded bug featured. The following projects work from the same template, with basic instructions and an easy to follow color chart for creating a new variation on the first design. With these basic templates, readers can create their own unique beaded bugs, whether inspired by nature or pure imagination.
Beaded Bugs is a small book, jammed packed with exciting inspirations for beading that you won't see anywhere else. If you're looking for a unique way to use your favorite beads, these projects will not disappoint. They can be used to make one-of-a-kind brooches and pins, decorations for floral arrangements, or unique ornaments.
Your Recently Viewed Projects